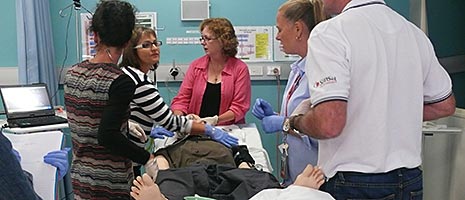 Introducing East Gippsland
Monash Rural Health East & South Gippsland is based on three sites at Sale, Leongatha and Bairnsdale. The Sale and Bairnsdale sites offer library and simulation suite services, while Leongatha offers complete student texts and access to simulation activities off-campus.
Central Gippsland Health Service in Sale is the major provider of health services and residential aged care services in the Wellington Shire, covering virtually the entire municipality except for Yarram and district. The organisation has more than 70 acute beds, close to 180 high and low care residential aged care beds, as well as 15 independent living units. Its acute services include a 24-hour, seven-day-a-week Emergency Department, operating theatres, day procedure unit, oncology and dialysis services.
Bairnsdale Regional Health Service provides healthcare services to more than 40,000 people across the East Gippsland Shire covering an area of 21,000 square kilometres. With 84 inpatient beds it provides acute (including emergency department), sub-acute and aged care services.
The South Gippsland Hospital has 16 acute care beds, as well as an operating theatre & delivery suite. In addition it has a 3 bed emergency / outpatients department & local radiographer.

Gippsland Southern Health Services. The Korumburra hospital campus of Gippsland Southern Health Services has 16 acute beds and 20 residential care beds. There is a modern well-equipped theatre and accident and emergency department.
The East Gippsland Region
Monash Rural Health East & South Gippsland straddles three local government areas: Wellington Shire, East Gippsland Shire, Bass Coast and South Gippsland Shires. Sale has a population of around 13,300 and Bairnsdale 11,300. Both are located close to beautiful beaches and national parks. Leongatha has a population of 5332 and is situated close to the Wilsons Promontory National Park.
---
Our programs
Year 2
The two-week placements at Bairnsdale, Leongatha and Sale sites are designed to introduce students to rural communities and rural health practice. Along with clinical skills sessions and visits to rural general practices and hospitals, activities include a farm visit, tutorials from Ambulance Victoria, police and emergency services and a local veterinarian. Year 2 students socialise with Year 3B, 4C and 5D students on rural placements.
Year 3B
Year 3B is based at the Central Gippsland Health Service in Sale. Eight Students spend the whole of Year 3B in Sale -- nine weeks in each discipline rotating over the two semesters. Some problem-based learning sessions (PBLs) take place in outlying rural practices, giving opportunities for some general practice observation and experience.
Year 4C
The Year 4C program is delivered at the Bairnsdale, Leongatha and Sale sites with 10 student places at each. The curriculum is identical for students from the Year 4 Central stream and Year C stream. Students are based at local community practices for the academic year. Students are usually placed in general practices in pairs, with the opportunity to rotate into other practices where necessary, to meet the curriculum requirements. This could include sessions in antenatal care in practices offering obstetric services, or rotations to other primary care environments such as Aboriginal Medical Services to complement their learning experience. Students spend up to four days per week rotating through clinical placements (including their supervising practice), with one or two days per week involved in peer learning tutorials, skills sessions and case discussions at their campus.
Year 5D/final
Final year students complete seven six-week rotations which consist of five core rotations (aged care, emergency medicine, medicine, surgery and speciality), a student elective and a vacation.
Rotations at the Bairnsdale site are based at Bairnsdale Regional Health Service and available in the core subjects of aged care, surgery and emergency medicine. Aged care is also available at Lakes Entrance.
Speciality General Practice is available at Omeo, Paynesville, Orbost and Lakes Entrance.
Rotations at the Sale site are based at the Central Gippsland Health Service and available in the core subjects of medicine, surgery and emergency medicine, and one elective in radiology. Aged care rotations are also available located at the Heyfield Hospital.
Speciality General Practice is available at Sale.
Rotations at Bass Coast Regional Health include two core subjects:
General surgery/sub-speciality surgery (Opthalmology) is also offered at Bass Coast Regional Health.