CREPS welcomes Associate Professor Fary Khan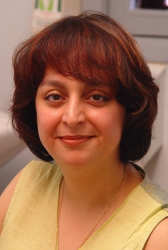 A/Prof Fary Khan is a Principal Fellow at the Department of Medicine, University of Melbourne and Director of Rehabilitation at The Royal Melbourne Hospital Australia. She is Senior Research Fellow at the School of Public Health and Preventative Medicine at Monash University, Alfred Centre. She completed her specialist training with the Australasian Faculty of Rehabilitation Medicine, Royal Australasian College of Physicians in 2000. Her areas of special interest are: Rehabilitation for chronic degenerative neurological diseases especially Multiple sclerosis. Her Doctoral thesis (Title: Rehabilitation for Multiple sclerosis) was accepted in 2008 at the Department of Medicine at the University of Melbourne. Her other interests include: Women's health and Outcome measurement in rehabilitation.

She is involved in post graduate and undergraduate teaching at the University of Melbourne and currently supervising 7 PhD Candidates in Rehabilitation Medicine. She has published over 150 scientific papers in peer reviewed journals. She is a regular invited speaker at international and national conferences

Her other appointments include:
Senior Research Fellow 2012 at: Oxfotrd Centre of Enablement, Oxford University UK; Senior Research Fellow 2010-11 at: Kings College London, Dept of Rehabilitation and Palliative Care; Institute of Neurology, Dept of Brain Repair & Rehabilitation (Queens Square); Dept of Neurommunology and Rehabilitation University of Hamberg and Department of Neurorehabilitation Valens Klinik Switzerland
Member Advisory Committee on Australian and International Disability Data (ACAIDD) for the Australian Institute of Health and Welfare Canberra Australia.
Member Executive Committee Australasian Faculty of Rehabilitation Medicine for the International Classification of Disability, Health and Functioning (ICF) - Australian ICF group, World Health Organization (2006) and the Maximillian Ludwig University Munich Germany.
Executive member and Co-ordinating editor of the Cochrane Multiple Sclerosis Review group- Milan (2009).
Vice-Chair of the Research Committee for the International Society of Physical and Rehabilitation Medicine (September 2010).