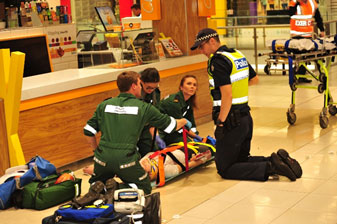 Emergency responders descend on central Frankston for mock training session
MORE than 75 emergency responders from multiple agencies descended on central Frankston recently for a mock training exercise.
Department of Community Emergency Health and Paramedic Practice students, teamed with Frankston Police, Bayside Shopping Centre, Frankston CFA and Frankston Council for the drill designed to test the organisations' co-ordinated responses.
A car fire simulation and two serious assaults were set up at Bayside Shopping Centre.
The drill went very well and the teams worked well together. It is great to see relationships with external partners being built to maintain community safety.