Dr Deborah Western
Lecturer
Telephone: +61 3 9903 1133
Facsimilie: +61 3 9903 1141
Profile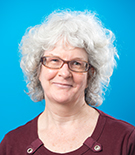 Dr Deborah Western, BA (Uni Melb), BSW (Monash), PhD (Uni Melb), GCAP (Monash) joined the Department of Social Work in the middle of 2010. She has practice experience in the fields of child and family welfare, education, sexual assault and family violence and has worked in rural, regional and metropolitan areas in Australia. Through her work in a state-wide peak body for family violence services, Deb developed an appreciation of the role of advocacy and social policy. She has sat on the Board of Governance of the Domestic Violence Resource Centre Victoria and on the Committee of Management of Safe Futures Foundation.
Deb taught at a number of tertiary institutions prior to joining Monash and has facilitated various professional development activities, including reflective practice workshops and journalling courses. Deb's doctoral thesis explored the area of women and depression with particular emphasis on women's use of personal journals in understanding and responding to depression. Her research interests include violence against women, the fields of sexual assault and family violence, gender, gender analysis and evaluation, feminist theory, research and practice, and women and mental health.
In 2011 Deb and colleagues worked on a sense-making exercise with Oxfam in relation to Oxfam's work in the field of violence against women and gender justice throughout the world and in 2014 Deb was a member of a team that conducted an independent review of the Standing Together Against Violence (STAV) program for Oxfam in the Solomon Islands. Other research projects include:
Working as a member of a multi-disciplinary team at Monash that developed, piloted and continues to refine the PACTS program. PACTS is: An Innovative Primary Care Program Advancing Competency To Support Family Violence Survivors. It an online teaching module for undergraduate students in the School of Primary Care at Monash University and at a number of other universities throughout Australia.
Evaluation of the Preventing Violence Against Women regional strategy for Women's Health in the North, Melbourne.
A research project with The Salvation Army explored the features, strengths and limitations of the refuge model employed in the Crossroads Family Violence Service: "Working with complexity: A critical analysis of the Crossroads Dispersed Refuge Model."
Voices against Violence Research Project - Paper Six: Raising Our Voices - Hearing from Women with Disabilities. Domestic Violence Resource Centre Victoria, Women with Disabilities Victoria, Office of the Public Advocate.
Evaluation of the Whittlesea CALD Communities Family Violence Project. This is an ongoing and evolving evaluation of a developing, integrated family violence project focusing on the prevention of family violence in immigrant and refugee communities in a growth corridor area of Melbourne, Australia.