Introduction to Field Education
Professional Practice - Field Education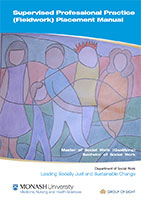 Welcome to supervised professional practice in social work at Monash University!
The Department of Social Work at Monash has a well-developed supervised professional practice program servicing students undertaking Social Work degrees. Supervised Professional Practice (SPP) is a structured educational program where students undertake two 500 hour supervised professional practice units, one in the first year of study, the
other in the second year of study.
Supervised professional practice is undertaken in a Human Service Organisation under the supervision of a professional and experienced Social Worker.
The purpose of SPP is to enable students to put into practice the social work theory and skills being learnt at university. A number of partnerships have been established by the field education team to offer students exciting learning opportunities in health, education and community services in government and non-government organisations across Australia and internationally.
Supervised professional practice opportunities include-working with individuals, groups and communities, as well as project, social policy and research focused placements.
Professional Practice occurs in two blocks:
Exact start and finish dates vary. Students must complete a minimum of 500 hours of supervised professional practice. The average working day is 7.5 hours. Most placements will take place full-time for 14 weeks during the following periods:
SWK3180 and SWM5108: June to September
SWK4560 and SWM5103: September to December
Placement must be undertaken full-time for all students enrolled in 'on-campus' study.
Professional Practice Information and Resources

Required reading:
Supervised Professional Practice, Field Education Manual - 2017 (Pending update)

Immunisations:
What to bring to your appointment at the University Health Service (Video)

Field Education Documents and Forms