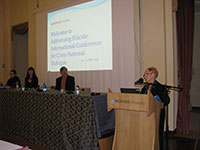 The conference, the first held to address this world wide danger for vulnerable children, attracted 53 delegates from 13 countries including Austria, Australia, Canada, Columbia, Chile, El Salvador, England, Malaysia, the Netherlands, Northern Ireland, the Republic of Ireland, South Africa and the USA.  The delegates represented the disciplines of law, social work, psychology, general medical practice, paediatrics and psychiatry and brought perspectives of researchers, policy reviewers and developers, medical and judicial service providers, social service providers and filicide survivors.  The diversity of outlook and experience was a strong platform for discussion.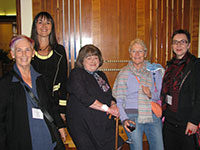 The keynote speakers, Julia Stroud (England), Myrna Dawson (Canada) and Peter Jaffe (Canada), gave a great impetus to discussion with all of the speakers emphasising the complexity of the problem yet arguing for optimism in overcoming it.     
Some 32 papers were delivered and, considering their diverse national sources and outlooks, their broad appeal was heartening.   Many of the papers covered the face of filicide in one particular nation.  Such material had not been put forward previously and took the conference towards cross country comparisons.  As Professor Frans  Koenradt (the Netherlands) commented, the conference showed that "filicide was universal but not uniform".  Papers also addressed particular forms of filicide such as neo-naticide, paternal filicide, maternal filicide and familicide. A number of papers addressed child death review committees which are used as a strategy to learn more of such deaths with a view to reducing them.  Other papers challenged past ways of thinking about the problem and suggested new ways of approaching it and of assisting families experiencing such tragedies.  One paper came from a parent survivor of the filicide deaths of her children and gave clear lessons on the need to improve the health services approach to the parental mental illness, in particular depression.
The conference delegates were very enthusiastic participants and were of the view that the start made by the conference must be taken advantage of so that knowledge could be developed nationally and internationally to overcome this overlooked problem.  The UK conference delegates had taken the conference to a filicide themed edition of the UK journal, Child Abuse Review, and the conference team is working with the journal on this task.  The conference team is placing the conference papers on the conference web site currently and is setting up a web based international research and action network based initially on the delegates to the conference.