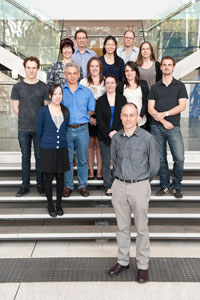 Monash University-led collaborative research has been published in the prestigious journal, Nature Methods.  Dr David Elliot, a Monash stem cell researcher from the laboratories of Professors Andrew Elefanty and Ed Stanley, is the first author of the paper that identifies a new way to make heart cells in the lab.
Researchers will be able to mimic heart disease in cell grown in the laboratory and will be able to use these cells to discover new medications.
In this globally significant research outcome, Monash scientists were able to reliably make heart cells directly from human embryonic stem cells, a potentially inexhaustible source of heart cells for research and drug discovery.
By linking a green fluorescent marker (originally from a jelly-fish) to a gene important in heart cells, the team was able to identify and capture the early heart cells growing in the laboratory. 
Importantly, researchers were also able to identify other new marker proteins expressed on these cells that will lead to further improvements.  In the future, these markers can be used as 'handles' to pull out and purify the heart cells from cultures of embryonic or iPS cells, without having to use genetic modification.
"This exciting study describes a novel fluorescent reporter cell line that will be an invaluable tool for the development of stem cell based therapy for cardiac disease", said Martin Pera, Program Leader at Stem Cells Australia.   "The Monash group have led the world in the application of gene targeting in human embryonic stem cells, and in exploiting this powerful technology to study cell differentiation. Importantly, the team used the cell line they developed to identify some new cell surface markers that will enable isolation of cardiac progenitors from any stem cell line without the need for genetic modification, a finding that will further accelerate research in this field." The Monash group led by Professors Andrew Elefanty and Ed Stanley are pursing similar strategies to isolate insulin-producing cells for the treatment of diabetes and blood cells for the treatment of leukemias.
This research represents a collaboration of 26 researchers in Melbourne (Monash University, WEHI and Baker IDI) and the Netherlands, and builds on over 10 years of experience by the Embryonic Stem Cell Differentiation Group of Andrew Elefanty and Ed Stanley at Monash.  Funding for this research was provided by the Australian Stem Cell Centre, the National Health and Medical Research Council of Australia (NHMRC) and the National Heart Foundation of Australia.