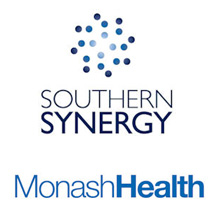 About Southern Synergy
Southern Synergy is a Faculty Research Centre within the Faculty of Medicine, Nursing and Health Sciences at Monash University. The centre sits within the Department of Psychiatry, School of Clinical Sciences at Monash Health, and is substantially supported by Monash Health. The centre works closely with collaborators, particularly those responsible for mental health service delivery in the Monash Health Catchment area. The centre was jointly established in 2003 with Monash Health and continues to be closely linked with and supported by the Monash Health Mental Health Program. It is based primarily in accommodation at Dandenong Hospital - Monash Health - Adult Mental Health though staff may also be situated from time to time at other accommodation within other campuses of Monash Health and Monash University.
Particular strengths of the Centre lie in a unique combination of research, training and clinical academic staff with close linkage to a major mental health care provider. Our multidisciplinary team consists of members from psychiatry, clinical psychology, social work, epidemiology and biostatistics, health economics and sociology.
Find out more about us.
Media
Our research in the media - March 2015
Group head
Professor Graham Meadows
Professor Graham Meadows is the Director of Southern Synergy, the Monash Health Adult Psychiatry Research, Training and Evaluation Centre, and a Professor with Monash University.
His doctoral studies and a substantial part of his publication record are in health services epidemiology in which area he has expertise in qustionnaire development and analysis of complex data sets. He has headed large scale studies investigating mindfulness and recovery oriented practice as clinical and service level interventions.
Find out more about Professor Graham Meadows.
Our staff
Meet the people making their mark at Southern Synergy.
Our research
Programs
Affiliated research groups
Opportunities
Seeding grants
Monash Health regularly supports new research in mental health through the provision of Mental Health Research Seeding Grants. A number of these small grants are available to support, or seed, research activities in Monash Health Mental Health Services. Grants range in size from $2,000 to $5,000. Between two to five grants are made initially. Personnel employed in Child Adolescent and Adult services in Monash Health are eligible to apply.
The major purpose of the mental health research seeding grant scheme are to: Encourage new mental health research; Encourage new researchers; Improve mental health services, service delivery or treatments to people with a mental illness; and Support preparatory work towards applications for external funding. Successful grants are mentored through the project with regular contact and monitoring of milestones by a senior researcher of the Centre.
Apply now
Download the 2015 Seeding grants application form (docx, 188kb) (pdf, 167kb).
Find out more
Applications close at 5pm on Wednesday 25th February, 2015.
For more information please contact Dr Joanne Enticott.
Research opportunities
If you are thinking of a career in psychiatry, psychology or research into Health Services with a focus on Mental Health, the Southern Synergy Research Centre at the School of Clinical Sciences is a great place to start. We are located in new purpose-built offices at Dandenong Hospital. Designed to optimise translational opportunities for work in mental health care, the centre has close co-location with the key leadership team of Monash Mental Health.
Find out more about student research opportunities with Southern Synergy, and view the postgraduate opportunities(Honours, Masters, PhD) with the School of Clinical Sciences.
Contact us
For more information please contact us.