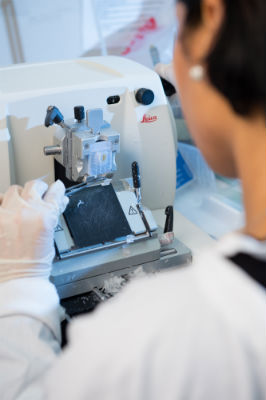 A HUB of activity
The School of Clinical Sciences (SCS) is a health professional school and research centre of excellence based at campuses of Monash Health, Victoria's largest hospital network. SCS is at the forefront of clinical translational research with demonstrated research strengths in cancer, cardiovascular disease, clinical medicine, critical care and perioperative medicine, endocrinology, infectious and inflammatory diseases, neurosciences, nutrition and women's and children's health. Our senior academic staff are mostly health professionals who work closely with colleagues in Monash Health, translating scientific discoveries into clinical practice in an innovative and collaborative environment. The Monash Health Translation Precinct (MHTP) consists of SCS, the Hudson Institute of Medical Research and Monash Health, and provides exceptional collaboration opportunities.
Our centres and departments

The School of Clinical Sciences at Monash Health is a collective of medical and health-care professionals from a plethora of different specialisations. Some of our physician-scientists wear surgical scrubs, some coordinate clinical trials and some teach. But we all collaborate. Why not find out more about our departments and the various research groups associated with them. Read more here.
Facilities
Over 15,000 people work at Monash Health and there are a large number of facilities available. There is an extensive education program run both by Monash University and Monash Health on campus at MMC with daily meetings covering all areas of medicine and biomedicine.
Find out more about our facilities.
Our location
We are an easy 15 minute walk (south) from the Monash University Clayton campus and minutes from a number of bus services and Clayton railway station. The main administration centre is located in Block E, Level 5 of the main hospital.
Contact us for more information.