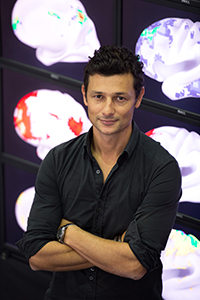 Professor Murat Yücel
NHMRC Senior Research Fellow
Career to Date
Professor Murat Yücel gained his PhD combined with specialist clinical training in Clinical Neuropsychology in 2001 at La Trobe University. He then spent two years as a Research Fellow at the Mental Health Research Institute of Victoria (2001-02) before moving to the Department of Psychiatry, University of Melbourne. There, he obtained a joint position as a Senior Research Fellow across Orygen Youth Health Research Centre (2003-10) and Melbourne Neuropsychiatry Centre (1997-2013; promoted to full Professor in 2012). He is currently appointed as a Professorial Fellow within the School of Psychological Sciences, Monash University (2013-current) where he Directs the Monash Clinical and Imaging Neuroscience (MCIN) laboratory, and Heads the 'Addiction Neuroscience' research theme (one of seven major research themes within the School). Concurrently, he holds an appointment within the National Health and Medical Research Council (NHMRC) fellowship scheme (2007-current).
Research Focus
Professor Murat Yücel is recognized as an expert in the area of biological psychiatry and addiction neuroscience. His research crafts innovations in the application of psychological and brain imaging techniques to human populations, and has influenced thinking across three main themes: (i) determining the long-term impact of heavy cannabis use on brain, cognition and mental health; (ii) understanding the neural and psychological basis of reduced self-control across as drug and behavioural addictions; and (iii) clarifying the underlying neurobiology of several psychiatric illnesses (including psychosis, depression, obsessive-compulsive disorder, and bipolar disorder). His discoveries have led to increased public and professional awareness on these topics and established his group (MCIN Laboratory) at the forefront of addiction and psychiatric neuroscience research in Australia.

The MCIN laboratory uses brain imaging and other tools from cognitive neuroscience to understand human brain structure and function in health and disease. The team has a diverse range of expertise, with particular strengths in structural, functional, diffusion and spectroscopic MRI, EEG, TMS, PET, graph theory and network science, and clinical neuropsychology. The principal areas of research focus are: (i) substance and behavioural addictions; (ii) compulsive disorders; (iii) schizophrenia and other psychoses; (iv) network science and connectomics; and (v) brain stimulation.
Honours and Distinctions
2013 - Monash Professorial Fellowship Award (MPF), in recognition my international standing in the field.
2012 - National Health & Medical Research Council; Senior Research Fellowship (level B).
2011 - National Health & Medical Research Council; Achievement Award, for scientific merit, innovation and success in medical research - given to the top 10 of ~5,000 applicants (i.e, the top 0.02%)
2008 - Academy of Social Sciences in Australia (ASSA); Paul Bourke Award
2007 - Australian Institute of Policy and Science (AIPS); Young Tall Poppy Science Award
2007 - National Health & Medical Research Council; Clinical Career Development Award
2004 - Australasian Society for Psychiatric Research (ASPR); Organon Research Award
Research Profile