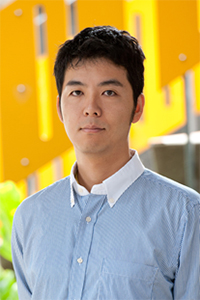 Associate Professor Naotsugu Tsuchiya
Career to date
Associate Professor Naotsugu Tsuchiya completed his PhD at California Institute of Technology (Caltech), USA, in 2005. He stayed at Caltech as a postdoctoral fellow till 2010. In 2010, he received a PRESTO grant from Japan Science and Technology and became a visiting researcher for RIKEN brain institute and Advanced Telecommunications Research (ATR). He moved to Monash University in 2012 to take up the position of Associate Professor in School of Psychology.
Research focus
Monash Consciousness Research Laboratory (MCRL), as known as tLab, focuses on the fundamental questions of neuroscience including:
What is the neuronal basis of our subjective conscious experience?
Do other animals experience similar subjective experience like us humans?
If so, what kind of experience do they have?
Can we generate conscious machines or robots?
How can we know whether other animals and artifacts have conscious experience?
Until recently many of these questions were only amenable to philosophical speculations. However, some of these fundamental ideas are the topics of studies being undertaken in neuroscience research laboratories. Researchers in tLab use a multitude of empirical neuroscientific methods to understand and describe consciousness.
Recent tLab experimental projects that have been undertaken include:
Behavioural effects and neuronal correlates of conscious and non-conscious processing;
Clarifying the relationship between consciousness and attention;
Analysis of multi-channel neurophysiological data to understand the neuronal mechanisms of consciousness; and
Testing theories of consciousness, in particular, the Integrated Information Theory of Consciousness proposed by Guilio Tononi, using empirical neuronal data.
Visit us at - http://users.monash.edu.au/~naotsugt/Tsuchiya_Labs_Homepage/HOME.html
The lab is currently funded by grants from the Australian Research Council (ARC) Discovery and Future Fellowship. A/Prof Tsuchiya has over 40 publications in some the world's leading journals (e.g. Nature Neuroscience, PNAS, Current Biology).
Honours and Distinctions
2014, The Young Scientists' Prize: The Commendation for Science and Technology by the Minister of Education Culture, Sports, Science and Technology (from the Japanese government)
2012(-2016), ARC Future Fellowship
2010, Japan Science and Technology Agency: PRESTO (Precursory Research for Embryonic Science and Technology)
2009, Japan Society for the Promotion of Science (JSPS) SPD fellow
2008, William James Prize awarded from Association for the Scientific Studies of Consciousness
Research Profile