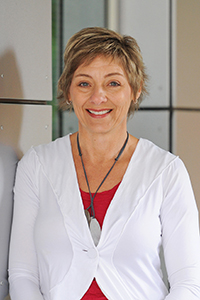 Professor Julie Stout
Career to Date
Professor Julie Stout completed her PhD at Duke University in 1991. From there she worked as a post-doctoral fellow and project scientist at the University of California San Diego. In 1995 Professor Stout was recruited to Indiana University where she progressed from Assistant Professor, to Associate Professor, and then to Professor, receiving a prestigious endowed chair and being named the Eleanor Cox Riggs Professor of Social Sciences and Ethics in 2006. She moved to Monash University in 2007 to take up a professorship and there developed the Clinical and Cognitive Neuroscience Laboratory. In 2011, she was named Director of Research, a position she retained through 2013.
Research Focus
The Stout Lab focuses defining and measuring complex cognitive processes in the context of neuropsychiatric disorders, especially Huntington's disease (HD) and substance use disorders. Visit us at: www.med.monash.edu.au/psych/research/teams/stoutlab.

Our first core interest lies in defining the cognitive phenotype of Huntington's disease, and developing innovative and precise measurement techniques that facilitate observational and clinical trials in HD. In particular, we are working to understand how neural compensation and cognitive research are manifested in the cognitive progression of Huntington's disease, and how these processes may be harnessed by behavioural and pharmacological treatments.

Our second core interest lies in determining individual differences in risk taking behavior in the context of young drivers, substance use disorders, gambling, and psychopathology. We have developed online risky behavior assessment methods aimed at identifying individual risk characteristics to inform driver training and safety.

The lab is currently funded by the Australian Research Council (ARC), and the CHDI Foundation, Inc., in the US, as well as several pharmaceutical companies. Professor Stout has over 100 publications in world leading journals including Lancet Neurology, Nature Reviews Neurology, Brain, Human Brain Mapping).

She is currently associate editor of the Journal of the International Neuropsychological Society, co-chair of the Scientific Planning Committee of the Enroll-HD platform, on the executive committee of the Track-HD study, chair of the steering committee of the FP7 funded Repair-HD project, and on the board of the Huntington's Study Group.
Honours and Distinctions
2006-2007 Eleanor Cox Riggs Professor of Social Sciences and Ethics, Indiana University
Research Profile