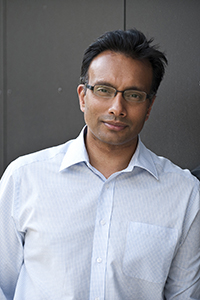 Professor Shantha Wilson Rajaratnam
Deputy Head of School and Director, Academic Programs
Career to Date
Professor Shantha Rajaratnam was awarded his PhD from Monash University in 1998. He went on to complete a Bachelor of Laws degree also from Monash. From 2000 to 2002, he undertook postdoctoral training at the Centre for Chronobiology, University of Surrey (UK), with a focus on the circadian regulation of sleep and the effects of melatonin. He was appointed as Lecturer at Monash in 2002. From 2004-2006, he was Visiting Assistant Professor of Medicine in the Division of Sleep Medicine at Harvard Medical School in Boston, where he continues to hold a faculty appointment as Lecturer in Medicine (academic, part-time) and faculty member of the Harvard Work Hours, Health and Safety Group. He was promoted to Professor in the School of Psychological Sciences at Monash in 2013, and currently serves as the Deputy Head of School and Chair of the Academic Programs Committee. He is Chair of the Monash Sleep Network and leads the Monash Sleep and Circadian Medicine Laboratory. He is Immediate Past President of the Australasian Sleep Association, and is a Program Leader in the Cooperative Research Centre (CRC) for Alertness, Safety and Productivity. He is a Chartered Psychologist and Associate Fellow of the British Psychological Society.
Research Focus
Professor Rajaratnam's laboratory seeks to understand the circadian mechanisms underlying the sleep and wake cycle, to develop novel treatment approaches for sleep disorders particularly those attributed to circadian dysfunction, and to investigate the interactions between circadian/sleep-wake disturbances and neuropsychiatric disorders. His research program includes laboratory-based investigations in healthy and clinical populations, as well as studies in clinical and operational settings. The Sleep and Circadian Medicine Laboratory is a state-of-the-art facility suitable for highly controlled sleep, circadian, endocrine and neurocognitive studies. Core research interests include circadian rhythm sleep disorders, melatonin, light, shift work and sleep-related neurocognitive impairment. His research is supported by grants and research contracts from a range of organisations including National Health and Medical Research Council (NHMRC) and Australian Research Council (ARC). His research program is a part of NeuroSleep – an NHMRC-funded Centre for Research Excellence committed to research and training in Translational Sleep and Circadian Neurobiology, and the CRC for Alertness, Safety and Productivity – which aims to reduce the burden of impaired alertness on the safety, productivity and health. Professor Rajaratnam has over 70 publications in some the leading journals in medical research (e.g. Lancet, JAMA, Science Translational Medicine, Neurology).
Honours and Distinctions
2013 : Dean's Award for Excellence in Education (Innovation in Teaching) (team from School of Psychological Sciences)
2010 - 2013 : President Elect/President of the Australasian Sleep Association.
2006 - 2006 : Healthy Sleep Community Award (as part of the Harvard Work Hours, Health and Safety Group), National Sleep Foundation.
2004 - 2006 : Visiting Assistant Professor in Medicine in the Division of Sleep Medicine, Brigham and Women's Hospital and Harvard Medical School, USA.
Research Profile