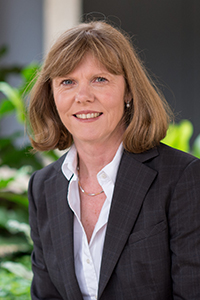 Professor Jennie Ponsford
Director, Clinical Programs
Career to Date
Professor Jennie Ponsford completed her BA (Hons) and MA in Clinical Neuropysychology at the University of Melbourne in 1979 and her PhD at LaTrobe University in 1990. She commenced her career in 1980 as a Clinical Neuropsychologist in Sydney at the Royal Ryde Rehabilitation Centre in Sydney, and after a brief period in the Monash Department of Psychological Medicine, in 1982 was appointed as Manager of Psychology Services at Bethesda Hospital, now Epworth, where she played an instrumental role in setting up what has become a world-renowned head injury rehabilitation program. Towards this she was awarded a Churchill fellowship in 1987 to visit head injury programs around the world. She remained at Bethesda/Epworth until 1999, when she moved to Monash University. She developed and established the Doctor of Psychology in Clinical Neuropsychology program at Monash and has convened this highly successful program ever since. She also continued her clinical and research work at Epworth, establishing the Monash-Epworth Rehabilitation Research Centre in 2000, of which she is the Director and also acting as a consultant to the Epworth Psychology Department. In 2005 she was promoted to full Professor of Neuropsychology. She has also played roles as Director of Research Degrees and is currently the Director of Clinical Programs in the School of Psychological Sciences at Monash.
Research Focus
A world leader in her field, Professor Ponsford has spent more than 33 years as a clinician and researcher characterising the problems and developing effective treatments associated with traumatic brain injuries (TBI). She and her team of researchers and doctoral students have investigated outcomes following mild, moderate and severe TBI, factors predicting outcome, including genetic, age and injury-related factors, producing more than 170 publications and two high profile books on traumatic brain injury rehabilitation. The aim of MERRC is to conduct research in trauma rehabilitation, with a view to reducing long-term disability. The research focuses on examining, through longitudinal studies, the nature of functional outcomes and problems experienced by victims of traumatic brain and orthopaedic injury. On the basis of these studies the team are developing and trialling rehabilitative interventions aimed at alleviating these problems, which include impairments of attention, fatigue, sleep problems, anxiety and depression and behavioural disturbances.
The research being conducted by the MERRC is recognised internationally, as is evident from the significant number of invited international conference presentations made by Professor Ponsford, her inclusion on panels constituted by the US Department of Defense and the World Health Organisation, her invitation to submit reviews to high profile journals such as the British Medical Journal, Current Opinion in Neurology and Nature Clinical Practice Neurology, and the calibre of its numerous journal publications. The information booklets produced in the mild TBI outcomes studies have been requested by over 100 different clinical and research bodies worldwide and translated into several languages. This work is thus having a significant impact on the field.
Visit us at - http://www.med.monash.edu.au/psych/research/centres/merrc/

MERRC currently receives funding from the National Health and Medical Research Council (NHMRC; Project Grants, and Centre of Research Excellence in traumatic brain injury), the Transport Accident Commission (TAC), the Institute for Safety Compensation and Recovery Research (ISCRR), William Buckland Foundation, and Epworth Research Institute.

Professor Ponsford's level of international recognition is attested to by the fact that in 2013 she was the first Australian President of the international Neuropsychological Society. She was also the recipient of the Robert L. Moody Prize for Distinguished Initiatives in Brain Injury and Rehabilitation in 2013, a prestigious international award made by the Robert Moody Foundation in the USA. She also currently serves on the Executive of the International Brain Injury Association and has been President of the International Brain Injury Association and the Australasian Society for the Study of Brain Impairment, of which she is an Honorary Fellow. She is currently a member of the APS College of Clinical Neuropsychologists; Australian Psychological Society; International Neuropsychological Society (INS); Australian Society for the Study of Brain Impairment; International Brain Injury Association (IBIA); and World Federation of Neurorehabilitation (WFNR). She serves on the Editorial Board of Journal of the International Neuropsychological Society; the Journal of Head Trauma Rehabilitation, Brain Injury,Neuropsychological Rehabilitation; NeuroRehabilitation, Physical Medicine and Rehabilitation and Brain Impairment. Having been instrumental in organising highy successful international conferences for the INS, IBIA and WFNR in Australia, she is the Program Chair for the forthcoming conferece of the international Neuropsychologicla Society being held in Sydney in July 2015.
Honours and Distinctions
1987 Award of Chruchill Fellowship to visit head injury rehabilitation centres internationally
1991 Award from the International Neuropsychological Society in recognition of outstanding contribution in organising the First INS Pacific Rim Conference, Gold Coast, July 1991.
1993 Australian Rotary Health Research Fund award
2002 Fellowship of the Australian Society for the Study of Brain Impairment
2006 School of Psychology, Psychiatry and Psychological Medicine Award for Outstanding Achievement in Research
2008 School of Psychology, Psychiatry and Psychological Medicine Award for Outstanding Contribution as Director of Postgraduate Studies
2013 Robert L. Moody Prize for Distinguished Initiatives in Brain Injury Rehabilitation, Robert Moody Foundation, University of Texas Medical Branch
2013-14 President, International Neuropsychological Society
Research Profile