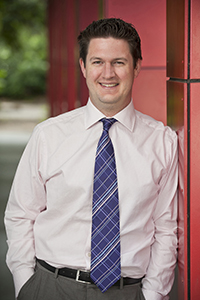 Dr Matt Mundy
Senior Lecturer
Career to Date
Dr Matthew Mundy is a cognitive neuroscientist based in the School of Psychological Sciences. Dr Mundy completed his PhD at Cardiff University in 2007. From there, he joined the Wales Institute of Cognitive Neuroscience, working as a research fellow in perceptual learning. In 2011, Dr Mundy joined Monash as a Lecturer, progressing to Senior Lecturer in 2014. Dr Mundy is responsible for directing a new online teaching initiative in psychology.
Research Focus
Dr Mundy has been successful in attracting over $2million in research funding. Current work within the Mundy Lab is focussed on both perceptual learning and memory for visual information, and sits in three broad themes:
Differentiating the contributions of regions within the medial temporal lobe and extrastriate cortex to perception and memory.

This research theme is fundamental in supporting novel accounts of one of the key visual pathways in the brain: the visual ventral stream, which communicates with a region known for processing memory: the medial temporal lobe. Using cutting edge brain imaging, the lab is producing definitive evidence for a new model of perceptual-mnemonic interaction. These studies are building toward a new understanding of memory deficit, such as that seen in Alzheimer's disease, or as a consequence of normal ageing.


Assessing post-traumatic amnesia in traumatic brain injury patients

Individuals with traumatic brain injury (TBI) almost invariably experience an initial period of disorientation and inability to lay down new memories known as post traumatic amnesia (PTA). Duration of PTA has emerged as the strongest injury-related measure of long-term functional outcome in survivors of TBI. Despite the significance of this period, little is known regarding the neurobiological mechanisms underpinning PTA and optimal methods of assessing its resolution and duration. To elucidate specific disturbances in memory processes, and identify potential recovery markers, patients are given a functional MRI scan battery both during PTA and again when they emerge from PTA.


Visual processing in body image concern

Recent neurocognitive and behavioural research suggests that, along with genetic and environmental influences, abnormal visual learning and discrimination mechanisms are implicated in Body Dysmorphic Disorder (BDD). This appears to manifest as a bias toward piecemeal, local processing, to the detriment of normal global representations of everyday stimuli. This bias is thought to relate to a maladaptive fixation on small body details, commonly reported in BDD: local scrutiny may lead to a belief that such areas are flawed in some way, exacerbated by a lack of global bodily context.
Honours and Distinctions
2007-2011 Research Fellow, Wales Institute of Cognitive Neuroscience
2013 Early Career Publication Prize, Monash University
Research Profile