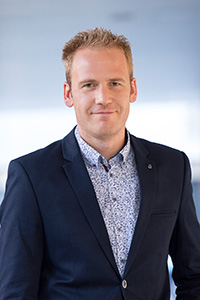 Career to Date
Senior Lecturer
Dr Pascal Molenberghs completed his PhD at the University of Leuven (Belgium) in 2009. Then he moved to the University of Queensland to work as a Postdoctoral Researcher at the Queensland Brain Institute (2008-2010) and School of Psychology (2011-2014). Since 2015, Dr Molenberghs is a Senior Lecturer at the School of Psychological Sciences here at Monash University. He is currently supported by a DECRA (2012-2015) and Heart Foundation Future Leader (2015-2019) Fellowship.
Research Focus
The Molenberghs Social Neuroscience Lab is currently funded by a Discovery Grant from the Australian Research Council (ARC) and a DECRA and Heart Foundation Fellowship.
The lab focuses on identifying the neural processes involved in empathy, morality, Theory of Mind and leadership and studies how these are influenced by group membership. The aim of this research is to get a better understanding of how complex social problems such as racism and ingroup bias develop.
In addition, we study empathy and Theory of Mind problems in stroke patients. The aim of this research is to get a better understanding of how brain injuries influence affective and social cognition. This fundamental understanding will help in developing more efficient rehabilitation techniques in the future.
We use a wide range of techniques such as functional magnetic resonance imaging (fMRI), voxel-based lesion symptom mapping (VLSM), Diffusion Tensor Imaging (DTI), activation likelihood estimation (ALE) meta-analyses and neuropsychological testing in stroke patients and healthy volunteers to investigate these topics.
Dr Molenberghs has publications in leading Neuroscience journals such as Brain, Journal of Neuroscience, Cerebral Cortex, Neurosciene and Biobehavioral Reviews, NeuroImage and Human Brain Mapping. So far he has already attracted more than $2 million dollars in competitive grants and fellowships.
Honours and Distinctions
2003: ERASMUS scholarship
2011 - 2013: UQ Postdoctoral Fellowship
2013-2015: DECRA Fellowship
2015-2019: Heart Foundation Future Leader Fellowship
2015: Heart Foundation Paul Korner Innovation Award