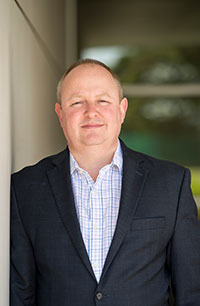 Professor Steven W. Lockley
Professor Steven Lockley completed his PhD at the University of Surrey in 1997, followed by a post-doctoral fellowship and part-time faculty appointment. In 2000, supported by a Wellcome Trust International Prize Traveling Fellowship, he moved to the Division of Sleep Medicine at the Brigham and Women's Hospital, and Harvard Medical School, Boston, USA as a Research Fellow and has been promoted progressively, most recently to Associate Professor of Medicine in 2011. In 2008, he was appointed as an Adjunct Associate Professor in the School of Psychological Sciences at Monash University, and in 2013 to Adjunct Professor, before joining the faculty as full Professor (0.4 FTE) in 2014. He also retains the position of Honorary Associate Professor at Warwick Medical School, UK. and Research Associate in Sleep and Chronobiology, Woolcock Institute of Medical Research.
Research Focus
At the Brigham & Women's Hospital, Professor Lockley's Circadian Physiology Program focuses on basic and applied aspects of human circadian biology. Our translational approach includes use of a range of techniques including epidemiology, field-based physiological studies and inpatient intensive physiological monitoring. We have a particular interest in human circadian photoreception and the effects of light on the circadian pacemaker and other non-image forming responses, and the impact of blindness on light responses. These studies in the blind have led to the development of novel therapeutic strategies to treat circadian rhythm sleep disorders. Professor Lockley is also a member of the Harvard Work Hours Health and Safety Group, which assesses the impact of extended work hours and shiftwork on health and safety of workers and the public, including in doctors, police, and firefighters.
https://sleep.med.harvard.edu/people/faculty/163
At Monash, Professor Lockley is a member of the Sleep and Chronobiology Research Focus group which studies the regulation and measurement of circadian rhythms, as well as the effects of restricted sleep on neurobehavioural functioning.
http://www.med.monash.edu.au/psych/research/themes/theme-sleep.html
Professor Lockley is also the Theme Leader for Lighting in the recently-established CRC for Alertness, Safety and Productivity as part of his Monash University role.
http://www.monash.edu.au/news/show/crc-for-alertness-safety-and-productivity
Honours and Distinctions
2011 – NASA Group Achievement Award (Chilean Miners NASA Rescue Support Team)
2009 – Harvard-Australia Fellowship, Harvard Club of Australia Foundation
2009 – Taylor Technical Talent Award, Illuminating Engineering Society of North America
2006 – Healthy Sleep Community Award (Harvard Work Hours Health and Safety Group), National Sleep Foundation