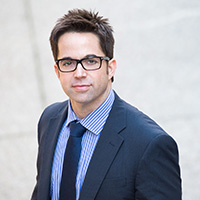 Associate Professor Nikolaos Kazantzis
Career To Date
Associate Professor Nikolaos Kazantzis is Program Director for Clinical Psychology and Director of the Cognitive Behaviour Therapy Research Unit at the Institute for Cognitive and Clinical Neurosciences at Monash University. He serves as board member for the International Association of Cognitive Psychotherapy (IACP), and is the IACP delegate for Australia. He is recipient of the "Beck Scholar Award" from Aaron T. Beck M.D. for excellence in contributions to Cognitive Behaviour Therapy. Nikolaos was Deputy Scientific Chair for the 2016 World Congress of Behaviour and Cognitive Therapies. He is currently Associate Editor for "British Journal of Clinical Psychology," "Cognitive Therapy and Research," "International Journal of Cognitive Therapy", and serves on the editorial boards of other journals. Nikolaos' research has received over $1million in grant funding and has resulted in over 100 scholarly publications. His latest book "The Therapeutic Relationship in Cognitive Behavior Therapy" with a foreword by Dr. Judith S. Beck, Ph.D. is currently in production with Guilford Press of New York. Nikolaos has developed online training programs for over 6,000 professionals in conjunction with the Australian Psychological Society. He has been a frequent invited presenter of clinical translation workshops, master clinician sessions, and keynote addresses for training events in 20 countries.
Research Focus
The Cognitive Behaviour Therapy Research Unit at School of Psychological Sciences, which draws together leading clinical psychology researchers from Canada, England, and the USA (http://www.med.monash.edu.au/psych/cbtru/). The research unit is committed to advancing the scientific knowledge and clinical practice of CBT, through enhanced understanding of client-therapist relationship processes, biological and psychological predictors of short and long-term treatment response, and the identification of biological and technological augmentation strategies.
Please visit us at: http://www.med.monash.edu.au/psych/cbtru/
Clinical Focus
Associate Professor Kazantzis worked for 15 years as a clinician alongside academic appointments, 8 years were spent in a variety of public health settings (inpatient, outpatient, and community mental health), including a specialist Cognitive Therapy Center. He also maintained a successful private practice for 7 years, during which he developed-group based CBT treatment programs for anxiety and mood disorders at a private psychology center (Auckland, New Zealand), and provided individual CBT for adults and specialist CBT supervision at a private medical clinic (Melbourne, Australia). As part of his private practice, he has presented clinical workshops for colleagues in 20 countries, across 10 locations in Australia, and has developed CBT training programs for more than 6,000 professionals worldwide. He is currently developing a CBT clinic for complex depression at the Monash Psychology Center.
Honours And Distinctions
2013/4 – Deputy Chair, Scientific Committee, 8th World Congress of Behavior and Cognitive Therapies
2012 – Beck Scholar Award, Beck Institute for Cognitive Behavior Therapy, USA
2012 – Appointed Delegate for Australia, International Association for Cognitive Psychotherapy
2005 – Research Medal, Early Career, Massey University, New Zealand
2004 – Tracey Goodall Early Career Award, Australian Association for Cognitive Behavior Therapy
Research Profile