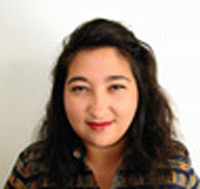 Sharna D Jamadar, PhD
Research Fellow
Career to Date
I completed my PhD in Psychology/Cognitive Neuroscience at the University of Newcastle in 2010. In 2010 I moved to the United States to take up a Postdoctoral Fellowship at the Institute of Living with Dr. Godfrey Pearlson (Yale University) and I continue to collaborate closely with Dr. Pearlson and his team. Since 2012, I have held a Research Fellowship at Monash Biomedical Imaging and School of Psychological Sciences. A part of my work at Monash has been focused on establishing and developing cognitive neuroscience research infrastructure and projects at the newly established Monash Biomedical Imaging (MBI) facility, particularly the simultaneous oculomotor – functional magnetic resonance imaging (fMRI) and oculomotor – electroencephalography (EEG)-fMRI infrastructure.
Research Focus
My work is focused on the use of multiple cognitive neuroscience methodologies to understand the neural bases of cognitive control and their impairment in a number of conditions. In my thesis, I used behavioural measures (reaction time, error rate), electrophysiology (electroencephalography/event-related potentials; EEG/ERP) and functional magnetic resonance imaging (fMRI) measures to study cognitive control in healthy individuals and individuals with schizophrenia. A major component of my work was to develop experimental paradigms suitable for use with fMRI and EEG, and in the fusion of fMRI data with multimodal data, including EEG and behavioural data.
During my Postdoctoral Fellowship (2010-2012), I worked in a highly cross-disciplinary environment and extended my skill base into imaging genetics and structural neuroimaging in the study of cognition and genetic markers in schizophrenia, aging, memory and genetic susceptibility to alcoholism.
My research work at Monash has focused on the examination of the neural correlates of oculomotor control and its improvement with training using simultaneous oculomotor-fMRI measures. In addition, I have also developed a strong interest in the concept of cognitive compensation – i.e. the ability to maintain cognitive function in the presence of neural changes from a number of factors, particularly healthy ageing and schizophrenia.
I currently have over 20 peer-reviewed publications and 40 peer-reviewed conference and seminar presentations.
Honours and Distinctions
I have received the following honours:
University of Newcastle Young Alumni Award finalist (2013)
Travel Award (2011). Society for Neuroscience, Washington DC
Travel Award (2011). American College of Neuropsychopharmacology, Hawaii
Molecular Neuroanatomy (2011). Okinawa, Japan Allen Brain Institute & Okinawa Institute of Science & Technology – Course Admission & Living Allowance
Multimodal Neuroimaging Training Program (2009). Center for Neural Basis of Cognition, Carnegie Mellon University and University of Pittsburgh, Pittsburgh – Full Travel Scholarship & Stipend
Outstanding Postgraduate Research Student Achievement (2009). Faculty of Science & IT
Outstanding Postgraduate Student Award (2009). Schizophrenia Research Institute
Best Platform Presentation (2009). School of Psychology Postgraduate Conference.
Best Debut Presentation Award (2008). Australian Society for Psychiatric Research
Schizophrenia Research Institute Postgraduate Scholarship (2005-2007).
Faculty of Science & IT Travel Award (2007).
Graduate Students Presents Award (2007). Cognitive Neuroscience Society New York
Best Abstract (2007). Australian Society for Psychophysiology
Best Poster (2007). School of Psychology Postgraduate Conference
People's Choice Award (2007). School of Psychology Postgraduate Conference
Australian Postgraduate Award (2005-2007).
University Medal, University of Newcastle (2005).
Faculty of Science & IT Medal, University of Newcastle (2005).
Dean's Commendation Faculty of Science & IT University of Newcastle (2001-2003).
Honours Summer Scholarship, University of Newcastle (2004).
Research Profile
Sharna D Jamadar research profile