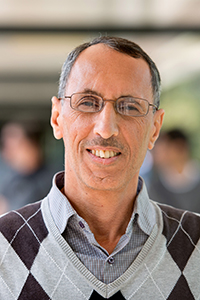 Dr Ziarih Hawi
Research Fellow
Career to Date
Dr Ziarih Hawi received his first-class honours degree from Baghdad University, Iraq with Bachelor degree in Biology. He completed his master degree in Biochemical Genetics at Strathclyde University, Scotland. During his Master degree, Dr Hawi identified and partially characterized a new protein (named haptoglobin related) which is expressed in blood and has the capacity to bind hemoglobin. Recently, it has been reported that this protein has oxidative activity to kill trypanosomes; Trypanosome brucei gambiense and Trypanosome brucei rhodesiense, which are responsible for African sleeping sickness in human and animals.

During his Ph.D research at the University of Newcastle Upon Tyne, England, Dr Hawi investigated the role of the major histocompatibility complex (MHC) genes in human autoimmune diseases (rheumatoid arthritis, multiple sclerosis and Wagner Granulamatosis). His Ph.D work resulted in the identification of associations between the genes of MHC and the above diseases. Further characterization of existing associations between the MHC genes and rheumatoid arthritis and multiple sclerosis were also carried out at molecular level.

Following completion of his PhD in 1995, Dr Hawi was appointed as Post-doctoral Research Fellow in the laboratory of Professor Michael Gill at the Genetics Department, The University of Dublin (Trinity College). Under the supervisor of Prof Gill, Dr Hawi successfully established and ran the Neuropsychiatric Genetic Research Group. Dr Hawi successfully supervised to completion 3 Ph.D, 3 M.D, 6 Masters and 7 honours projects. In 2005, Dr hawi was appointed as lecturer in Genetics until his relocation to the Queensland Brain Institute, University of Queensland. Since his relocation to Monash University, Dr Hawi has been appointed as Senior Research Fellow and has established the functional genomics research facility with the laboratory of Professor Bellgrove in the School of Psychological Sciences. Dr Hawi has gained wide international recognition for successfully mapping several susceptibility loci for attention deficit hyperactivity disorder. These include but not limited to dopamine receptor 5, dopamine beta hydroxylase, tryptophan hydroxylase 2 and the synaptosomal associated protein 25.
Research Focus
Dr Hawi currently runs the Functional Genomics Facility of the Bellgrove laboratory. The focus of our research is to map and functionally characterize susceptibility loci for psychiatric conditions including but not limited to attention deficit/hyperactivity disorder (ADHD). The Functional Genomics Facility also focuses on understanding the underlying genetic influences on cognitive traits such as attention, impulse control, working memory and error processing.
Honours and Distinctions
Iraqi Government Scholarship to study for M.Sc. and Ph.D in Human Genetics.
Generated over € 1.1 million of funding (CI-A) to support the Psychiatric Genetic Research from the health research Board in Dublin, Ireland.
Since his relocation to Australia (2010), Dr Hawi has awarded 3 NHMRC grants totalling of A$ ~1.7 million as CI-A, CI-B and CI-D.
Member of the editorial board of the on line peer reviewed journal Genetic Research International, Genes and the American Journal of Medical Genetics (2008-2012).
Research Profile