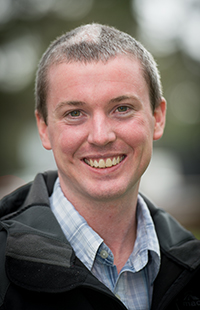 Career to Date
Dr. Harding was awarded his B.Sc. (Hons.) in neuroscience from the University of Alberta (Canada) in 2005, and his PhD in Cognitive Neuroscience from the University of Melbourne in 2013. His doctoral work focused on the role that dynamic brain connectivity plays in higher-order cognition, including cognitive control and working memory, and how abnormalities in brain connectivity are associated with the expression of schizophrenia. He is currently a Research Fellow in the Experimental Neuropsychology Research Unit, under the direction of Prof. Nellie Georgiou-Karistianis.
Research Focus
Dr. Harding uses functional neuroimaging techniques to research the biological basis of cognitive functioning in both health and disease. Function in the human brain, ranging from simple perception or movement, to complex planning and decision making, is reliant on the integration of neuronal activity from across distinct brain regions. The strength of these interactions, and the brain networks that they form, is dynamic, allowing individual brain regions to exercise a variable influence on network function. These dynamics are part of the formula which allows for the incredible diversity of behaviour that our brain can produce. In many neurological and psychiatric disorders, these interconnections and their dynamics break down, leading to all manner of cognitive, motor, perceptual, and emotional disturbances depending on the system that is affected.
My current work focuses on Friedreich Ataxia, a rare genetic disorder that results in degeneration within the cerebellum. The cerebellum is responsible for facilitating smooth behaviour, allowing us to, for example, reach out for our coffee cup and bring it to our lips in one fluid set of motions. Individuals with Friedreich ataxia have severe impairment of motor coordination and gait, as well as more subtle cognitive deficits. Our work is currently investigating the role that interactions between the cerebellum and the rest of the brain play in these dysfunctions.