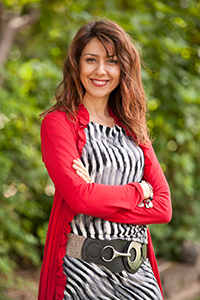 Professor Nellie Georgiou-Karistianis
Director, Graduate Research Programs
Careers to Date
Professor Nellie Georgiou-Karistianis was awarded her PhD in 1997 at Monash University, where she began her career as a teaching and research academic. Her career has seen the progression through lecturer, senior lecturer, associate professor to full professor in 2012, all within the ranks of Monash University. After a number of years convening the Bachelor of Behavioural Neuroscience Degree (2002-2009), she was appointed as chair of the Faculty's Early Career Researcher Committee (2010-2011) and in 2012 took on the role as Director, Research Degrees within the School of Psychological Sciences.
Research Focus
Professor Nellie Georgiou-Karistianis is a world-leading cognitive neuroscientist with an established reputation in mapping selective impairments at a brain, cognitive, psychiatric and motor level in normal ageing and in neurodegenerative diseases, in particular Huntington's disease and Friedreich ataxia. As head of the Georgiou-Karistianis Experimental Neuropsychology Research Unit (ENRU) her lab uses brain imaging methods (e.g., MRI, fMRI, DTI, TMS, EEG) and other cognitive and motor tools to understand brain structure and function, as well as behaviour in heath and disease. Her discoveries in cognitive neuroscience have enhanced understanding of behavioural consequences of disease, enabled novel strategies for management of symptoms, identified sensitive biomarkers of disease progression, identified brain regions as potential targets for future drug intervention, and have provided ground-breaking new insights on the functional operations of cortico-striatal and cortico-cerebellar circuits in the human brain.
Visit us at - http://www.med.monash.edu.au/psych/research/teams/enru/
For donations to Huntington's Disease research, please use the following link:
http://community.monash.edu.au/hrgv
Honours and distinctions
2013: International expert, CHDI Foundation Inc., USA, working groups
2012: Member of the International ENROLL-HD Scientific Planning Committee, USA
2012: International expert, National Institute of Neurological Disorders and Stroke (USA)
2011: Co-chair, World Congress on Huntington's Disease, Melbourne Convention Centre
2010: Director, Huntington's Research Group of Victoria (HRGV)
2005 and 2010: Academic Excellence Award, School of Psychology and Psychiatry (Teaching and Research)
1995: One of 3 Finalists, Young Australian of the Year Award (Science and Technology Category).
Research Profile