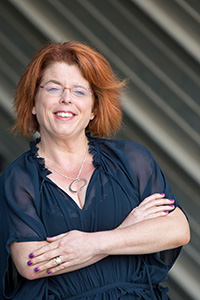 Professor Kim Cornish
Head of School of Psychological Sciences
Director Monash Institute of Cognitive and Clinical Neurosciences (MICCN)

Career to Date
Professor Kim Cornish completed her PhD at the University of London (Royal Holloway) in 1991. From there she moved briefly to the University of Leicester and then to the University of Nottingham (United Kingdom) where she was progressively Lecturer, Senior Lecturer and Reader. In 2002, Professor Cornish was recruited by McGill University (Montréal, Canada) into to the prestigious Canada Research Chairs Program (www.chairs-chaires.gc.ca) and then moved to Monash University in 2009 to take up the position of Head of Psychology and Professor of Developmental Cognitive Neuroscience. In 2013, Professor Cornish became the foundation Deputy Dean of the newly established (sub) Faculty of Biomedicine and Psychological Sciences, part of the broader Faculty of Medicine, Nursing and Health Sciences at Monash.
Professor Cornish is the current Chair of the Heads of Departments and Schools of Psychology Association, Australia.
Research Focus
The Cornish Developmental Lab is a unique research lab that focuses on defining gene-behaviour associations in neurodevelopmental disorders (fragile X syndrome, autism, Williams syndrome, Down syndrome, ADHD) in infancy through to childhood and then into early adulthood. Core topics include attention deficits, sleep, motor and cognitive impairments, and social/emotional profiles.
Visit us at - http://www.med.monash.edu.au/psych/research/teams/dngdl/

The lab is currently funded by grants from the Australian Research Council (ARC), both Discovery and Linkage. Professor Cornish has over 100 publications in some the world's leading journals (e.g. Brain, Neurology, Molecular Psychiatry). She has previously received funding from agencies in the UK (The Wellcome Trust, The Mental Health Foundation), USA and Canada (NIH, CFI, SSHRC and CIHR), and most recently from the Australian Research Council.

She is currently a member of the ARC College of Experts (2013-2015), the Peer Review College for The Wellcome Trust (UK; 2012-2015) and the College of Reviewers for the Canada Research Chairs Program (ongoing).
Honours and Distinctions
2013 – SACS Award for Leadership in State Government and Statutory Authorities – executive category.
2013 – International Visiting Scholar at the University of South Carolina, USA
Honorary Professorships at the University of Nottingham (UK), McGill University (Canada), and Zhejiang Normal University, (P.R China).
2002-2009 - Canada Research Chair, McGill University, Canada.
Research Profile