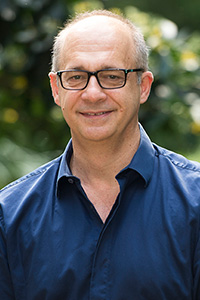 Group Leader: Professor Charles Claudianos
Research theme: Neurogenetics and development
Career to Date
Professor Charles Claudianos completed his PhD in Biochemistry and Molecular Biology at the Australian National University in 1999. In 2000 he was awarded a prestigious National Health and Medical Research Council (NHMRC) C.J. Martin Fellowship to work at Imperial College London in the United Kingdom. In 2002 he returned to the Australian National University to continue his work in molecular genetics and was research theme leader for two international invertebrate genome projects. In 2007 he was appointed Group Leader of the 'Senses and Synapses Laboratory' at the Queensland Brain Institute, the University of Queensland. In 2012 he wrote one of the three core projects associated with the successful award of the Australian Corporative Research Centre (CRC) for 'Living with Autism Spectrum Disorder' and in 2013 was appointed a Project Theme Leader for the Autism CRC. In 2015 he was appointed Professor of Neurogenetics and Development in the School of Psychological Sciences and Faculty of Biomedical and Psychological Sciences at Monash University.
Professor Claudianos is currently an Australian Research Council (ARC) Future Fellow and sits on the scientific advisory committee of BioAutism Ltd, Australia.
Research Focus
The Claudianos neuroscience laboratory uses an integrated 'molecules to mind' approach incorporating genomics, systems biology, cellular/molecular techniques and behaviours such as 'learning and memory' to understand the biological relevance of human DNA variations associated with mental health disorders such as autism. Core research topics include the molecular basis of learning and memory, human DNA variations associated with autism, RNA and epigenetic regulation of brain plasticity.
Visit us at - http://www.med.monash.edu.au/psych/research/groups/claudianos.html
The Claudianos laboratory is currently funded by grants from the ARC and Autism CRC Ltd. Professor Claudianos has over 60 publications in some the world's leading journals (e.g. Nature, Science, PNAS and Molecular Psychiatry). He has previously received funding from the ARC, NHMRC, CSIRO Flagships and the Australian Federal Government.
He is currently a member of the early career fellowship panel for the NHMRC and peer reviews for ARC and NHMRC and for international funding agencies including the BBSRC, Leverhulme and Wellcome Trusts, UK and Deutsche Forschungsgemeinschaft (DFG), Germany.
Honours and distinctions

NHMRC C.J. Martin Fellowship 2000
Best Paper Award, Royal Entomological Society, UK 2006-2007
Australian Research Council Future Fellowship 2012
Honorary Professorship at the University of Queensland, Australia 2014
Group team members
Researchers
Professor Charles Claudianos (Group Leader)
Dr Jing Lu
Research Support Staff
Nivetha Gunasekaran (Laboratory Manager)
PhD Students
Michelle Watts
Sarah Williams (external)
Stephanie Biergans (external)
Morgane Nouvian (external)
Our vision and mission statement
Translating the brain from Molecules to Memory
Throughout life the brain receives and learns sensory information, which is crucial for survival and well-being. In acquiring and storing such information, the plastic nature of the nervous system allows for the adaptation of existing neural connections and the creation of new circuits to accommodate new experiences. These changes occur at a fundamental molecular level and manifest as cellular, physiological and behavioural responses.
Although there has been great progress in understanding the anatomical and physiological bases of 'learning and memory', there remains a significant lack of knowledge concerning how a whole brain molecularly responds to learning and forms memories of our experiences. Do the same set of molecular events contemporaneously occur in different regions of the brain when a memory trace forms and are these the same mechanisms irrespective of medium or long-term memory? What are the temporal genetic issues of DNA→RNA→Protein and what regulatory mechanics (histone-deacetylation, methylation, demethylation, miRNA dysregulation) affect transcription of genes and translation of proteins that are involved in creating a 'fleeting memory' to that of 'a memory that lasts for a lifetime'. Answering these questions will provide fundamental knowledge concerning the functioning of the brain. More specifically, identifying behaviourally relevant molecular events in a whole brain that encompass memory, provides critical knowledge to help us understand defective neurological functions associated with dementia and other mental health disorders including Autism Spectrum Disorder (ASD).
Our mission is to use an integrated 'molecules to memory' approach using cutting edge genomic and cellular technologies to help unravel the impact of defective genes on key biological processes including how nerve cells connect in the brain. Similarly, the biological relevance of genes in behaviours that are indicative of mental health disorders such as learning and memory are examined using animal models like the honeybee and the mouse.
These molecular, cellular, physiological and behavioural approaches allow us to 'join the dots' and better understand the functioning of the brain what the causes of mental health disorders.
Group's activities summary
The development of the nervous system occurs in two ways; that which is determined by our genetic program helping to direct cells to replicate and differentiate, producing neurons that can project, connect with other neurons, innervate muscle and tissues typical of a developing foetus and; that which requires the same genetic program to respond to environmental stimuli, learn, acquire and recall memory and is subject to constant cellular/neuronal remodelling throughout life. Within this framework the Claudianos group works to understand the biological basis of neurodevelopmental disorders such as autism. Genetic screening has helped identify risk molecules/genes that function in nerve cell interaction such as neurexins and neuroligins in families affected by Autism Spectrum Disorders (ASD) and Attention Deficit Hyperactivity Disorder (ADHD). These molecules are being characterized in the laboratory, and aberrant functions including changes in nerve cell connections (synapses) are helping us measure the impact of defective genes and human DNA variations on the development of the nervous system. Although much of this research has been focussed on loss-of-gene function, we have recently understood that key non-coding gene regulatory mechanisms, such as microRNAs, can profoundly affect the functioning of the brain including behaviours such as learning and memory. Cutting edge whole genome sequencing approaches are now helping us detect variations in key gene regulatory elements and assess the contribution of the genetic elements to risk of mental health disorders.
Our group conducts research associated with 4 major neuroscience themes:
Systematic study of molecular networks that underpin memory formation in the brain
Quantitative models to examine gene regulation in the brain
Examining the biological relevance of molecules and DNA variations in behaviours indicative of mental health disorders
Applying systems biology approaches to human disease models
Claudianos group comprises of staff and student with background in genetics and genomics, computational and systems biology, molecular and cellular biology and behavioural neurobiology. We have a world-class Bee Research Facility to study the behaviour of bees and what they reveal about the human brain. The advantage of having a honeybee facility is to examine behaviours and brain plasticity in a controlled manner.
Our research was recently featured on ABC Catalyst showing our work with honeybees.
Current Research Projects
MicroRNAs involved in development of the nervous system and their role in mental health disorders
Autism spectrum disorder (ASD) is a highly heritable disorder with significant genetic heterogeneity and is understood to be a neurodevelopmental disability with social, communication and behavioural deficits. Many DNA variations have been associated with candidate protein coding genes, but there is limited information concerning DNA variations detected in non-coding genes such as microRNAs (miRNAs). MicroRNAs have been shown to be involved in neural development processes. We have identified mutations in functional binding regions of miRNAs in ASD patients suggesting that they play an important role in ASD development. To validate the gene function we will be using the CRISPR/Cas9 system to enable genome editing, and this will be followed by animal behaviour studies. Furthermore using NextGen sequencing approaches coupled with bioinformatics computational approaches we will build global profile of miRNA function in the brain. We expect to use this information to explore potential diagnostic and therapeutic approaches for clinical application.

Figure 1: MiRNAs found upregulated during learning and memory formation in bees and their predicted mRNA-targets targets (green) in the brain.
Hypoxia-regulated microRNA 210 in neuronal plasticity
MicroRNAs (miRNAs) are small non-coding RNAs that are in involved in regulating complex cellular processes through translational inhibition. Within the brain there is an enrichment of miRNAs and there is increasing evidence of miRNA regulation in neuronal plasticity, which requires highly coordinated translation regulation in response to neuronal activity. The miRNA-210 (miR-210) is a highly conserved miRNA known to be expressed during hypoxic conditions (low oxygen) and is understood to be a master regulator of various functions such as metabolism and DNA repair. Recently we identified miR-210 to be involved in long-term memory formation in that it is highly expressed in the brain. We know that metabolism of oxygen is increased by neuronal activity but very little is known about how metabolic processes may be involved in bring about changes in the brain - plasticity. We expect that repeated neuronal activation, required for long-term memory, will induce physiological hypoxia and hypoxia-regulated genes such as miR-210. Currently we are investigating the role of miR-210 in neuronal plasticity in mammalian systems using a variety of molecular, cellular, physiological and behavioural approaches. We hope to further understand how metabolic changes innately occurring during neuronal activity may directly contribute to brain development and plasticity.
Figure 2: Schematic representation of metabolic trafficking in brain cells (Glutamate-lactate shuttle)
The molecular basis of learning and memory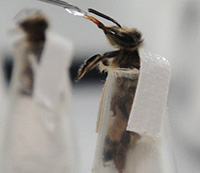 Figure 3: Honeybee undergoing 'Classical Pavlovian Conditioning' to examine learning and memory.
The focus of this project is to understand epigenetic mechanisms that regulate gene transcription such as methylation and microRNA dysregulation during the learning and memory process. Using genomic, cellular, molecular and behavioural assays, we wish to discover the genome response to memory formation in a whole brain. A critically important part of this research is to use a tractable experimental model species, such as the honeybee. Honeybee as an animal model system that has a remarkable level of neurological syntony with humans. The development of the honeybee brain in many ways mirrors the development of the human brain, and it shares many fundamental neurological genes and epigenetic regulatory mechanisms, including a near identical methylation toolbox, with humans. Our aims include to: (1) use a time course of appetitive olfactory learning paradigms to, (2) examine gene expression (transcriptome analysis) in brain regions that code olfactory memory, (3) characterise epigenome (methylation mechanism) associated with medium- and long-term memory formation and, (4) verify if neural activity in these memory regions is regulated by epigenetic processes. Therefore, identifying behaviourally important molecular events in a whole brain that encompass memory formation, provides critical information to help understand aberrant neurological functions associated with dementia and other mental health disorders including Autism Spectrum Disorders (ASD)
Selected Publications
Nouvian M, Hotier L, Claudianos C, Giurfa M, Reinhard, J (2015). Appetitive floral odours prevent aggression in honeybees. Nat Commun, 6:10247
Biergans SD, Giovanni Galizia C, Reinhard, J, Claudianos C (2015). Dnmts and Tet target memory-associated genes after appetitive olfactory training in honeybees. Sci Rep, 5:16223
Larkin A, Chen MY, Kirszenblat L, Reinhard J, van Swinderen B, Claudianos C (2015). Neurexin-1 regulates sleep and synaptic plasticity in Drosophila melanaogaster. Eur J Neurosci, 42: 2455-2466
Cristino AS, Barchuk AR, Freitas FC, Narayanan RK, Biergans SD, Zhao Z, Simoes ZL, Reinhard J, Claudianos C (2014). Neuroligin-associated microRNA-932 targets actin and regulates memory in the honeybee. Nat Commun, 5:5529
Cristino AS, Williams SM, Hawi Z, An JY, Bellgrove MA, Schwartz CE, Costa LdF, Claudianos C (2014). Neurodevelopmental and neuropsychiatric disorders represent an interconnected molecular system. Mol Psych, 19: 294-301
An JY, Cristino AS, Zhao Q, Edson J, Williams SM, Ravine D, Wray J, Marshall VM, Hunt A, Whitehouse AJO, Claudianos C (2014). Towards a molecular characterisation of autism spectrum disorder: an exome sequencing and systems approach. Trans Psych, 4: e394
Note for students: The possible research projects listed on this page are examples of projects that students might be interested in. Always feel free to contact us for more information or to discuss other research possibilities.
Students wishing to complete PhDs within the group, or graduates wishing to work within the group should contact Professor Claudianos directly (email: charles.claudianos@monash.edu).