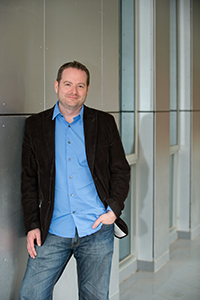 Sean W. Cain
Senior Lecturer
Career to Date
Dr. Cain's research has focused on basic circadian rhythms, learning, arousal and cognition. In 2006, he completed his PhD at the University of Toronto where he discovered a powerful and previously unappreciated determinant of memory retrieval: that the retrieval of memories depends on the matching of time of learning and time of retrieval (time memory), and that this rhythm is due to a previously unknown brain-based 24-hour arousal rhythm. After earning his PhD, he worked as a postdoctoral fellow (2006-2009) and then faculty member (2009-present) at Harvard Medical School, studying circadian rhythms and sleep in humans. Dr. Cain came to Monash in 2012 to take a Senior Lecturer position, where he works in the newly-established Sleep and Circadian Medicine Laboratory, conducting new and innovative human circadian rhythm and sleep research studies.
Research Focus
His current research focus is on sex differences in circadian rhythms and sleep and on how inter-individual differences in the circadian timing system is related to the development of mood disorders. His lab is currently funded by the NHMRC to study the physiological basis for the increased vulnerability in women to the adverse effects of night shift work. This work builds on his previous work while at Harvard Medical School, which demonstrated previously unknown fundamental differences in the circadian timing systems of women and men. This new research will lead to the development of novel sex-specific interventions aimed reducing the health burdens associated with shift work maladaptation.
Dr. Cain's lab also studies how abnormalities of the circadian timing system can increase the vulnerability to mood disorders and how interventions currently used (e.g., SSRI treatment for depression) act on the circadian timing system to normalize biological timing. This highly innovative work will potentially aid in identifying those with circadian abnormalities, leading to individualized and more efficacious treatments for mood disorders.
Dr. Cain's work has been published in such journals as Neuron, Journal of Neuroscience, Science Translational Medicine and PNAS.
Honours and Distinctions
2013 – Dean's Award for Innovation in Teaching
2012 – William Randolph Hearst Young Investigator Award
2009 – American Sleep Medicine Foundation Strategic Research Award
2009 – Research Excellence Award (Brigham and Women's Hospital Biomedical Research Institute)
2008 – Research Excellence Award (Society for Research in Biological Rhythms)
2006 – Natural Sciences and Engineering Research Council of Canada Fellowship
Research Profile