Sleep
Our theme encapsulates a multi-disciplinary program of research that aims to investigate the contribution of sleep regulatory processes on waking function, health and safety. Major avenues of research within the theme examine:
How circadian rhythms and sleep loss interact to regulate sleep and waking function
The discovery of novel biomarkers of sleepiness and circadian dysfunction
The impact that sleep disorders such as insomnia and sleep apnoea have on cognition, behaviour, health and well-being
Sleep-related occupational risk, such as drowsy driving or shift work
Environmental factors that interact with and influence sleep-wake regulation
Genetic basis of vulnerability to sleep and circadian disorders
Novel pharmacological and non-pharmacological treatment approaches for sleep disorders
The impact of sleep on mood, anxiety
The relationship between sleep and mental health, and psychological interventions for the improvement of sleep
The physiological basis of obesity-related sleep apnoea risk
Cerebral changes which occur during sleep deprivation using cognitive testing and functional magnetic resonance imaging
Our research projects span the molecular/genetic to behavioural levels. We study a range of populations, from young adults with normal sleep patterns for the study of normal physiology, to the elderly, people with sleep disorders, clinical populations with co-morbid sleep disturbances, and those exposed to altered sleep health, such as shift workers.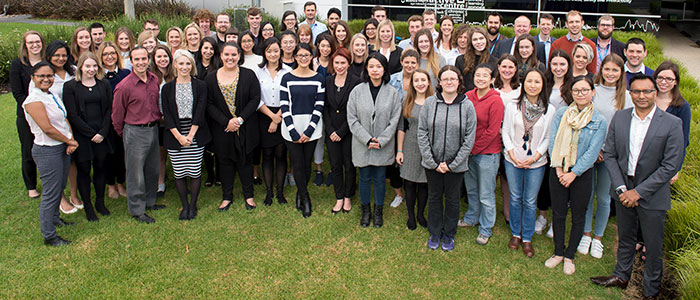 Featured projects
Circadian Mechanisms for Delayed Sleep Phase Disorder. NHMRC project led by Sean W. Cain and colleagues
Delayed Sleep Phase Disorder (DSPD) is a primary sleep disorder characterized by a difficulty in initiating sleep at night and subsequent difficulty in waking at times required for work or school. DSPD is associated with depression and anxiety, excessive daytime sleepiness, reduced academic and work performance and reduced quality of life, largely due to chronic sleep loss. The physiological basis of the disorder remains unknown. This project investigates how changes in the sensitivity of the circadian clock to evening light may be a cause of this disorder.
Sex differences in shiftwork tolerance. NHMRC project led by Sean W. Cain and colleagues
Women comprise approximately half of the shift workers in Australia. It is well-established that women demonstrate greater shift work maladaptation than men. Women working shift work schedules have more health complaints, higher absenteeism from work, a higher prevalence of sleep disturbances, more drowsiness and more accidents at work than men. It has been concluded that the constellation of symptoms may be considered a shift work "intolerance syndrome" to which women are particularly susceptible. Remarkably, the physiological basis of this sex difference is not known. This project aims to examine fundamental differences in the circadian system (decreased response to light and increased melatonin levels) as a physiological basis for the decreased tolerance for shiftwork in women and the increased susceptibility to adverse cognitive and general health outcomes.
CRC for Alertness, Safety and Productivity: The Cooperative Research Centre (CRC) for Alertness, Safety and Productivity aims to reduce the burden of impaired alertness on the safety, productivity and health of Australians. Our innovative research strategy is drawn from disciplines including medicine and public health, biomedical sciences, psychology, cognitive neuroscience and human factors, physics and biophysical modelling, electrical and bioengineering, lighting design, occupational health and safety, and road safety. The CRC for Alertness, Safety and Productivity is a research consortium comprising 25 organisations including universities along with independent research institutes,industry, policy and regulatory agencies and insurers.
Two CRC projects will be based at Monash University:
Laboratory-based development of systems and biomarkers to assess circadian, sleep and alertness states - led by Clare Anderson and Suzanne Ftouni

Reduced alertness has widespread effects on core cognitive functions leading to an increased risk of errors, accidents and injuries, especially in high risk environments. Almost 10,000 serious workplace injuries and more than 25,000 serious injuries from road crashes are caused by poor alertness each year. Objective methods to measure and predict alertness failure during safety critical tasks would cut accidents, injuries and associated costs, and improve performance and productivity. However, the capacity to accurately measure, monitor, and manage alertness levels remains inadequate. The overall objective of this study is to identify and develop novel biomarkers of alertness to facilitate the development of cutting edge tools and systems to detect and predict alertness state more accurately.

Assessing individual vulnerability to shift work and integrated interventions for alertness management in the healthcare setting - led by Shantha Rajaratnam and Tracey Sletten

The health industry encompasses the largest body of shift workers in the country, at risk of impaired alertness with associated occupational health risks and impact on patient outcomes. Expenditure on health each year in Australia is high and the largest components of health spending are public hospital services. This project will facilitate the development and evaluation of the next generation of systems and tools for alertness management in a high intensity occupational setting using both organisation wide and individual level approaches. Medical and nursing shift workers across two major teaching hospitals in Melbourne and Adelaide will assess evidence-based interventions designed to improve alertness and performance including scheduling, smart lighting, and individualised sleep health management with a focus on enhancing outcomes for shift workers.
Centres and Groups