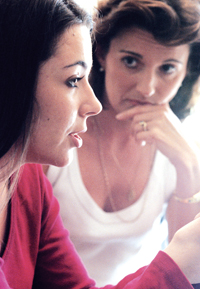 Psychopathology: Prevention and Intervention

Mental illness is relatively common and impairs the lives of many Australians. We are concerned with understanding the biological, psychological and social factors that contribute to both mental illness and health. Researchers are involved in developing and evaluating both psychological and pharmacological treatments for mental illness as well as programs to enhance mental health. Treatments are applied across the lifespan, in people with medically illness, and in culturally and linguistically diverse populations. To achieve these goals we use a variety of methodological approaches including cross sectional and longitudinal surveys and clinical trials.
How can we best detect and treat depression in nursing home residents?
How is coping style associated with mental health and cognitive impairment after traumatic brain injury?
What is the relationship between personality disorder and mental illness?
What is the effect of developing self-efficacy on the outcome of teenage depression?
Why is depression so commonly associated with physical illness and what is the connection?
Highlights
News
Professor Jennie Ponsford has a visiting PhD student Gisela Wolters. Gisela is studying Coping after traumatic brain injury.

Associate Professor Nikki Rickard has recently published a book with co-author Dr Katrina McFerran entitled "Lifelong Engagement with Music: Benefits for Mental Health and Well-Being."
Centres and Groups
Theme Members
Dr Audrey McKinlay (Theme Leader)
Dr Izelle Labuschagne
Dr Katherine Lawrence
Dr Stefan Luebbers
Professor Jennie Ponsford
Associate Professor Nikki Rickard
Professor Julie Stout
Dr Kate Taylor
Dr Marie Yap

Research Led Education
Dr. Fran Shawyer provides a Mindfulness Based Cognitive Therapy professional training program and monthly peer supervision group
Dr. Penny Hasking is part of a team developing and implementing a professional learning program to school leaders, support staff and teachers around the issue of mental health promotion in schools.
Research Led Clinical Activities
Motivational Interviewing and cognitive behavioural therapy for anxiety and depression following traumatic brain injury
Light therapy for fatigue and sleepiness
Melatonin for sleep disturbance following traumatic brain injury
Detecting and responding to depression across Uniting Aged Care facilities in Victoria
Augmentation of cognitive behavioural therapy with fluoxetine for the treatment of school refusal
Application of integrated disease self-management in type 2 diabetes mellitus.
A pragmatic trial of a 'stepped care' intervention for people with depression and cardiac failure
The PROMPT study: Application of tailored psychosocial therapies to reduce distress and depression in cancer patients: a randomised controlled trial."
A pragmatic trial of a 'stepped care' intervention for people with depression and cardiac failure"
Content maintained by: research.psych@monash.edu