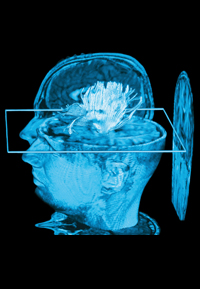 Addiction and Consciousness

We are interested in understanding the neuronal basis of addiction and consciousness.
Conscious experience remains a fundamental and almost mysterious research topic in science. Our team members research some of the "big" questions in science, including:
What neuronal mechanisms produce subjective experience when we, for example listen to the rain, see a face, observe a moment, or feel pain?

Can we pharmacologically induce altered states of consciousness and what are the mechanisms by which this occurs?

How does our conscious experience vary with attention?

Do individual differences in our genetics influence our ability to monitor ongoing behaviour and to consciously detect performance errors?

In an absence of external sensory inputs, how is dream content produced by neuronal activity in the brain?

How is the conscious experience of your own body affected and modified by prior sensory experience?

How does observing others' sensory or emotional experiences affect the conscious experience of your own body?
We are also interested in the interaction of addiction with other medical conditions. For example in people with traumatic brain injury in a rehabilitation context we are studying the impact of substance use on cognitive function and cognitive recovery and patterns of post-injury substance use, with a view to minimising this. We are also interested in the role of traumatic brain injury in relapse in substance abusers. Our interest in addiction and cognition also has a translational aspect. Pre-clinical (animal) behavioural studies can provide vital information regarding how drugs motivate behaviour and the types of interventions that provide the best outcomes when addressing substance use disorders.
We study these questions in healthy human volunteers, psychiatric populations, and people with traumatic head injuries, using a variety of techniques ranging from behavioral studies (visual psychophysics, eye tracking, etc), pharmacological manipulations, genetic analysis, neuroimaging (fMRI, EEG and TMS) and electrophysiological recordings of neurons.
Highlights
Addiction and Consciousness Seminar
Check details here
Media
Featured projects
Melita Giummarra is undertaking a range of experiments that involve body illusions (e.g., the rubber hand illusion) that aim to examine whether and how the appearance of the body, emotions (e.g., fear and disgust) affect sensory processing (pain).

Russell Conduit is investigating neural mechanisms of dream consciousness using various brain stimulation techniques in conjunction with EEG and MEG brain imaging.

Jillian Broadbear is evaluating treatments to reduce withdrawal and relapse in a pre-clinical model of opioid dependence. She is also looking at the contributions of mood disorder, sleep disturbance and substance use in aspects of cognitive performance, in humans and animals.

Naotsugu Tsuchiya investigates 1) the scope and limits of non-conscious processing, 2) the relationship between attention and consciousness and 3) the neuronal mechanisms of consciousness by analyzing the multi-channel neurophysiological data from humans and animals.
Special publications
Jakobson A, Fitzgerald P & Conduit R (2012) Induction of visual dream reports after transcranial direct current stimulation (tDCs) during Stage 2 sleep. Journal of Sleep Research doi: 10.1111/j.1365-2869.2011.00994.x

Robert Hester, L. Sanjay Nandam, Redmond G. O'Connell, Joe Wagner, Mark Strudwick, Pradeep J. Nathan, Jason B. Mattingley, and Mark A. Bellgrove (2012) Neurochemical Enhancement of Conscious Error Awareness, Journal of Neuroscience

Ryota Kanai & Naotsugu Tsuchiya (2012) Primer: Qualia Current Biology
News
Naotsugu Tsuchiya is appointed as Associate Professor effective on 01/01/2012

Mark Bellgrove is appointed as Professor effective on 01/01/2012

Melita Giummarra commenced as NHMRC Early Career Research Fellow on 01/01/2012
Centres and Groups
Theme Members
Associate Professor Naotsugu Tsuchiya (Theme Leader)
Associate Professor David Best
Dr Dan Upton
Research Led Education
Research Led Clinical Activity
Content maintained by: research.psych@monash.edu