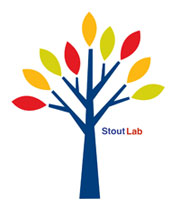 Huntington's Disease
Huntington disease is an autosomal dominant disease that typically shows onset in adulthood and individuals with the Huntington disease gene have a fifty percent probability of passing on the Huntington gene to each of their offspring. There has been a long line of research documenting the presence of Huntington-related symptoms prior to the onset of chorea. These symptoms, which encompass psychiatric, cognitive, motor, and other behavioural and personality disturbances have been reported retrospectively in many clinical studies. Prospective documentation for these symptoms, and a timeline that defines the onset and progression of symptoms prior to meeting the chorea-defined diagnosis, has been much more elusive.
Current Projects
The CHDI Cognitive Assessment Battery (CAB-Beta) Project
The CAB-Beta Project is a multi-site, international research project headed by Professor Stout. The overall goal of the study is to develop a 60 minute series of tests (battery) that show both cognitive deficits in HD and pre-HD compared to controls, as well as the potential to show drug-induced improvements.

The study will evaluate a 90-120 minute test battery for use in late pre-diagnosis HD and early diagnosed HD. This battery will include tasks known to be sensitive in these populations (Core tests) as well as promising but understudied tasks (Provisional tests). Following analysis of the data, the battery will be pared down to a 60 minute battery of tasks with known sensitivity and test feasibility.

The intended use of final 60 minute test battery is in future clinical trials in late pre-diagnosis HD and early diagnosed HD. CHDI's goal is to develop disease modifying treatments. To accomplish this goal, for Phase 2 Proof of Concept studies, clinical endpoints will be needed that can measure symptomatic improvements over shorter periods. These clinical endpoints can then also serve as early indicators in Phase 3 trials. In addition, it is possible that treatments directed solely at improving cognitive function may be pursued.

Primary objectives for validation of the test battery include:
Characterisation of the sensitivity of each task, exploration of composite scores for a subset or subsets of tasks. The characterisation of sensitivity will allow us to pinpoint tasks that would eventually serve as treatment efficacy measures; and
Determination of feasibility/tolerability of the cognitive battery in late pre-diagnosis HD and early diagnosed HD.
Secondary objectives for the validation of the test battery
Characterisation of test-retest reliability;
Determination of practice effects over clinical trial length retest intervals;
Assessment of alternate forms for repeated testing; and
Identification of individual tests that can serve as screens to identify subjects appropriate for inclusion in trials based on a certain level of cognitive impairment.
Track-HD/ Track-ON Project
The Track-HD study is a multi-centre, multi-national prospective, longitudinal, observational biomarker study of premanifest and early stage HD with no experimental treatment being carried out by the Clinical and Cognitive Neuroscience Laboratory. The aim of the study is to find out the combination of measures most sensitive for detecting change over the natural course of progression of HD, with a view to validating these measures for use in future clinical trials. To achieve this, study participants undergo clinical, motor, cognitive, neuropsychiatric, neuroimaging (3T MRI) and oculomotor assessments as well as donate blood samples. These assessments are conducted longitudinally across four visits including baseline, 12, 24, and 36 months. Current sites are in Vancouver Canada, Leiden Netherlands, London, and Paris.

The cognitive aspect of the Track-HD study is the primary focus of the Project. Our team have carefully chosen an extensive cognitive battery which comprises both well-known cognitive tasks as well as novel tasks which have been designed or adapted to suit the needs of this study. Our team are responsible for design and implementation of the novel tasks into the cognitive battery. The dynamic nature of Track-HD means that cognitive tasks are constantly developed and improved throughout the course of the project in order to indentify the most suitable cognitive markers. The project team is also responsible for the development and adaption of the standard operating procedures for all the cognitive tasks. Throughout our work, we strive to maintain quality assurance at all times and we perform quality control checks on all cognitive data to ensure that the quality of the data is of a high standard. In conjunction with the Track-HD statisticians, we are responsible for analysing the cognitive data and publishing the findings in reputable high profile journals.
Findings from this study will enable future clinical trials to identify the optimal stage of disease at which to administer therapeutic drugs to pre-manifest and/or early-stage HD patients. It is hoped that the timely administration of these drugs will slow the progression of HD, thus improving their quality of life.
Reach 2HD PBT2 Drug Trial
The Reach2HD Trial is a Phase II clinical research trial to determine in patients with clinical features of Huntington disease (HD) whether an investigational drug called PBT2 is safe and tolerable at a dose of 100 mg and 250 mg per day versus placebo and to determine whether or not there is an effect on cognitive (thinking) abilities. The study will also look at whether PBT2 will affect other HD symptoms including motor (movement) and overall functioning of people with HD when taken over a period of 6 months. The trial is sponsored by Prana Biotechnology Pty Ltd and administered by the Huntington Study Group (HSG) out of Rochester University, New York.
Risky Decision Making
The study of risk taking in young adults has been a growing area of research in Australia and overseas as young adults are the age group most likely to engage in risky behavior such as alcohol and drug abuse, sexual risk and risky driving behavior. The decision making processes used by people under the influence of drugs or alcohol and while driving are being examined in several projects currently being undertaken by the Stout Lab.
Current Projects
Cognitive models of decision making in clinical populations
Substance abuse is a major health problem in Australia, characterised by continued substance use following negative consequences associated with use. Undoubtedly, this maladaptive behaviour arises from a complex interaction between socio-cultural and biological factors.
The goal of this project is to develop and apply formal models of decision making to compare decision making in substance abusers.
Decision models allow the study of individual differences in cognitive and motivational processes of decision makers. The project's specific aims include development and implementation of hierarchical Bayesian methods for comparing alternate decision models, parameter estimation, and tests of generalisation across decision tasks. These methods will be implemented in a decision making study of people with substance use problems. This research will yield new methods and a rigorous, theoretically-based account of how substance users differ from comparison subjects in their decision behaviour.
The project has three specific aims:
To develop new hierarchical Bayesian model comparison procedures and then to test these new procedures against previous methods.
To develop new hierarchical Bayesian parameter estimation procedures, and to evaluate the usefulness of these procedures in a comparison of the motivational, learning, and choice processes of people with and without substance use problems; and,
To develop new tests of model generalisation based on hierarchical Bayesian analysis, and to apply these methods across a set of decision tasks to determine the limits of generalising across tasks.
Brain activation patterns during decision-making tasks in recovering heroin users on methadone-maintenance.
Heroin addiction and methadone treatment have opposite effects in a key aspect of decision making; heroin addiction in the absence of methadone is associated with increased avoidance of punishment (i.e., losing money), methadone appears to reduce avoidance of punishment. This study will examine heroin addicts, half on methadone treatment, using functional MRI to determine differences in the patterns of brain activation during decision making. Understanding the neurocognitive bases of decision making in opiate addiction will provide essential information for development of therapies for improving long term outcomes in addiction, and for revealing adverse effects of methadone.
Neurocognitive predictors of risky driving in young people
Teenage years and young adulthood are marked by maturation of decision making and behavioral control, owing to development in neural systems underpinning these abilities. This study will be the first examination of developmentally-relevant measures of cognition in conjunction with both self-reported and naturalistic driving behavior in young, novice drivers. Identification of cognitive characteristics in young drivers that predict driving risk behavior will contribute essential evidence to inform prevention strategies to improve road safety in young people at highest crash risk.