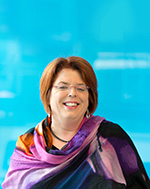 Developmental cognitive neuroscientist Professor Kim Cornish is a world-leading expert in genetic neurodevelopmental disorders, such as Fragile X syndrome, Autism, Williams syndrome, Attention Deficit-Hyperactivity Disorder and Down syndrome. Kim joined Monash University in 2009 from McGill University in Montreal, Canada, where she held the prestigious Canada Research Chair (Tier 1). She is currently the Head of the School of Psychology and Psychiatry and Lab Director of the Cornish Developmental Lab, a unique lab at Monash University which specialises in charting the cognitive developmental pathways in infants, children and adults with different neurodevelopmental disorders. Her experimental work is deeply translational, impacting on the quality of life for affected children and their families.
Born in the United Kingdom, Professor Cornish gained her PhD from the University of London in 1991. While visiting a nursery in 1990 as part of her research, she met a boy who at first seemed to share characteristics with autistic children, but who on closer examination was quite different. In contrast to children with autism, this young boy was social and enjoyed interacting with others. He was diagnosed with a genetic disorder known as 'fragile x syndrome'. Two decades later and fragile x syndrome is one of the most recognised neurodevelopmental disorders worldwide. A passion to tease apart disorder-specific "signatures", beginning in infancy and childhood when interventions can be their most effective, has driven Professor Cornish's research agenda for 20 years.
At Monash University, the Cornish Developmental Lab benefits from unprecedented access to state-of-the-art research technologies that include neuroimaging, molecular genetics, and cognitive and motor facilities alongside spacious testing rooms housed both at the Monash Biomedical Imaging precint and at the School of Psychology and Psychiatry. This exciting new developmental lab has already secured research funding in excess of $1M and has collaborators worldwide including Europe, North America and across Australia.