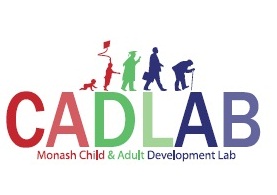 This newly established lab will focus on neurodevelopmental disorders and their trajectories across the lifespan. Embracing a truly interdisciplinary approach to understanding development across multiple levels of analysis, researchers will experience a range of innovative technologies designed to tease apart subtle pathways of function and dysfunction at the brain and cognitive levels (e.g. infra red eye tracking, novel experimental paradigms). A critical component of this lab is to chart BOTH typical and atypical developmental trajectories.
The Team at the Cornish Developmental Lab
Professor Kim Cornish, Director, kim.cornish@monash.edu

Claudine Kraan, PhD Candidate, claudine.kraan@monash.edu

Fay Fletcher, PhD Candidate, Fay.fletcher@monash.edu

Fay gained her undergraduate qualification in Psychology in 2011 from Newcastle University in the UK, passing her Bachelor of Science with a 1st Class Honours. She has always had an interest in developmental psychology and her undergraduate project fuelled this enthusiasm by underaking research on preschool children, investigating the link between Theory of Mind and narrative skill. This project allowed her to gain extensive experience in working with, and testing, young children using a range of assessment batteries.

She chose to further her career in the area of neurodevelopmental disorders by joining the dynamic team at Monash CADLAB. She is currently working as a PhD student as part of the ARC Sleep study, investigating the extent to which sleep disturbance effects overall academic performance in typically developing children and children with High Functioning Autism and Asperger's syndrome. In particular, she will focus on the extent to which anxiety can exacerbate the detrimental effect of sleep disturbance on the developing child.

"Although there has been a recent surge in sleep-related research, there is still a lot more research to be done before we fully understand the mechanisms of sleep and how it relates to a number of other factors; and this is something I am excited to be a part of."

Hannah Kirk, PhD Candidate, Hannah.kirk@monash.edu

Hannah is currently in the second year of her PhD, after gaining her Bachelor of Science (PSychology) with 1st Class Honours from Newcastle University, UK, in 2011. Following completion of her degree, she worked as a Research Assistant at Newcastle University under the supervision of Dr Deborah Riby, where she aided investigations into the unique social profile of individuals with Williams syndrome. Since joining the Cornish lab at Monash University in 2012, Hannah has continued her Research Assistant role and has worked with Dr Darren Hocking to explore motor functioning in adults with Williams syndrome and Down syndrome.

Hannah's current project focuses on the relationship between attention and academic outcomes in young children with developmental disorders. She is part of a large team that is currently designing and developing a research driven training game with the objective of improving attention in early school years.

Mistral Foster-Owens, DPsych Candidate, mistral.foster-owens@monash.edu

Mistral completed her undergraduate degree (Bachelor of Psychology) at Deakin University in 2010. Her 4th year research study examined the relationship between working memory, attention, formally-measured academic achievement, and teacher-judged school performancein a non-clinical sample of children. Mistral's specific interest was whether teachers' reports of academic achievement (based on school reports) were significantly related to formal measures of academic achievement, working memory performance and performance on formal tests of attention.

Mistral's current research is focused on better understanding the profile, and impact of, sleep disturbance in children with Autism Spectrum Disorder. Specifically, whether sleep disturbance impacts on children's levels of inattention and arousal, and the inter-relationship between sleep disturbance, inattention and academic achievement.

Simonne Cohen, PhD Candidate, scoh6@student.monash.edu

Simonne gained her undergraduate qualification in Psychology in 2010 from the University of New South Wales (Sydney), passing her Bachelor of Psychology with a 1st Class Honours. Following completion of her degree, she then went on to obtain a Masters of Clinical Psychology with an Honours Class 2 division 1 from the University of New South Wales. She has always had an interest in working with children with Autism Spectrum Disorder (ASD), and spent several years working as an Applied Behavior Analysis (ABA) therapist as well as conducting assessments and therapy as a Provisional Psychologist. During her postgraduate training, she also worked as a Research Assistant at Westmead Children's Hospital, where she managed and coordinated a clinical trial examining the effects of fluoxetine on repetitive and obsessive behaviors in children with ASD. This fuelled her enthusiasm to continue to work with children with ASD, as well as undertake a PhD with a specialty in this area.

Simonne chose to further her career in the field of developmental disorders, particularly ASD, by joining the Cornish Lab at Monash. She is currently working as a PhD student, investigating the relationship between sleep deficiency and poor behavior in children with Low Functioning Autism. This is a collaborative PhD project, whereby she will be working under the supervision of Professor Steven Lockely at Brigham Women's Hospital (Harvard Medical School) for 6-months to undertake data collection and analysis.

Project: Sleep Deficiency in Children with ASD

Kartini Ilias, Doctoral Student

Kartini Ilias is a doctoral student with an emphasis in Clinical Psychology. She received her Bachelor Degree (Honors) in Psychology from the International Islamic University, Malaysia in 2004. Following her undergraduate education, she began as a teacher in the One Stop Center for Special Children (CADS) that caters to children with various special needs, such as those with Down Syndrome, dyslexia, learning disabilities, and Autism Spectrum Disorder. Her roles included developing a teaching syllabus, implementation of behavior modification, and handling counseling sessions with parents. In 2008, she received her M.S. in Clinical Psychology from National University, Malaysia. Her Masters dissertation was entitled a Psychoeducational Program for Parents with Special Need Children. Prior to beginning her PhD, she worked as a Lecturer in the MARA Technology University (UiTM) Malaysia. Kartini performed clinical work at the Pain Clinic Selayang Hospital in 2009-2011 and continues clinical practice at CADS until now.

Her primary clinical and research interest relates to Autism Spectrum Disorder (ASD) – more specifically, understanding the psychosocial wellbeing, parenting stress, and resilience of parents and families of children with ASD across cultures. Kartini is now working on her PhD research since December 2012 under the supervised guidance of Dr. Karen Jennifer Golden (Abuzahra), Dr. Tam Cai Lian, and Professor Kim Cornish. Kartini is also assisting with the Malaysia-Australia Autism Sleep Health Program.
>> PhD Scholarship Opportunities in Developmental Neuroscience
Content maintained by: research.psych@monash.edu