van Boxel Group
Group Leader : Associate Professor Jeroen van Boxel
Research theme : Memory and Consciousness, Neurodevelopment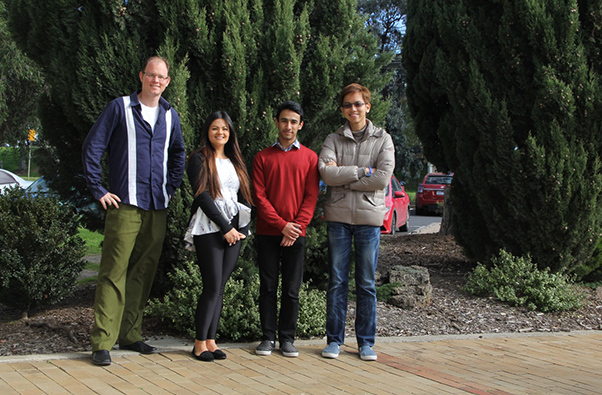 Group team members
| Researchers | Honours students |
| --- | --- |
| | Kristel Krella |
Our vision and mission statement
We investigate the influence of attention on sensory perception, aiming to unravel the scope and limits of attentional influences. We focus on two questions: (1) what is the role of attention in conscious perception, (2) how does attention influences stimuli rich in social cues, like biological motion. Through these investigations we aim to unravel the age-old question of what is consciousness, and to provide ways to ameliorate perception of biological motion stimuli for groups that appear to have problems with such tasks (e.g. in Autism Spectrum Disorder)
Group's activities summary
We focus on questions related to attention in sensory perception. One of the two main goals is to understand the link between attention and conscious perception. Studying this relationship is important because it determines in part which sensory events are perceived and which are not. Our group focusses specifically on relatively understudied situations in which attention decreases perception. These situations are not often documented, but seem to occur mostly in situations of low signal-to-noise conditions (e.g. low luminance/ contrast). This may be important in everyday situations like driving a car through the rain or snow. We also employ ambiguous figures, and bistable perceptual phenomena regularly (e.g. binocular rivalry, Ternus display).
The second focus is on biological motion perception, and specifically the link to attention, and autism spectrum disorders. We are interested in finding out how and why individuals differ in their sensitivity to biological motion (=action stimuli), and use that knowledge to make actions more visible. This applies both to the typical population (e.g. make road workers more visible to oncoming traffic), and e.g. to people with Autism Spectrum disorder, who appear to have more general difficulties extracting socially important information from such stimuli.
Image Description: An example of a bistable stimulus, called the face-vase illusion (here constructed with the face of a cat). The illusion works be inverting figure-ground assignment. If you perceives the black areas as the background, the white vase is perceived. If, on the other hand, one perceives the white area as the background, the two black cats are perceived. One has some attentional control over this bistable stimulus.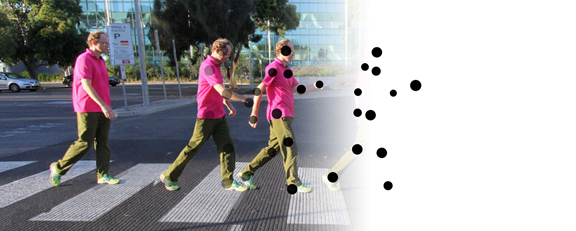 Image description: Biological motion stimuli can be rendered very sparse in information while still leading to clear action perception. Here a walker is transformed into a point-light walker by only displaying some dots at several important joints. When put in motion the perception of an action is very vivid.
Description of the dynamic image: Biological motion perception is very robust. Even just showing a few dots allows for clear action identification.