Rajaratnam Group
Sleep and Circadian Research Group
Group Leader : Professor Shanthakumar Wilson Rajaratnam
Research theme : Sleep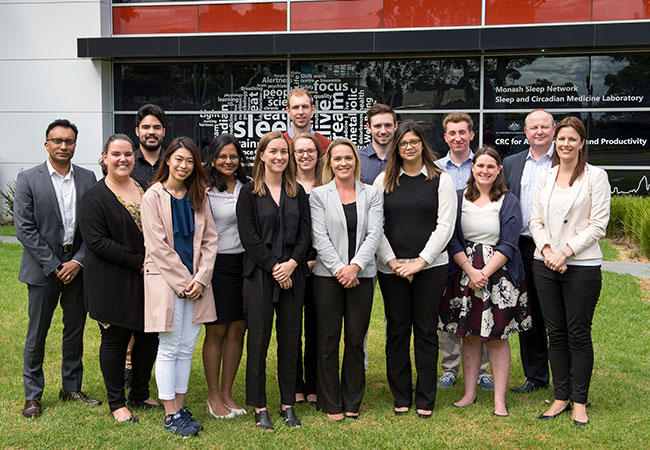 Group team members:
Researchers
Research Support Staff
Adjunct Staff

Professor Shantha Rajaratnam
Professor Steve Lockley
Dr. Michelle Magee
Dr. Rowan Ogeil
Dr. Kelly Sinclair
Dr. Tracey Sletten
Dr. Alexander Wolkow


Melissa Nicholson

Dr. Laura Barger
Dr. Joshua Gooley
Dr. Mark Howard
Dr. Moira Junge
A/Prof Darren Mansfield
PhD/DPsych students
Honours students
Interns

Lauren Brooker
Marita Bryan
Saranea Ganesan
Dev Kevat
Jessica Manousakis
Megan Mulhall
Jade Murray
Sylvia Nguyen
Ahuva Segal
Julia Stone
Nathan Wilson

Emma Giliberto
Rachel Lam
Scott Peterson
Marie-Antoinette Spina

Ellen Carter
Lian Drury
Sasha Hart
Our vision and mission statement
Good sleep is fundamental to general health and performance. The mission of the Sleep and Circadian Medicine Group is to understand the biological and psychological processes that control sleep and wakefulness, and the causes of abnormal sleep in order to promote optimal health and well-being. We aim to develop novel treatments and preventative measures for sleep disruption and circadian rhythm misalignment.
Group's activities summary
Poor sleep and disruptions of circadian rhythms are associated with a myriad of mental and physical disorders such as depression, obesity and cardiovascular disease and diabetes. Further, sleep and circadian rhythms affect the way we think, make decisions, learn and remember our experiences, perceive the world and, how we interact socially. The Sleep and Circadian Medicine Group aims to understand how to improve sleep and circadian rhythms, to reduce the significant human and economic burdens of poor sleep.
Melatonin for the improvement of sleep: Melatonin is a sleep promoting hormone that can also alter the timing of the internal clock. We are conducting studies on this simple intervention for the improvement of sleep timing in those with abnormal sleep-wake schedules as well as individuals who have suffered traumatic brain injuries.
Understanding circadian mechanisms for depression and antidepressant therapy: Depression, sleep, and circadian functioning are tightly linked. Sleep problems are not only common in depression, but also increase the risk for major depression. Depression is also associated with abnormal circadian timing, which may be an underlying cause of the disrupted sleep that contributes to depression. As antidepressants act to alter serotonin levels in the brain, and serotonin is a potent modulator of the circadian clock, we are studying, for the first time in humans, the effects of these drugs on the human clock. In addition, we are developing circadian interventions that will promote stabilization of circadian rhythms for the improvement of sleep and depression.
Discovering novel biomarkers for sleepiness: Prolonged wakefulness has widespread effect on core brain functions. If not detected early, increasing sleepiness can lead to errors, accidents and injuries, especially in high risk environments. We are investigating a host of new potential biomarkers for sleepiness that will allow for the early detection of sleepiness-related impairments, including the use of subtle changes in speech, sensitive eye movement measures and body chemicals.
What makes some people more sensitive to shift work maladaptaion? Shift work involves being active and sleeping at times that are out of synchrony with our internal circadian rhythms. We are investigating the factors that make some more sensitive to the adverse consequences of shift work than others, including the effects of sex, age and genetics.
How can light therapy be applied to improve cognitive and mood outcomes in individuals with sleep-wake and circadian disturbances? Light is the primary synchronising agent for the biological clock in the brain. In humans, light also has a direct alerting affect and light therapy has been shown to improve mood outcomes in neuropsychiatric patients. We are investigating the properties of light that are important for these effects, and how light therapy can be used to improve sleep, alertness and mood.
Can age-related cognitive decline be improved through improving sleep? With age, sleep disruption becomes increasingly common. This is especially apparent in the ability to maintain slow wave sleep, the deepest stage of sleep. Cognitive decline with age is associated with this decline in slow wave sleep. We are investigating methods of improving both slow wave sleep and cognition in those of advanced age. The outcomes will have important implications for improving wellbeing in our aging population.
Poor sleep during pregnancy and postpartum periods: Sleep problems during pregnancy and the postpartum periods are common, and may have long-lasting effects on both the mother and baby. Poor sleep could have negative consequences on emotional and neurocognitive functioning of the mother, as well as overall wellbeing of both parents and the infant. We are conducting studies on sleep during the perinatal periods and exploring potential countermeasures to improve sleep in mothers.
Is the use of light-emitting devices a danger for our sleep? These days, virtually everyone uses light-emitting devices like tablets and smartphones. Unfortunately, our circadian rhythms can be greatly affected by these devices when they are used in the evening and this can adversely impact our subsequent sleep. We are investigating this growing danger to our sleep and the special vulnerability of adolescents to these devices.