Mundy Group
Cognitive Neuroscience of Implicit Learning
Group Leader : Dr Matthew Mundy
Research theme : Memory & Consciousness ; Brain Injury and Rehabilitation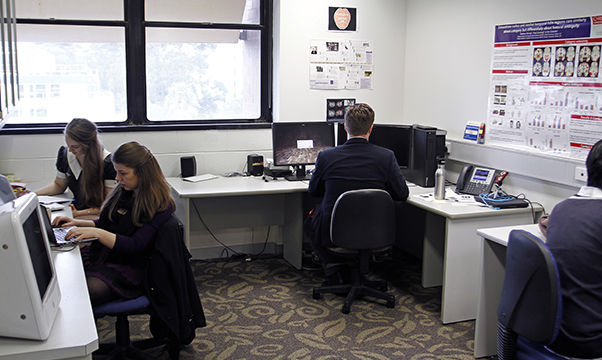 Group team members
Researchers
PhD/DPsych students
Honours students

Dr Matthew Mundy (Group Leader)
Dr Gershon Spitz

Ben Chen
Caroline Roberts
Jessica Despard

Anna Duncum
Francesca Beilharz
Kelly Atkins
Our vision and mission statement
The Mundy group uses cutting edge cognitive neuroscience techniques to investigate the nature of healthy learning and memory, as well as factors that contribute to amnesia and perceptual deficits, caused by brain trauma or disease.
Group's activities summary
Our research begins at the junction of perception and memory. Using functional neuroimaging, complemented with patient studies, we investigate how brain regions support learning and discrimination of complex visual stimuli (e.g., faces and scenes), a mechanism known as perceptual learning. Most memory theories assume that perceptual learning is dependent upon visual cortex, and is both psychologically and neurally distinct from other types of memory. Our research has challenged this view revealing contributions from many brain areas, some of which are highly stimulus specific, including the medial temporal lobe (MTL), traditionally considered necessary for long-term memory. We work with healthy populations as well as brain injury patients and those who through disease or disorder, suffer from amnesia.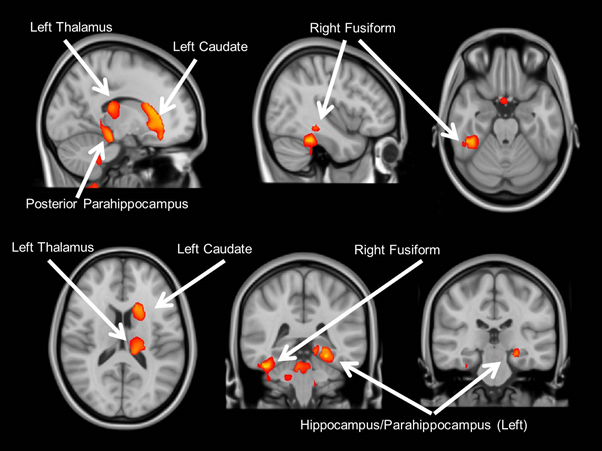 Image description: Areas of cortex that appear smaller in volume in healthy young individuals who are bad at visual learning, compared with peers who are good. Many of these regions are implicated in disorders known to disrupt memory, such as Alzheimer's Disease.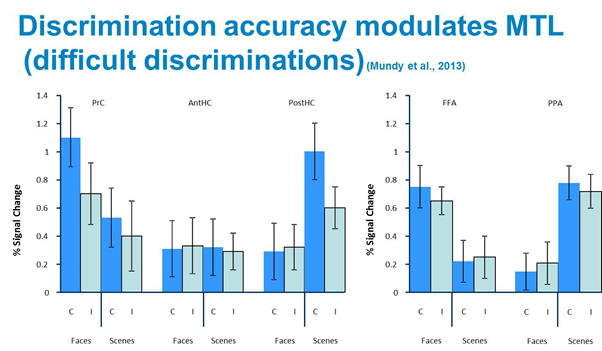 Image description: Graph showing changes in brain activity in several key regions involved in discriminating between visual stimuli. Some regions process certain stimulus types preferentially. This activity appears to be further modulated by the accuracy of an individual's response (C = correct, I = incorrect), but only in areas of the brain involved in long term memory.