Coxon Group
Group Leader : Dr. James Coxon
Research theme : Neurodegeneration
Group team members
| Researchers | PhD/DPsych Students | Honours students | Interns |
| --- | --- | --- | --- |
| Dr. James Coxon | | Ellen Stavrinos | |
Our vision and mission statement
Exercise is good for the brain. We study how exercise benefits the brain both in healthy adults and those with age-related neurodegenerative disease. Our mission is to understand the physiological mechanisms by which exercise enhances brain function, and the exercise conditions leading to optimal benefit. This knowledge will be essential for the development of preventative approaches to delay and reduce neurodegeneration and the decline of cognitive and motor function.
Group's activities summary
Our group uses non-invasive brain stimulation and neuroimaging techniques to understand 1) the neural control of movement, and 2) the mechanisms by which exercise enhances cognitive and motor performance. Students wishing to complete Honours or PhD research within the group should contact Dr Coxon directly.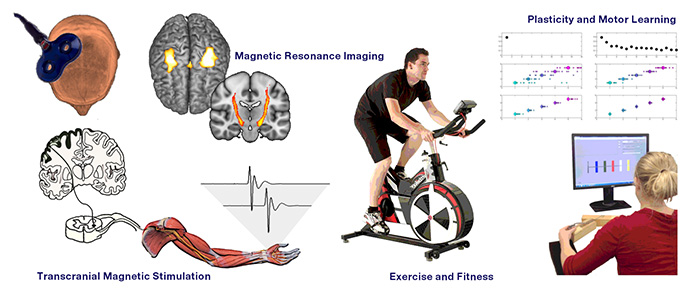 Image Description, from left to right: Transcranial Magnetic Stimulation of the primary motor cortex. Using TMS, the excitability of motor pathways can be inferred by recording from muscles using electrodes positioned on the skin (motor evoked potentials). Magnetic Resonance Imaging is another tool used by the group to investigate brain structure and function, such as the reciprocal connections between motor cortex and the basal ganglia. These tools are used to gain insight into the effects of exercise on the brain. Interactions between exercise and behaviour are also investigated by using tasks designed to probe cognitive control and motor learning processes.