Cain Group
Group Leader : Dr. Sean Cain
Research theme : Sleep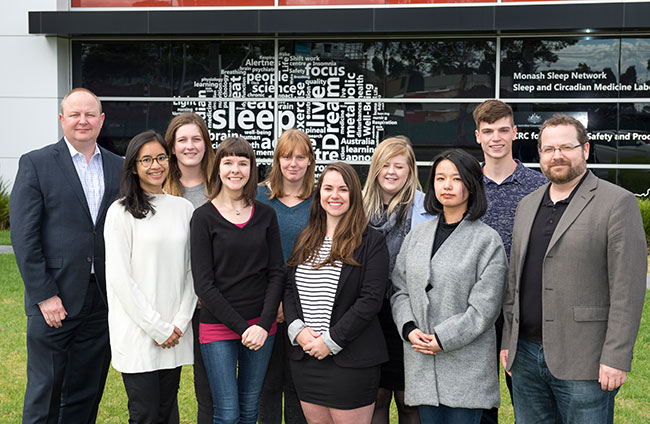 Group team members
Researchers
PhD/DPsych Students
Honours students
Interns

Michelle Coleman
Elise McGlashan
Parisa Vidafar
Lauren Watson
Yuvan C

Mia Ya Yao
Angus Burns
Meaghan Dickens
Amelia Stephens

Caryl Tan
Chloe Bernard
Sharon Tse
Yeeyee Wang
Jona Mustafovska
Our vision and mission statement
Good sleep is fundamental to general health and performance. Our mission is to understand the biological and psychological processes that control sleep and wakefulness, and the causes of abnormal sleep in order to promote optimal health and well-being. We aim to develop novel treatments and preventative measures for sleep disruption and circadian rhythm misalignment.
Group's activities summary
Understanding circadian mechanisms for depression and antidepressant therapy: Depression, sleep, and circadian functioning are tightly linked. Sleep problems are not only common in depression, but also increase the risk for major depression. Depression is also associated with abnormal circadian timing, which may be an underlying cause of the disrupted sleep that contributes to depression. As antidepressants act to alter serotonin levels in the brain, and serotonin is a potent modulator of the circadian clock, we are studying, for the first time in humans, the effects of these drugs on the human clock. In addition, we are developing circadian interventions that will promote stabilization of circadian rhythms for the improvement of sleep and depression.
NHMRC Grant: Circadian Mechanisms for Delayed Sleep Phase Disorder. Delayed Sleep Phase Disorder (DSPD) is a primary sleep disorder characterized by a difficulty in initiating sleep at night and subsequent difficulty in waking at times required for work or school. DSPD is associated with depression and anxiety, excessive daytime sleepiness, reduced academic and work performance and reduced quality of life, largely due to chronic sleep loss. The physiological basis of the disorder remains unknown. This project investigates how changes in the sensitivity of the circadian clock to evening light may be a cause of this disorder.
NHMRC Grant: Sex differences in shift-work tolerance. Women comprise approximately half of the shift workers in Australia. It is well-established that women demonstrate greater shift work maladaptation than men. Women working shift work schedules have more health complaints, higher absenteeism from work, a higher prevalence of sleep disturbances, more drowsiness and more accidents at work than men. It has been concluded that the constellation of symptoms may be considered a shift work "intolerance syndrome" to which women are particularly susceptible. Remarkably, the physiological basis of this sex difference is not known. This project aims to examine fundamental differences in the circadian system (decreased response to light and increased melatonin levels) as a physiological basis for the decreased tolerance for shiftwork in women and the increased susceptibility to adverse cognitive and general health outcomes.