Bei Group
Group Leader : Dr. Bei Bei
Research theme : Sleep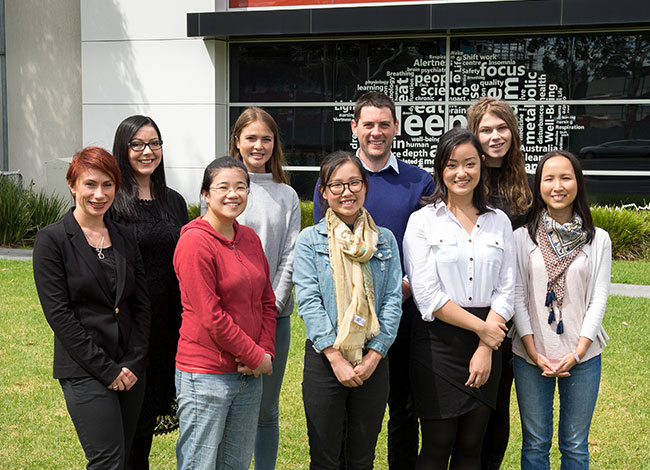 Group team members
Researchers
PhD/DPsych Students
Honours students
Interns

Helena Bean
Marita Bryan
Sarah Khor
Donna Neemia
Lin Shen
Sumedha Verma
Nathan Wilson



Freya Silcocks

Cassandra Fong
Jiny Lee
Svetlana Maskevich
Our vision and mission statement
Good sleep is fundamental to both physical and psychological wellbeing. We aim to better understand individual differences in sleep-wake behaviours, the relationship between sleep and mental health, and psychological interventions for better sleep.

More specifically, our research focuses on:
- The psychological and behavioural aspects of sleep and wake behaviours
- The relationship between sleep and mental health (e.g. mood, anxiety, and other psychiatric symptoms/disorders)
- Sleep and wake behaviours in adolescents, including the effects of restricted and extended sleep opportunities on adolescents' wellbeing
- Sleep in women, including sleep and wellbeing during the perinatal and menopausal transitions
- Psychological interventions for sleep disturbance and insomnia
Group's activities summary
Sleep, fatigue, and wellbeing during pregnancy and postpartum periods: Sleep problems during pregnancy and the postpartum periods are common, and could have negative consequences on emotional and neurocognitive functioning of the mother, as well as overall wellbeing of both parents and the infant. In collaboration with Jean Hailes for Women's Health and the Royal Women's Hospital, we are conducting a series of studies to better understand perinatal sleep disturbance and insomnia, and explore intervention strategies to improve sleep and wellbeing in parents and infants.

Sleep and emotional wellbeing in adolescents during school and vacation: Insufficient sleep is common among adolescents during school days, whilst adolescents' sleep/wake behaviours under naturalistically unconstrained sleep opportunity such as the vacation periods are not well understood. In collaboration with University of Melbourne, we are investigating the nature and contributing factors to insufficient and poor sleep in adolescents during both school and vacation, with a focus on modifiable cognitive vulnerability and behavioural factors.

Daily variability in sleep/wake behaviours: Variability in daily sleep patterns is associated with important mental and physical health outcomes, yet is poorly understood in the literature. In collaboration with Stanford University, we are conducting a series of investigations into the nature and correlates of daily sleep/wake variability, including the development of a robust methodology for quantifying variability.

Translational research in insomnia and circadian rhythm sleep disorders: At the Monash University Healthy Sleep Clinic, we are working towards a sustainable platform for translational clinical research into the nature and better management of insomnia and circadian rhythm sleep disorders.