Anderson Group
Group Leader : Dr. Clare Anderson
Research theme : Sleep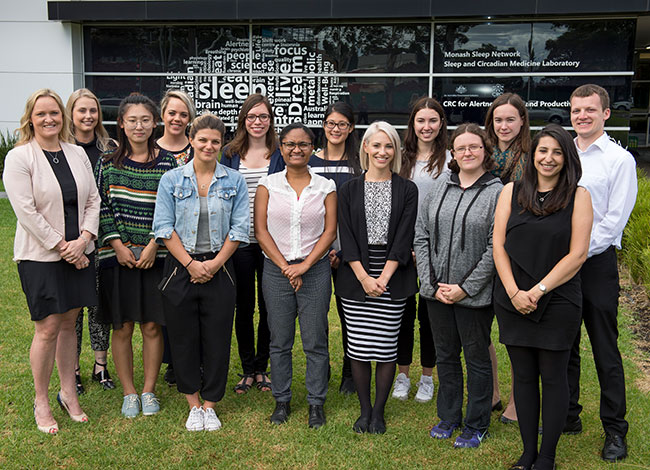 Group team members
Researchers
Research Support Staff
PhD/DPsych Students
Honours students
Interns

Dr. Clare Anderson
Dr. Suzanne Ftouni
Dr. Ihaia Hosken

Caroline Beatty
Anna Clark
Andrew Laing
Jordan Maccora
Johanna Boardman

Leilah Grant
Jessica Manousakis
Billy McMahon
Jinny Collet
Anna Scovelle
Charmaine Diep

Anna Cai
Caitlin nDow
Danielle Francis
Vanessa Zhu

Karina Tasker
Sarah Zivkovic
Tara Muscente
Our vision and mission statement
Good sleep is fundamental to general health and performance. Our mission is to understand the biological and psychological processes that control sleep and wakefulness, and the causes of abnormal sleep in order to promote optimal health and well-being. We aim to develop novel treatments and preventative measures for sleep disruption and circadian rhythm misalignment.
Group's activities summary
CRC for Alertness Safety and Productivity – Discovering novel biomarkers for sleepiness: Prolonged wakefulness has widespread effect on core brain functions. If not detected early, increasing sleepiness can lead to errors, accidents and injuries, especially in high risk environments. We are investigating a host of new potential biomarkers for sleepiness that will allow for the early detection of sleepiness-related impairments, including the use of subtle changes in speech, sensitive eye movement measures and body chemicals.
Can age-related cognitive decline be improved through improving sleep? With age, sleep disruption becomes increasingly common. This is especially apparent in the ability to maintain slow wave sleep, the deepest stage of sleep. Cognitive decline with age is associated with this decline in slow wave sleep. We are investigating methods of improving both slow wave sleep and cognition in those of advanced age. The outcomes will have important implications for improving wellbeing in our aging population.