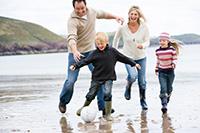 The Clinical Psychology program at the MPC incorporates the Adult and Child, Adolescent and Family Clinics.
The Adult Psychology Clinic provides assessment and therapy for adults with a range of issues, including:
depression
anxiety, fears and phobias
relationship problems
anger management
grief and loss
coping with trauma and change
stress management
chronic pain
anxiety and depression associated with illness or injury
weight management
smoking cessation.
Typical referrals
Seng (43) has lost all motivation to get up and go to work. This could be because there are workplace problems or maybe issues at home are getting him down.
Anthony (23) is constantly worried and panicking when he has to go out of the house and doesn't know whether it is a serious problem or not. His family are very worried and need help too.
Ray (61) has chronic pain from a back injury and is feeling hopeless about the future.
Clinical Psychology Supervisors
Dr Katherine Lawrence is a Clinical Psychologist, lecturer, supervisor and Co-Director at the MPC. She specialises in child, adolescent, and family psychology with particular experience in childhood anxiety and personality disorders in youth.

Dr James Courtney is a clinical psychologist, supervisor and Placement Coordinator at the MPC.