Research Studies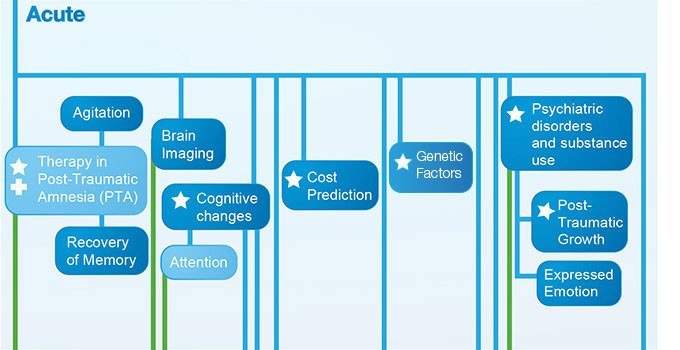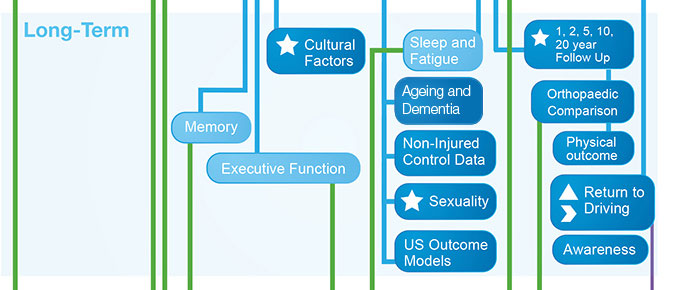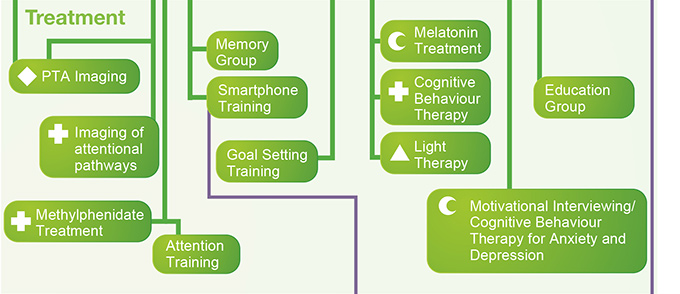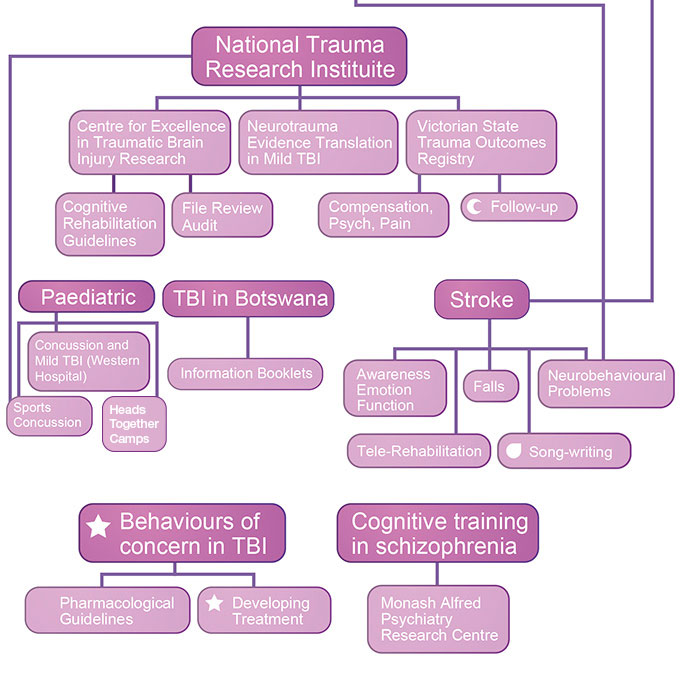 Longitudinal head injury outcome study. J. Ponsford, J. Olver, M. Ponsford, M. Carty, M. Downing, G. Spitz.

Traumatic brain injury is the leading cause of acquired disability in young people, resulting in a complex range of physical, cognitive, behavioural and emotional changes. The elucidation of the long-term problems experienced by those who sustain traumatic brain injury owes much to the Longitudinal Head Injury Outcome Study, which has been conducted at Epworth Hospital (formerly Bethesda) since1995.

After recruitment as inpatients, all patients admitted to Epworth Hospital with head injuries are routinely invited to attend a follow-up clinic at 1, 2, 3, 5, 10 and 20 years post-injury. They are interviewed by a rehabilitation physician and complete questionnaires documenting their level of mobility, functional independence, living situation, relationship status, vocational activities, neurological, cognitive, behavioural and emotional problems experienced and drug and alcohol use. The study has provided comprehensive information regarding the difficulties experienced by these individuals and their families over long periods of time after injury. Findings have been published in over 70 international peer-reviewed journal articles, and in over 110 national and international conference presentations. This is one of the largest and most comprehensive databases worldwide.
Outcome patterns following TBI – a US collaborative study. J. Ponsford, M. Sherer, A. Sander, A. Hicks, C Richardson, G. Spitz.

With funding from the US Departent of Education, MERRC is collaborating with researchers from the University of Houston USA, who are leading a project within the US Model Systems to develop models predicting outcome in subgroups of patients with moderate to severe TBI. MERRC is collecting comprehensive outcome data which will be used to cross-validate the models developed based on US TBI patients, to see whether they apply in an Australian population. The ultimate aim of this project is to develop treatments for these various patient subgroups.
Sexuality following traumatic brain injury. J. Ponsford, R. Stolwyk, M. Downing.

Despite extensive documentation of relationship problems following traumatic brain injuries, there have been relative few studies examining sexuality in this group. As part of the longitudinal head injury outcome study we have surveyed patients at 1,2,3,5, 10 and 20 years post-injury, aiming to identify the nature and frequency of changes in sexual behaviour, affect, self-esteem and relationship quality, and their interrelationships and changes over time. We have validated a scale to assess these aspects of sexuality in individuals with TBI, the Brain Injury Questionnaire on Sexuality. Factors predicting these problems have been identified, as a basis for the development of interventions. In 2013-14 we had three papers on this work published in the Journal of Head Trauma Rehabilitation and made several presentations of the work at national and international conferences.
Investigation of substance use following traumatic brain injury. J. Ponsford, G. Spitz, M. Carty.

Studies have found that a significant number of individuals with TBI report a history of substance abuse, and alcohol and drugs are implicated as causal factors in 36-51% of TBI cases. The deleterious effects of substance abuse on medical, neurological, neurobehavioural, and functional outcomes have been demonstrated. Despite this, many of the alcohol and drug use problems remain unidentified, and are consequently neglected during the rehabilitation process. Although there appears to be an initial decline in substance use following TBI, a recent review indicated that a subpopulation of patients continue, or even begin to abuse substances post-injury. However, studies examining the rates of alcohol illicit drugs longitudinally have been scarce. Therefore the aims of this study are to examine pre-injury drug and alcohol use compared with the normal population, and to investigate the development of alcohol and drug use over time. This includes the identification of variables that predict drug and alcohol use. Most recently Honours student Shayden Bryce led a study investigating the sensitivity and specificity of the Alcohol Use Disorders Identification Test and the Drug Abuse Screening Test for use in the TBI population, published in the Journal of Head Trauma Rehabilitation. With doctoral student Laura Tweedly, the group has also previously evaluated the efficacy of an intervention in the form of an information booklet, with or without a single session of Motivational Interviewing to reduce alcohol use after TBI.
Psychiatric disorders following traumatic brain injury. J. Ponsford, K. Gould, L. Johnston, Y. Alway, C. Pais, D. Wong.

Psychiatric disorders are common following traumatic brain injury (TBI), and exacerbate disability and impede psychosocial and vocational reintegration. The aim of this project is to prospectively examine the frequency, course, and predictors of psychiatric disorders over the first five years following TBI. Specifically, the pre-injury injury-related and post-injury factors associated with the development, course and remittance of psychiatric disorders will be examined. Further, as the impact of a TBI extends beyond the injured individual, a secondary aim is to examine the influence of family dynamics on both patient and family psychosocial adjustment following TBI. A recent addition to the project is an examination of factors influencing Positive Growth following TBI by Kate Gould, Dana Wong and doctoral student Celia Pais.
The influence of genetic factors, specifically the Apolipoprotein and COMT genes, and age at injury on outcome following head injury. J. Ponsford, R. Burke, D. Senathi-Raja, C. Willmott, T. Withiel.

Traumatic Brain Injury can result in significant disability, but outcome is variable. The impact of known predictors accounts for a limited proportion of the variance in outcomes. Apolipoprotein E genotype has been investigated as an additional source of variability in injury severity and outcome, with mixed findings reflecting variable methodology and generally limited sample sizes. This study aims to examine whether possession of the Apolipoprotein E 4 allele is associated with greater acute injury severity and poorer long-term outcome in patients referred for rehabilitation following TBI. We are also investigating the impact of catechol-O-methyltransferase (COMT Val158Met) allele status on cognitive and functional recovery following TBI, with a recent publication in the Journal of Neurotrauma on this subject.
The influence of cultural background on rehabilitation and outcome following traumatic brain injury. J. Ponsford, M Downing, A. Hicks.

Most TBI outcome studies focus on white, Anglo-Saxon English speaking patients who identify with the dominant health care system. Little is known of the experience of TBI individuals from non English-speaking backgrounds and potential influences of cultural factors upon attitudes and responses to rehabilitation. This study is examining the influence of linguistic cultural background, and beliefs about injury and recovery on participation in rehabilitation and subsequent outcomes in two groups with mild-severe TBI, one of English speaking background (ESB) and another of culturally and linguistically diverse background (CALD). As the cohort grows in size we also aim to differentially compare groups from different countries.
Efficacy of Motivational Interviewing and Cognitive Behaviour Therapy for Anxiety and depression following traumatic brain Injury. J. Ponsford, M. O'Donnell, N. Lee., A. McKay, D. Wong, Y Alway, M. Hsieh.

There is a high incidence of psychiatric disorders following TBI, most commonly anxiety and depression. Consequently, there is a need for effective psychological treatments to enhance psychosocial outcomes for this group. This NHMRC –funded randomised controlled trial has examined the efficacy of a cognitive behaviour therapy (CBT)-based treatment program adapted for a community sample with moderate-severe TBI. Motivational Interviewing (MI) was also evaluated as a preparatory intervention to increase motivation to change and engagement in treatment. Adult participants were randomly assigned to one of three treatment conditions, (1) MI+CBT, (2) CBT only and (3) treatment as usual (control). Assessment included a semi-structured clinical interview to determine psychiatric diagnoses; and measures of anxiety, depression, psychosocial functioning, coping style and cognitive functioning. The interventions were guided by manuals adapted for participants with TBI, with an emphasis on flexibility to tailor therapy to individual needs and cognitive difficulties. Preliminary results from individual cases in this ongoing study suggest potential benefit from the treatment program. A high comorbidity of depression and anxiety is also evident, highlighting the challenges in assessing and treating psychiatric disorders following TBI. The study results will inform clinical practice by providing evidence about relative effectiveness of interventions for individuals with TBI who suffer from anxiety/depression. The development and distribution of the manualised intervention is also supported by the NHMRC Centre of Excellence in TBI Rehabilitation.
Light therapy for sleepiness and fatigue following traumatic brain injury. K. Sinclair, J. Ponsford, S. Rajaratnam, S. Lockley.

This novel study is the first randomised controlled trial of a non-pharmacological treatment for post-TBI sleepiness and fatigue. It builds on our existing work investigating the prevalence and nature of fatigue and sleepiness post-TBI, and demonstrating the efficacy of light to improve alertness in healthy volunteers. The primary aim of this study, which has been funded by the Victorian Neurotrauma Initiative (now TAC), is to evaluate, in a randomized controlled trial, the effect of blue light therapy (Philips Home Healthcare Solutions-Apollo) versus yellow light therapy (placebo) and 'treatment as usual' on subjective daytime sleepiness and fatigue. It is hypothesized that participants will show reduced daytime sleepiness and fatigue, improved sleep quality, attention, reaction time, and health-related quality of life, and reduced depression following blue light therapy, compared with those receiving yellow light therapy or treatment as usual. A pilot study, published in the Journal of NeuroRehabilitaiton and Neural Repair in 2014, has shown that exposure to short wavelength or blue light resulted in a significant reduction in subjective fatigue and daytime sleepiness and a trend towards improved mood. The trial is continuing. If successful in alleviating fatigue and daytime sleepiness and/or their impact on individuals' lifestyles, blue light therapy could be readily implemented into clinical practice, as it is relatively unobtrusive and inexpensive to deliver.
Efficacy of Melatonin for sleep disturbance following Traumatic Brain Injury. J. Ponsford, S. Rajaratnam, N. Grima.

Sleep disturbance is a common problem in individuals who have sustained a Traumatic Brain Injury (TBI), with over half of those with moderate to serve TBI still experiencing difficulty with sleep 10 years post injury. Presently, there is no evidence-based treatment for these complaints, despite their high prevalence. Recently published research, suggests that reduced concentrations of Melatonin may explain the reported sleep disturbance in this population. Melatonin is involved in the circadian control of the sleep-wake cycle. Numerous studies have demonstrated efficacy and safety of exogenous Melatonin treatment of sleep complaints. In light of these findings, the current study, funded by an NHMRC Project grant, is the first randomised controlled trial of Melatonin for sleep disturbance following TBI. It is anticipated that TBI patients who receive Melatonin therapy will show reduced latency to sleep onset, and improved sleep quality. If Melatonin therapy is successfully shown to improve sleep, this could substantially improve the quality of life in TBI patients.
Managing fatigue and sleep disturbance following Traumatic Brain Injury. J. Ponsford, S. Rajaratnam, J. Olver, M. O'Donnell, A. McKay, D. Wong, G. Williams, S. Nguyen.

Traumatic brain injury (TBI) frequently results in fatigue, daytime sleepiness and/or sleep problems which can interfere with the person's lifestyle, sometimes over many years. Evidence shows that Cognitive Behaviour Therapy (CBT) is more effective than medication in treating Chronic Fatigue Syndrome and Insomnia in the general population. There is also increasing evidence of CBT being successful in reducing fatigue related to cancer, stroke and Multiple Sclerosis. The current study aims to evaluate the effectiveness of Cognitive Behaviour Therapy (CBT) in reducing fatigue, daytime sleepiness and/or sleep disturbance following head injury. It is currently funded by the NHMRC Centre of Excellence in TBI Psychosocial Rehabilitation.
Safer Roads to Recovery: Asessing Readiness for Driving after Traumatic Brain Injury. J. Charlton, R. Stolwyk, J. Ponsford, M. Bedard , S. Marshall, P. Ross.

More than two-thirds of traumatic brain injury (TBI) survivors return to driving. Despite this, limited research investigating driving performance following TBI has been conducted. Pam Ross has been undertaking a retrospective analysis of driver outcomes and factors predicting return to driving in a cohort of patients from Epworth for her PhD. In addition, we are undertaking a collaborative study with MUARC and researchers from the University of Ottawa, Canada, which was funded by the Victorian Neurotrauma Initiative and Ontario Neurotrauma Foundation. The aims of this study have been to examine, objectively, the nature and causes of driving difficulties following TBI as a basis for developing more reliable and valid assessment procedures for readiness to return to driving and thereby improving the safety of drivers with TBI. Key objectives are to examine: (1) which specific driving behaviours are compromised post-TBI; (2) which pre-injury, injury-related, sensori-motor, cognitive, personality factors are associated with these driving difficulties; and (3) to identify the degree to which off-road, simulated and on-road assessment predict naturalistic driving behaviour. Driving performance is being investigated in simulated, on-road and naturalistic driving conditions. DPsych student James Gooden has conducted a study within this study developing a measure of driver awareness, which has proven to be a factor significantly associated with likelihood of return to driving, with three publications emanating from this study. Findings from this study will significantly contribute to a currently limited evidence-base available for rehabilitation clinicians assessing driver readiness. This research will guide the development of more sensitive driving evaluation procedures including cognitive screening, simulated and on-road assessment. Findings will also form the basis of more effective driving retraining programs, thereby contributing to improved safety and mobility for those with TBI who return to driving.
The return of memory following traumatic brain injury: The critical role of the medial temporal lobe, prefrontal cortex, and associated brain areas. G. Spitz, C Roberts, J. Ponsford, M. Mundy,

Post traumatic amnesia (PTA) is a hallmark period following traumatic brain injury (TBI) that is characterised by profound memory impairment. The length of time individuals remain in PTA has emerged as one of the strongest predictors of acute as well as long-term functional outcome. This study has two aspects. The first, being conducted by doctoral student Caroline Roberts, is examining patterns of recovery of memory during and after emergence from PTA, as well as the relationship between anterograde and retrograde amnesia in individuals with TBI. No study has examined the correspondence between impaired memory processes present during this period and the disruption to underlying brain regions and networks. The frontal and temporal lobes are most frequently affected following TBI. Anatomical structures within these regions are essential for memory processing. The prefrontal cortex is critical for processing information in working memory, whereas the medial temporal lobe comprises a system of structures critical for transferring information from working to long-term memory. It is not known, however, to what extent changes to these brain structures reflect the memory impairment exhibited in PTA. The second pilot project, led by Gershon Spitz in collaboration with Matt Mundy and Jennie Ponsford, therefore aims to identify the brain regions and networks implicated in impaired memory in patients with traumatic brain injury during PTA using fMRI and to examine changes in BOLD activation in specific brain structures or networks that may modulate the recovery of memory following PTA.
The efficacy of early rehabilitation after traumatic brain injury. J. Ponsford, A. McKay, J. Trevena-Peters, R. Suda, J. Olver, M. Ponsford.

PTA almost always follows TBI. It is a transient state following emergence from coma characterised by a period of anterograde amnesia and disorientation. Confusion, behavioural disturbances including agitated behaviour, attentional deficits, delirium, and a degree of retrograde amnesia are also common. Guidelines for management of individuals in PTA recommend: minimizing agitation through provision of a safe and secure environment with low levels of stimulation, consistency of support and environmental setup, familiar visitors only, frequent rest times, development of a basic yes/no communication strategy and only physical therapy and speech therapy input for swallowing and communication. It is recommended that these patients not receive cognitively demanding assessment and therapy during this phase due to concerns about increasing patient agitation and uncertain efficacy of therapy given that the individual is unable to lay down new memories. It is generally not until the patient has emerged from PTA that functional rehabilitation begins. However, this management strategy has never been empirically tested and may miss the opportunity to make gains from earlier rehabilitation. Occupational therapy input during PTA is currently limited to positioning and upper limb splinting, both as required, and usually does not involve daily ADL retraining therapy and contact is not daily. More active therapy, such as ADL retraining is traditionally commences following emergence from PTA as this is when individuals with a TBI are believed to be capable of actively participating in, and benefitting from rehabilitation. The main aim of this three-year study, funded by the Epworth Foundation and ISCRR, is to assess the efficacy of ADL retraining during the PTA phase after severe TBI (treatment group), as compared to introducing ADL retraining after emergence from PTA (treatment as usual control).
Reducing Behaviours of Concern following Traumatic Brain Injury Program- Phase 1: BoC Case File Audit and Qualitative Study. J. Ponsford, M. Hopwood, J. Kenardy, K. Gould.

Behaviours of concern following traumatic brain injury (TBI) – including aggression, agitation, sexual inappropriateness and lack of initiation – present significant challenges for the person with TBI, the people who care for and support them, service organisations and wider society. These behaviours often result in social isolation, relationship breakdown and dislocation from accommodation, and create a significant burden for the person living with TBI, families or other carers. There is concern within the TAC that a group of clients with behaviours of concern is excessively reliant on attendant care support and that this reliance is increasing over time in some cases. A recent analysis of these clients established that a significant percentage of these cases exhibited problematic behaviours of concern on the Overt Behaviour Scale. The broad objective of this project, funded by ISCRR, is to identify the factors underpinning chronic behaviours of concern in TAC clients, as a basis for development and evaluation of a program to alleviate these behaviours, enhance client independence and participation and reduce costs.
Comparison of long-term outcomes following traumatic injury: What is the unique experience for individuals with brain injury compared with orthopaedic injury? J. Dahm, J. Ponsford.

The aim of this study, conducted by doctoral student Jane Dahm, is to seek greater understanding of the subjective experience following TBI compared with traumatic orthopaedic injury (TOI), and hence identify aspects unique to individuals with TBI. This prospective study examines and compares the evolution of functional outcome, employment status and psychological adjustment and its predictors in cohorts of individuals with orthopaedic trauma with a group with traumatic brain injury over ten years after injury.
The relationship between compensation, recovery and chronic pain following a motor vehicle accident. N. Georgiou-Karistianis, M. Giummarra, , S. Gibson, J. Ponsford, P. Cameron, J. Fielding, P. Jennings, L. Ioannou.

This ARC-funded study conducted in collaboration with TAC is performing a systematic review of the impact of compensation status on recovery from trauma, and conducting a study of predictors of chronic pain and poor recovery following trauma.
Outcomes after serious injury: What is the trajectory of recovery and how do priorities for treatment and disability services change over time? B. Gabbe, P. Cameron, J. Harrison, R. Lyons, J. Ponsford, A. Collie, S. Ameritunga.

This population-based project, currently funded by an NHMRC Project grant, will describe the long term consequences of injury and recovery experiences of more than 2500 seriously injured patients recruited into the Victorian State Trauma Registry. The study will use quantitative and qualitative data to provide a comprehensive overview of patient outcomes and experiences in the first 5-years after traumatic injury. The results of this study will provide unique insights into patient experiences with recovery, including barriers and facilitators to recovery, and patient perceptions of the care provided, and will be hugely beneficial in identifying any unmet needs and potential improvements in the delivery and care of services to survivors of serious injury.
Rehabilitation of Memory after Stroke. D. Wong, R. Stolwyk, J. Ponsford, T. Withiel.

This study, being conducted at the Monash Psychology Centre as the doctoral project of Toni Withiel, is a randomized trial comparing the efficacy of a group intervention facilitating use of compensatory strategies with computerized cognitive training using Lumosity in individuals with memory problems secondary to brain injury.
Singing my story: Negotiating identities through therapeutic songwriting for people with acquired neurological injuries. F. Baker, J. Tamplin, N. Rickard, , J Ponsford, R. MacDonald.

This study funded for 2015-17 by an ARC Discovery grant investigates the efficacy of therapeutic songwriting interventions in enhancing self-efficacy, the reconstruction of a meaningful identity, and psychological well-being for individuals with neurological injury, specifically stroke and spinal cord injury. The study will enable construction of a model of mechanisms of change that are active during this process. The planned studies will draw on the conceptual, practical and research strengths of the team and is informed by their prior research and preeminent expertise in songwriting, identity, neurological rehabilitation, and positive psychology. The team is well positioned to undertake these studies having piloted the intervention with adults with spinal cord injury (SCI) and acquired brain injury (ABI).
The Experience of Traumatic Brain Injury in Botswana. L. Mbakile, J. Ponsford, L. Manderson
Whilst there has been substantial documentation of outcomes following traumatic brain injury in Western countries such as Australia, the US and Europe, there has been relatively little documentation of the experience of individuals with TBI in less developed countries such as Africa. Lingani Mbakile is from Botswana and has been completing her doctorate in Clinical Neuropsychology at Monash. She will be the first clinical neuropsychologist in Botswana and will return to Botswana to take up an appointment in the Department of Psychology at the University of Botswana in January 2016. Together with her supervisors Professors Jennie Ponsford and Lenore Manderson, and with some support from an Intercultural grant from the Australian Psychological Society, she has conducted a mixed methods study investigating the experiences of individuals with traumatic brain injury, their caregivers and health professionals in Botswana. Through a series of qualitative interviews she has documented the symptoms experienced, lack of information and access to rehabilitation services as well as the impact of cultural beliefs on response to injury. This study, which has produced three publications, will form the basis of further work developing information booklets for people with TBI in Botswana and their families.
Factors Influencing Physical Activity Levels Following Severe Traumatic Brain Injury. P. Analytis, M. Hamilton, G. Williams, A. McKay, J. Ponsford
Physical activity has a number of benefits to health and well-being. Whilst there is evidence that people with traumatic brain injury have lower activity levels than the healthy population, it is not known what factors influence this. Most previous studies have examined physical activity levels in the early period after injury and relatively little is known of activity level over the longer term. This study extends a previous six week post-injury follow-up study by Megan Hamilton, aiming to (a) assess physical activity levels for people with severe TBI living in the community several years post-injury; and (b) explore factors which influence physical activity for people with severe TBI. The study, which is an honours project in 2015, is using both quantitative and qualitative methodology. Findings will be used to guide physiotherapy practice in this population.
Alleviating Disturbances Following Traumatic Brain Injury. A. Dymowski, J. Ponsford, C. Willmott, J. Olver
This study, led by Cathy Willmott and doctoral student Alicia Dymowski, has investigated attentional deficits following TBI and identified slowed information processing speed as a core factor contributing to attentional problems after TBI. In an attempt to rehabilitate these difficulties, a randomised controlled trial of methylphenidate and a single-case series examining the effects of individualised strategy training beyond the effects of computerised training were conducted, with funding from the ERI. Recruitment into the RCT of methylphenidate, which continued over four years, proved highly problematic. Results of the study recently submitted for publication revealed no evidence in support of a significant impact of methylphenidate on attention and longer term outcome, but this may have reflected a lack of power in the study. Results of the single case intervention studies supported an individualised approach to rehabilitation to improve real world outcomes after brain injury.
Outcomes Following Mild Traumatic Brain Injury in Young Children. C. Bernard, J. Ponsford, A. McKinlay, R. Testa, & D. Krieser
Mild traumatic brain injury (mTBI) is extremely common in childhood. One in five children will experience a mTBI prior to the age of 16, half of which will be under the age of five. Yet the vast majority of mTBI research has been conducted with adolescents and young adults, leaving a major gap in our understanding of the clinical presentation of these injuries in younger children. In addition, there are further important environmental and developmental differences between pre-school and school-aged children that must also be considered. Therefore, the aim of this study was therefore to investigate both short and longer term outcomes following mTBI in young children aged 2-5 (pre-school) and 6-12 (school-age), through the comprehensive measurement of post-concussive symptoms, as well as behavioural and sleep-related outcomes. Another objective was to examine which injury (i.e. injury severity, type of injury) and non-injury related factors (i.e. levels of environmental stress, socio-economic status) were the best predictors of prolonged recovery in this group. This study commenced in November 2012 and remains ongoing, with some children now almost 3 years post-injury. The project was initially funded by the Jack Brockoff Foundation (but continues to be supported by MERRC and children were recruited through the Sunshine Hospital.
Net Trial-Evaluating Intervention Delivery and Outcome Following Mild Traumatic Brain Injury. S.Green, R. Gruen, M. Bosch, J. Ponsford, S. Nguyen
The aim of this knowledge translation project being conducted in collaboration with Prof. Russell Gruen and Prof. Sally Green from the NTRI, as part of a program grant funded by the VNI, is to evaluate the implementation of procedures to enhance screening of patients with mild TBI in a cluster randomised trial involving 30 hospital emergency departments around Australia. Specifically, the trial aims to implement use of the Abbreviated Westmead PTA scale to screen patients, use of guidelines to guide decisions regarding CT scanning and provision of an information booklet to patients, which was originally developed and evaluated by Prof Jennie Ponsford. As an additional component of this study, the MERRC team is conducting a telephone follow-up study involving 400 patients who have presented to an ED with mild TBI to investigate whether they have continuing symptoms or other difficulties and whether and how they found the information booklet useful.
A Comparison of Restorative and Compesatory Approaches to Memory Rehabilitaion and Evaluation of the Use of Telerehabilitation to Deliver Memory Strategy Training Following Stroke. R. Stolwyk, D. Wong, T. Withiel, D. Lawson, D. Cadilhac, J. Ponsford
Approximately half of all stroke survivors experience memory impairment, which significantly compromises functional independence and quality of life. Both restorative and compensatory approaches have been used to remediate memory difficulties post-stroke. However, evidence to support the effectiveness or cost efficiency of these approaches is limited. To our knowledge, no study has yet compared competing approaches to memory rehabilitation nor conducted an economic evaluation of cognitive rehabilitation services in a stroke population. As a result, there is limited evidence to justify inclusion of neuropsychological rehabilitation techniques to improve memory impairment following stroke. This study being conducted by doctoral student, Toni Withiel in the Memory Skills Clinic at the MPC, with additional funding support form an internal Monash SPP seeding grant, aims to compare the efficacy and efficiency of compensatory versus restorative memory rehabilitation approaches with regard to 1) memory impairment and activity limitation; and 2) cost effectiveness. The current study is a randomized, controlled, phase II trial comparing the efficacy and efficiency of (a) restorative memory rehabilitation (LumosityTM computer program), (b) compensatory memory rehabilitation (memory skills group; Radford et al., 2010), and (c) waitlist control. All participants with stroke (N=20 for each group) will complete memory impairment and activity limitation measures at baseline, post-treatment and at 6 week follow-up. Factors associated with costs and benefits of interventions will be evaluated through comprehensive cost description and cost effectiveness analyses. Further funding is being sought for this study.
In a second component of the study, led by Dana Wong, we will compare the outcomes of memory strategy training delivered in person, with that delivered using telerehabilition techniques. This project will be carried out by doctoral student, David Lawson and a funding application has been made to Stroke Foundation.
Cognitive Rehabilitation in Individuals with Schizophrenia. S. Bryce, J. Ponsford, S. Lee, S. Rossell
Cognitive impairments are marked in the majority of individuals diagnosed with schizophrenia. These impairments are one of the primary determinants of poor psychosocial outcomes, including work or social engagement and quality of life. Pharmacological interventions are relatively ineffective in improving cognitive symptoms. In recent years cognitive remediation training has been applied to improve cognition in people with schizophrenia. Meta-analytic reviews have concluded that cognitive remedial training produces small-to-moderate improvements in neurocognition and functional outcomes, with some evidence of small improvements in symptoms. However generalisation to real-world outcomes is limited in the absence of adjunctive therapies and is frequently not measured. Moreover variation among cognitive remediation models and programs is too great to allow identification of key elements. Some programs focus on separate cognitive functions, whilst others remediate core functions underpinning higher cognitive functions, the latter being termed the neuroscience-based approach The current project, led by doctoral student Shayden Bryce, is comparing in a randomised controlled trial, computer-mediated neuroscience-based cognitive therapy delivered in small groups with practice on computer games as a control condition, on cognitive and functional outcomes. It also aims to identify the influence of various factors including cognitive function, symptoms, cognitive self-efficacy and motivation in response to the intervention and investigate the subjective experience of participants in completing the intervention program.
Research Collaborations
Centre of Excellence in Traumatic Brain Injury Research (CETBIR)
Jennie Ponsford is one of the team leaders in the NTRI Centre of Excellence in traumatic Brain Injury Research (CETBIR), lead by Professor Russell Gruen, Director of National Trauma Research Unit (NTRI). Other leaders include Professor Peter Cameron,Professor of Emergency Medicine, Monash University & Academic Director, Trauma and Emergency Centre, Alfred Hospital; Professor Jamie Cooper, Associate Director, National Trauma Research Institute (NTRI) and Head Trauma ICU, Alfred Hospital; Professor Jeffrey Rosenfeld, Director of Neurosurgery, Alfred Hospital and Head Department of Surgery Monash University; and Professor Mark Fitzgerald, Director of Emergency & Trauma Centre at the Alfred Hospital.

This Centre aims to build and maintain capacity for research excellence by bringing research leaders together to support high-quality, multidisciplinary and collaborative research, host fellows in acute and rehabilitation projects, and train the next generation of research leaders.

Objectives:
• Support the conduct and development of innovative, high quality, multi-centre and collaborative research in traumatic brain injury
• Foster and continue to build capacity in the TBI research workforce
• Provide opportunities to expand and improve collaborations between TBI research teams
• Leverage existing national and international research collaborations, and explore new collaborations
• Position Victorian researchers well to obtain ongoing competitive funding support.

Two research fellows have been funded by the CETBIR – Cally Richardson and Kelly Sinclair

Cognitive rehabilitation following traumatic brain injury: An exploration of current practice
C. Richardson, K. Sinclair, P. Bragge, M. Bayley, J. Ponsford

Traumatic brain injury (TBI) can lead to diverse long-term physical, cognitive, behavioural, and emotional changes. Cognitive difficulties including memory, learning, and problem-solving issues can interfere with daily activities. Cognitive rehabilitation can address these difficulties thereby improving quality of life for individuals and their families. As yet there has been no systematic review of current practice of cognitive rehabilitation in Australia. This study examined 1) current practice in adult cognitive rehabilitation following moderate to severe TBI in Australia and 2) what factors influence the care provided to patients requiring cognitive rehabilitation following TBI in these settings.
NHMRC Centre for Excellence in TBI Psychosocial Rehabilitation
Jennie Ponsford is part of a team of chief investigators who have been the recipients of an NHMRC Centre of research Excellence in in Traumatic Brain Injury Rehabilitation grant, entitled the CRE in Traumatic Brain Injury Psychosocial rehabilitation: Breaking down barriers for social reintegration has an overarching aim to break down the barriers that currently prevent people with TBI returning to the community. It embraces basic research into remediation for emotional, social and communication disorders through to evaluation of clinical techniques to improve participation, focusing on self-competency, i.e., fatigue, mood, self-awareness and self-regulation and social competency, i.e. speech, social cognition, social skills and communication. Each member of the team is expert in different facets of remediation research. Professor Skye McDonald, who leads the team, is a neuropsychologist and world leader in the assessment and remediation of social cognition and communication disorders following TBI. Professor Vicki Anderson is a pediatric neuropsychologist with internationally recognised expertise in models of social function and interventions post child TBI. Professor Jennie Ponsford is a world renowned clinical neuropsychologist for research into evidence-based management of mild and moderate-severe TBI, longitudinal outcomes and predictors. Professor Robyn Tate is a clinical neuropsychologist with an international profile in rehabilitation and outcome evaluation following TBI. Professor Leanne Togher is a world renowned speech pathologist for her work in communication and adult TBI. Dr Angela Morgan is a speech pathologist whose internationally acclaimed research is focused on new discoveries in genes, brain and behaviour associated with childhood communication disorders. Dr Jennifer Fleming is an occupational therapist with expertise in the assessment and rehabilitation of awareness and metacognitive skills. Dr Tamara Ownsworth is a clinical neuropsychologist internationally recognised for work on the rehabilitation of metacognitive impairments after TBI. Jacinta Douglas has combined skills in speech pathology and clinical neuropsychology research, underpinned by 30 years of clinical experience in TBI.

This CRE is providing a platform to tackle psychosocial deficits on a number of coordinated fronts addressing psychosocial deficits from basic impairment through to participation, focusing on self competency, i.e., fatigue, mood, self-awareness and self-regulation and social competency, i.e. speech, social cognition, social skills and communication. All CRE researchers are engaged in translational clinical research that has a multi-disciplinary focus in contrast to the way in which (discipline specific) training of clinicians occurs. The CRE is a pivotal interface to translate research to clinical practice. It provides the structure and support for research training for clinicians from allied health professions via scholarships, postdocs, websites, meetings, mentoring and across-site training. The CRE capitalises on the internationally recognised expertise and funding of its members, enhancing Australia's profile in improving TBI outcomes.
Other collaborations:
Collaboration has also been developed with A/Professor Meaghan O'Donnell from the Australian Centre for Post-Traumatic Mental Health and Dr Nicole Lee towards the development of interventions studies for psychological disorders in individuals with traumatic brain injury. Meaghan and Nicole are both Chief Investigators on a current NHMRC grant on which Jennie Ponsford is CIA, the aim of which is to investigate the Efficacy of Motivational Interviewing and Cognitive Behaviour Therapy for Anxiety and Depression following Traumatic Brain Injury. They are collaborating closely with research team, providing clinical supervision to clinicians delivering the therapy.

The Centre also has a close collaborative relationship with Dr Richard O'Sullivan the Director of Magnetic Resonance Imaging (MRI) at Epworth Hospital, who contributes to research on imaging following traumatic brain injury. Collaborations have been forged with Professor Erin Bigler of Brigham Young University in Utah, USA, with Dr Jerome Maller at the Alfred Psychiatry Research Centre and with Professor Gary Egan on studies of the neurobiology of cognitive impairments following traumatic brain injury being conducted at Monash Bioimaging.

Research on sleep disorders and pharmacological interventions is carried out in collaboration with Professor Shantha Rajaratnam in the School of Psychological Sceinces at Monash University, Associate Professor Steven Lockley of Harvard and Brigham Young University in Boston and with members of staff from the Monash Sleep laboratory.

A collaboraiton with the Dr Judith Charlton from the Monash University Accident Research Centre and Drs Michel Bedard and Shawn Marshall from the University of Ottawa has resulted in a collaborative project entitled: Safer Roads to Recovery: Asessing Readiness for Driving after Traumatic Brain Injury.This is funded by the Victorian Neurotrauma Foundation and Ontario Neurotrauma Foundation.

A recent collaboration has been forged with Professor Mark Sherer and A/Prof Angelle Sander from the University of Houston, USA, to conduct a study identifying patterns of outcome following TBI. This study is funded in part by the US Department of Education.