Groundbreaking partnership to deliver innovative solutions to improve sleep and mental health
The Monash Institute of Cognitive and Clinical Neurosciences (MICCN) is pleased to announce the establishment of a new partnership with Medibio Limited, to create innovative approaches to improve the sleep and mental health outcomes of the population.
By bringing together MICCN's world-leading sleep and circadian expertise and Medibio's mental health diagnostics capabilities, the collaboration will translate cutting-edge science into next-generation mental health solutions.
Click here to red the full story.
Monash Researchers Awarded Grants to Assist Stroke Survivors

Dr Rene Stolwyk and Dr Dana Wong of the Monash Institute of Cognitive and Clinical Neurosciences (MICCN), together with Associate Professor Dominique Cadilhac from the School of Clinical Sciences, have recently been successful in obtaining funding from the Victorian Government via the Victorian Stroke Clinical Network (VSCN) for two separate projects relating to the subacute care of patients with stroke.
It is estimated that approximately one third of stroke survivors will develop memory problems, and yet stroke rehabilitation centres still tend to focus more on physical rehabilitation, as opposed to cognitive difficulties and psychological recovery. The first of the MICCN projects that received the VSCN grant, led by neuropsychologist Dr Dana Wong, focuses on increasing access to a group rehabilitation program for patients with stroke who have memory problems. The Monash Memory Skills Group, which has helped improve everyday memory functioning for patients with stroke since launching at the Monash Psychology Centre in Notting Hill in 2014, will be rolled out and evaluated at two public health services, in collaboration with Austin Health and Monash Health.
Barry Moore, a stroke survivor who has participated in the Monash Memory Skills Group, said "With physical issues from a stroke you have access to the support of physiotherapists. For the mental stuff, however, I really did not know where to go. The Memory Skills Group at Monash was wonderful for me; my brain suffered fairly badly in my stroke and this was the first time anyone had addressed it. The course had many practical aspects relating to memory but also treated how the mind could work better. It was terrific for us to have those discussions with experts."
The second project, led by Dr Rene Stolwyk and Lauren Arthurson of Echuca Regional Health, will see the development and evaluation of a new teleneuropsychology rehabilitation service for Echuca Regional Health, a collaborating partner organisation. The hospital's stroke survivors have not previously had access to such a service, which will provide assessment and treatment for stroke-related cognitive, behavioural and mood impairments. Project Coordinator, Lauren Arthurson, said "The award of these grants has provided a fantastic opportunity for Echuca Regional Health to collaborate with Monash's leading researchers, whereby we can provide the necessary support to our stroke patients. We are very grateful for the funding received from the Victorian Stroke Clinical Network".
For both projects, Associate Professor Dominique Cadilhac, Head of Translational Public Health and Evaluation (Stroke and Ageing Research), and her team will conduct program sustainability and feasibility evaluations. The ultimate goal is to provide evidence from these projects that will support further expanding of the availability of these neuropsychological services to patients with stroke throughout Australia.
The award of these grants truly acknowledges the collaboration between MICCN and the School of Clinical Sciences, where leading research is developed on campus and translated out into the real world through fostering collaboration with health and industry partners. Together, we are making a difference to the health of Victorians through the provision of access to cognitive assessment and rehabilitation for people living with stroke.
MICCN congratulates all three researchers on the award of the VSCN grants for both projects and wishes them every success with the projects.
New app released that gamifies mental health and well-being strategies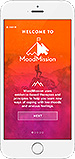 MICCN researcher and Doctor of Clinical Psychology student, David Bakker, has developed an iPhone app, MoodMission, which uses an intuitive and engaging interface to help users learn better ways of coping with low moods and anxious feelings.
Mental health and well-being apps are being used ever widely with users of all ages and mental health needs. Australian app Smiling Mind has received international acclaim for bringing mindfulness meditation to over 1 million users' phones. It is now being used widely in schools and organisations around Australia.
David, and supervisor Associate Professor Nikki Rickard, have been working on MoodMission for the past two years. In October 2015 MoodMission successfully crowdfunded AU$20,000 to fund initial development. Following this, app development firm Spark Digital helped build the app, which is now freely available on the iOS App Store.
Users report how they're feeling to MoodMission, which then accesses a large database of Missions and suggests five to the user. These five Missions are selected based on the scientific evidence of how effective they will be for the user's reported problem. Missions are short, easily achievable strategies taken from evidence-based psychological therapies.
MoodMission is capable of adaptively learning a user's coping style by keeping track of their progress. The more a user uses MoodMission, the better MoodMission gets at tailoring future support.
MoodMission is based on cognitive behavioural therapy (CBT), which is the most effective, evidence-based treatment for anxiety and depression problems. Clinical psychologists who use CBT often help their clients find ways of breaking vicious cycles that maintain unhelpful thoughts, feelings, or behaviours. MoodMission works in a similar way by recommending useful, brief, easily achieved coping strategies to users to help them deal with negative thoughts, feelings, or behaviours.
MoodMission uses principles of gamification to award users for completing missions, motivating them towards overcoming low moods or anxious feelings. In this way, MoodMission will bring the same design principles that have found success in apps for fitness and physical health to mental health.
MoodMission is designed to be used by anyone, whether they have a clinically significant anxiety or mood disorder, or just want to find ways of coping with day-to-day feelings of anxiousness or low moods. A randomised controlled trial is now underway to ensure that it is effective.
For more information about the project visit: moodmission.com
World-first online Psychology Research Portal to be launched at Monash
"A new online Psychology Research Portal is being launched this week at Monash Clayton's School of Psychological Sciences and Monash Institute of Cognitive and Clinical Neurosciences (MICCN). It is believed to be the first portal of its kind in the world."
Click here to read the full article.
MICCN claims first Monash research project with the Layne Beachley Foundation

A research project from the Monash Institute of Cognitive and Clinical Neurosciences (MICCN) has been chosen as the first research project between Monash University and the Layne Beachley Foundation.
Lead by Dr Marie Yap, the project looks into "the science of motivation in a young girls life", and the role that it can play in supporting positive preventative health modalities. The Foundation will hold a fundraising event, Women's Leadership Forum in Melbourne in May. The event showcases outstanding women in leadership roles and will feature Hon. Julia Gillard as a keynote speaker. All funds raised from the event will go towards the project.
Women in Leadership Forum
When: Friday 13 May 2016
Where: Park Hyatt, Melbourne
Click here for ticket information.
HODSPA Conference in Perth

The Heads of Departments and Schools of Pscyhology Association (HODSPA) enjoyed its first successful conference for 2016 in Perth. HODSPA chair, Professor Kim Cornish reported that the conference was well attended and included respresentatives from Australian Psychology Accreditation Council Limited (APAC), Australian Psychological Society (APS) and the Australian Indigenous Psychology Education Project (AIPEP). Discussion was around APAC standards due for review in June, and the national training models around fourth year and D.Psych Clinical programs.
The HODSPA executive team also welcomes a new member, A/Professor Steven Kent of La Trobe University, who steps into the role of exiting executive member A/Professor Einar Thorsteinsson.
The next HODSPA conference will be held 12 September 2016 in Melbourne and will focus on the outcomes of the APAC standards and fourth year level pathways.
Click here for more information on HODSPA.
Inside Monash Seminar Series: Psychology

Get the inside story of what it's really like to study Psychology at Monash. You'll hear from current students, graduates and academics.

Topic: Psychology
When: Thursday 28 April 2016, 6:30 - 8:00pm
Where: South One Lecture Theatre, 43 Rainforest Walk, Clayton Campus

Register and reserve your spot here.
Awarded Huntington's Disease Society of America (HDSA) HD Human Biology Project Grant
Dr Sophie Andrews and her mentor Professor Julie Stout and collaborator Dr James Coxon awarded grant from Huntington's Disease Society of America (HDSA) HD Human Biology Project Grant. Huntington's disease (HD) is a devastating genetic neurodegenerative disease that usually strikes in mid-life and has no cure. Researchers investigating HD in mice have shown that exercise can increase brain plasticity (the brain's ability to change and adapt), and delay onset of disease. It is not yet known whether the same is true in humans, or what 'dose' (intensity) of exercise is optimal. This project will address this important gap by examining the effect of exercise intensity on brain plasticity and learning in people with early HD, as measured using a safe, non-invasive and painless way to stimulate the brain (transcranial magnetic stimulation), and whether this effect can be enhanced using another type of non-invasive brain stimulation (tDCS). This research is the first step towards providing individuals with the HD gene with evidence-based advice to change their lifestyles before symptoms develop, as well as creating new non-medication interventions for HD.
Royal Science Society of Victoria Young Scientist Award - Runner up
April Philpott. Title: Investigating Neuronal Function Using Brain Stimulation in Huntington's Disease Name: April Philpott, DPsych (Clin Neuro) candidate Supervisors: Prof Nellie Georgiou-Karistianis, Prof Paul Fitzgerald, Dr Tarrant Cummins Organisation: The Royal Society of Victoria Award: Young Scientist Research Prize, Runner Up in the category of Biomedical and Health Sciences Summary of research: Huntington's disease is an inherited neurodegenerative disorder with onset in middle age. April's doctoral research study sought to characterise neuronal activity, including excitatory and inhibitory processes, in participants with premanifest and early Huntington's disease using transcranial magnetic stimulation (TMS). This technique has had limited application in Huntington's disease to date, but may provide important insights into how neurons progress to death. April's findings indicated, for the first time, that a disturbance of neuronal function in inhibitory brain circuits occurs approximately 19 years prior to the onset of symptoms. This has important clinical translational benefits, in particular for new treatments options or neuroprotective therapies that might slow down or prevent the onset of this disease.
Annie Shelton won the conference prize for the best PhD/ECR presentation
At the International conference on FMR1 premutation: basic mechansims and clinical involvement held in Barcelona this past week, Annie Shelton won the conference prize for the best PhD/ECR presentation for her talk "Processing speed deficits are significantly correlated with reduced cortical and cerebellar structural volumes in FMR1 premutation womem". Annie won one of only two awards presented at the conference and gave an outstanding talk. She is supervised by Dr Joanne Fielding and Professor Kim Cornish, School of Psychological Sciences.
Tablet technology to help children with autism
Monash University researchers have developed the world's first tablet technology designed to assist children with developmental disabilities such as autism and Down Syndrome. Read more.
Emotional brains 'physically different' to rational ones
Researchers at Monash University have found physical differences in the brains of people who respond emotionally to others' feelings, compared to those who respond more rationally, in a study published in the journal NeuroImage this week. The work, led by Robert Eres from Monash's School of Psychological Sciences, pinpointed correlations between grey matter density and cognitive and affective empathy. Read more.
Professor Shantha Rajaratnam discusses the impact of sleep-deprived teens at the wheel

Sleep-deprived teens are at the wheel during most fatigue-related crashes, according to experts, and car accidents are the leading cause of death in adolescents.
"We know that teenaged drivers are more vulnerable to performance impairment due to sleep deprivation than older people" says Professor Shantha Rajaratnam. Read more.
"Remind me again, how does cannabis affect the brain?"

Professor Murat Yucel, Dr Adrian Carter and Aaron Kandola in The Conversation "Remind me again, how does cannabis affect the brain?"
Dr Claudine Kraan awarded the 2014 Mollie Holman Doctoral Medal

Dr Claudine Kraan, postdoctoral research fellow within the newly established Monash Institute for Cognitive and Clinical Neurosciences (ICCN) is one of only two recipients in the Faculty of Medicine, Nursing and Health Sciences to be awarded a prestigious 2014 Mollie Holman Doctoral Medal for best doctoral thesis.
The Mollie Holman Doctoral Medal was established in 1998 and is named after the late pioneering physiologist Emeritus Professor Mollie Holman AO. It is among the highest academic honours Monash University bestows and marks Dr Kraan as one of its researchers of the highest order.
The award recognises both the quality of Dr Kraan's thesis and the outstanding quality of her research. In congratulating Dr Kraan on this award, Professor John Caroll, Dean, Subfaculty of Biomedical and Psychological Sciences commented that "Claudine is an outstanding young scientist on track to be a future research leader. Her work includes a number of discoveries on the role of the FMR1 gene in Fragile X Syndrome, a debilitating genetic disease that causes developmental delay in children".
Dr Claudine Kraan is a postdoctoral research fellow in the lab of Professor Kim Cornish (Head, School of Psychological Sciences and Director, ICCN). Professor Cornish stated that "Claudine is one of the most talented PhD students I have ever had the pleasure to supervise and I am so very proud of her achievements". Dr Kraan's research is at the interface of cognitive neuroscience, molecular biology, behavioural epigenetics and psychiatry. She seeks to identify novel relationships between epigenetic status and neuropsychiatric and neurological phenotypes in a highly prevalent group of women that have a premutation expansion of the Fragile X gene (~1 in 150-200 women).
To date, Dr Kraan's PhD findings have resulted in 10 peer-review publications including Neurology and Neurobiology of Ageing. A co-authored paper recently published in Neurology was lauded as significant in an editorial in Neurology titled 'Epigenetic diagnostics for neuropsychiatric disorders - Above the genome'.
"Ultimately, the discovery of such epigenotype-phenotype correlations in clinically accessible blood samples with easily scalable, highly quantitative, and inexpensive methodology as used by Cornish et al. is highly likely to assist in the early diagnosis, risk assessment, and patient population stratification for clinical trials in FMR1 premutation subjects," wrote Stephen J. Haggarty, PhD in the editorial.
The School, ICCN and Faculty celebrate this award and congratulate Dr Kraan on this outstanding achievement.
Brain scans reveal how people 'justify' killing

A new study by Dr Pascal Molenberghs has thrown light on how people can become killers in certain situations, showing how brain activity varies according to whether or not killing is seen as justified. Monash News
ABC
Next generation rising star in HD research

Dr Govinda Poudel is an ECR and an up-and-coming rising star within the School of Psychological Sciences and his recent achievements are a testament to this. For example, in 2015 he was awarded the only Faculty of Medicine, Nursing, and Health Sciences Senior Postdoctoral Fellowship and just recently he was awarded a very prestigious research fellowship for 2 years by the Hereditary Disease Foundation in the USA. In addition, he was awarded a NSW Huntington's Disease association research grant. The Hereditary Disease Foundation aims to cure genetic illness by supporting basic biomedical research and has identified Dr. Poudel as the next generation rising star in HD research. Dr Poudel has a multidisciplinary background in Engineering and Neurosciences. His research at Monash on the IMAGE-HD study (funded by the CHDI Foundation Inc. USA and NHMRC), mentored by Professor Nellie Georgiou-Karistianis, has made some significant breakthroughs, for example: (i) discovery of specific structural and functional neural pathways disrupted in the early stage of the disease (Poudel et al., 2014 Neurobiology of Disease; Poudel et al., 2014, Journal of Psychiatry and Neuroscience) and (ii) identification of neural processes that provide compensatory benefits prior to the development of symptoms (Poudel et al., 2014, Brain Structure and Function). These findings have major implications for the future development of non-pharmacological interventions that aim to slow down the progression of atrophy in HD. The recent research fellowship awarded by the Hereditary Disease Foundation in the USA will allow Dr. Poudel to focus more on developing novel models of how atrophy spreads in the HD brain and how this relates to the development of overt symptoms.
PhD Students Shine on World Stage
Three outstanding PhD students from the School of Psychological Sciences, Simonne Cohen, Mistral Foster-Owens and Fay Fletcher, were awarded prestigious Dissertation Awards at the 48thAnnual Gatlinburg conference held this week in New Orleans. The awards recognise research excellence in early career researchers in the field of Neurodevelopment Disorders. Accompanied by their supervisor Professor Kim Cornish, the three PhD students had the opportunity to present their work to an international audience within the symposium section titled The severity, chronicity and treatment of sleep disturbances in children with developmental disorders. The School warmly congratulates Simonne, Mistral and Fay on this milestone.
Blood Test May Shed New Light on Fragile X Related Disorders

Professor Kim Cornish (Head, School of Psychological Sciences) is lead author on a study recently published in the online issue of Neurology®, the medical journal of the American Academy of Neurology. The study reports that a blood test may shed new light on Fragile X syndrome related disorders in women. Fragile X is the most common inherited form of intellectual disability and the most frequent genetic cause of autism. https://www.aan.com/PressRoom/Home/PressRelease/1361
Associate Professor Antonio discusses weight and behaviour
Associate Professor Antonio Verdejo and Fernanda Gomes, PhD student, discussed weight and behaviour on National Nine News this week.
Professor Shantha Rajaratnam discusses sleep cycles and athletes

Professor Shantha Rajaratnam suggests elite athletes need to be aware of their sleep cycles and adjust accordingly when travelling so they are able to perform at their best.
The Age
PhD Student discusses benefits of singing

Susan Maury, PhD Student, School of Psychological Sciences, discusses the benefits of singing:
short radio interview or long radio interview:
Or read the original article:
Dr Melita Giummara discusses vicarious pain on ABC Science


Dr Melita Giummara says it is the first time that physiological changes associated with vicarious pain have been measured. See full article.
Faculty Fellowships awardees
Two Research Fellows from the School of Psychological Sciences have been awarded Faculty of Medicine, Nursing and Health Sciences Fellowships.
Dr Govinda Poudel, who is mentored by Professors Shantha Rajaratnam and Nellie Georgiou-Karistianis, has been awarded a FMNHS Senior Postdoctoral Fellowship 2015 for his project "What happens in the brain during microsleeps?" This fellowship provides an opportunity to further build research capacity in computational neuroimaging and develop innovative experimental methods for multimodal neuroimaging based investigation of microsleeps.
Dr Claudine Kraan, mentored by Professor Kim Cornish, has been awarded a FMNHS Bridging Postdoctoral Fellowship for her project "An Investigation of relationships between the epi genotype of FMR1 intron 1 and psychiatric phenotypes in fragile X premutation carrier women'. Dr Kraan's research focuses on understanding the link between genetic and neurological profiles in fragile X carrier women. This project has broad ranging implications. By investigating the clinical utility of using a blood test to identify sensitive risk biomarkers for psychiatric disorders, this study will pave the way towards much needed development of personalised genomics in carrier women.
ACS Annual Meeting awards to Jade Murray and Bhairavi Raman

Two Sleep and Circadian Medicine Laboratory students were recognised for their outstanding research presentations at the Australian Chronobiology Society's 11th Annual Meeting in Melbourne on Friday 14 November. Jade Murray, a PhD candidate, won the award for Best PhD Presentation for her work on mood and daytime functioning in intrinsic and extrinsic phenotypes of Delayed Sleep Phase disorder; and Bhairavi Raman, a Psychology Honours student, won the award for Best Honours Presentation for her work examining a the enhancing effects of a short wavelength light intervention on alertness and performance in night shift workers.
Dr Sean Cain's team awarded NHMRC grant

Dr Sean Cain, Prof Shantha Rajaratnam, Prof Leon Lack, Dr Clare Anderson and Prof Steven Lockley were awarded a NHMRC grant for their Project "Hyper-sensitivity of the circadian system to light in Delayed Sleep Phase Disorder". Delayed Sleep Phase Disorder (DSPD) is a primary sleep disorder characterized by a difficulty in initiating sleep at night and subsequent difficulty in waking at times required for work or school. DSPD is associated with depression and anxiety, excessive daytime sleepiness, reduced academic and work performance and reduced quality of life, largely due to chronic sleep loss. The physiological basis of the disorder remains unknown, thus hampering efforts to develop accurate diagnostic methods and effective treatments. This project investigates how changes in the sensitivity of the circadian clock to evening light underlie this sleep disorder.
Dr Marie Yap awarded a Mental Health of Young Australians Research Grant

Dr Marie Yap was awarded a Mental Health of Young Australians Research Grant from the Australian Rotary Health for her project "Evaluating a tailored web-based parenting intervention to prevent adolescent depression and anxiety problems: A pilot randomized controlled trial". Parenting strategies: preventing Depression & Anxiety is an award winning website.
Grants success

Professor Mark Bellgrove
ARC Discovery Project for funding commencing in 2015
Project Title: Dissecting the neural substrates of spatial attention
Project Summary
Effectively distributing attention in space is critical to human learning and performance. Although it is recognised that spatial attention is influenced by arousal states, we lack an understanding of the associated brain mechanisms and dynamics. This project aims to monitor changes in arousal levels (pupillometry) and discrete stages of information processing (EEG) at the millisecond level during a spatial attention task. Establishing the sensitivity of these methods to spontaneous and externally driven fluctuations of arousal is expected to yield a mechanistic account of the neural substrates of spatial attention with implications for human learning and performance, and diagnosis and treatment of attention disorders.
Dr Sharna Jamadar
ARC DECRA for funding commencing in 2015
Project Title: Cognitive Control and Cognitive Compensation in Ageing: Can Older Adults Compensate for Age-Related Changes in the Brain?
Project Summary
Decline in cognitive control can have a devastating effect on an individual's capacity to live a high quality and safe independent life. It is an untested assumption that older adults can compensate for age-related changes in cognitive control function to perform at the same level as younger adults. This project aims to be the first to test this widely-held assumption and will examine changes in cognitive control and the emergence of compensation over the adult lifespan (20 to 90 years). The project aims to establish whether cognitive compensation is an effective mechanism to maintain cognitive control function into old age and will inform future strategies to help older individuals live more successful and productive independent lives for longer.
Associate Professor Nikki Rickard and Professor Jennie Ponsford with colleagues from Melbourne University
Baker, A/Prof Felicity; Rickard, A/Prof Nikki S; Ponsford, Prof Jennie L; Tamplin, Dr Jeanette; MacDonald, Prof Raymond A
ARC Discovery Project for funding commencing in 2015
Project Title: Singing my story: Negotiating identities through therapeutic songwriting for people with acquired neurological injuries
Project Summary
Thousands of Australians present with fractured identities following acquired spinal or brain injuries which can diminish their capacity to participate in and contribute to society. This project aims to investigate the effect of a song writing intervention on reconstruction of a meaningful integrated identity and psychological wellbeing post-injury. It aims to construct a model of mechanisms of change, identify factors influencing change and explore the role of musical identity in the process of identity reconstruction. It is expected that the findings will show evidence that song writing can enhance wellbeing, improve self-concept, and increase social and economic participation in society.
Dr Ben Fulcher awarded a NHMRC Early Career Fellowship

Dr Ben Fulcher was awarded a NHMRC Early Career Fellowship for his project 'From brain maps to mechanisms: modelling the pathophysiology of schizophrenia'
Schizophrenia is a debilitating neuropsychiatric syndrome associated with delusions, hallucinations, and cognitive and emotional disturbances. Brain imaging techniques such as structural and functional Magnetic Resonance Imaging (MRI, fMRI) have featured prominently in attempts to uncover the neurobiological basis of this debilitating disorder. However, despite an extensive research effort, this work has been unable to identify underlying causes or new treatments, thus having minimal impact on the daily care of patients. Dr Fulcher will develop a framework that integrates brain imaging data with mathematical models of neurophysiological processes, and use it to help understand the neurobiological basis for schizophrenia. The results may be able to link functional Magnetic Resonance Imaging (fMRI) measurements to an understanding of underlying causes in individuals with schizophrenia, and hence motivate new treatments that target them.
Dr Marie Yap wins Young Tall Poppy Science Award

Dr Yap has won the Young Tall Poppy Science Award which recognizes outstanding young researchers. Recently Marie was also 1st runner up in the Scopus Young Researcher Award in the Humanities and Social Science category. The psychologist and early career researcher, who studies the role of parents in child and adolescent mental health, equips parents with the skills to reduce the risk of their child developing mental health problems. Dr Yap and five other scientists from Monash University will spend a year promoting science to school students and the broader community. Monash Memo
MASSIVE help for Neuroscientists

Professor Nellie Georgiou-Karistianis and her team are using the Multi-modal Australian ScienceS Imaging and Visualisation Environment (MASSIVE) to conduct a longitudinal study - The IMAGE-HD study. This project aims to track the onset and progression of Huntington Disease (HD), which will help us to understand how the disease develops over time. Through this research , the team found the number of poorly connected neural networks increased in people diagnosed with HD, compared to those without the disease. They also found that as the disease develops, the changes in the brain become more widespread. These findings have important implications for drug development, particularly in terms of treatments geared toward preventing loss of neural connections, strengthening neural connectivity, and/or improving functional outcomes.

Dr Govinda Poudel, Senior Research Fellow of the IMAGE-HD team, noted that "in the absence of MASSIVE our analysis pipeline would have significantly slowed down – approximately 20 times". He went on to say the "Parallel processing [capabilities of MASSIVE] allowed us to obtain results for 108 subjects over three time points in a couple of hours rather than days". MASSIVE has become a significant part of Dr Poudel's research tool kit…"MASSIVE is an impressive tool, which not only allows rapid analysis but also allows visualisation at a level not possible with other systems."
A/Prof Nao Tsuchiya discusses consciousness on SBS Insight

A/Prof Tsuchiya discusses what we know about consciousness on "Conscious or not". SBS podcast download.
Sleep quality critical to the effectiveness of PTSD treatment

Professor Sean Drummond's study on the effect of sleep on post-traumatic stress disorder (PTSD) has found that sleep quality is critical to the effectiveness of PTSD treatment. "Our study suggests the physiological mechanism whereby sleep difficulties can help maintain PTSD. It also strongly implies a mechanism by which poor sleep may impair the ability of an individual to fully benefit from exposure-based PTSD treatments, which are the gold standard of interventions."

"The implication is that we should try treating sleep before treating the daytime symptoms of PTSD and see if those who are sleeping better when they start exposure therapy derive more benefit," says Professor Drummond.

PTSD is an often difficult-to-treat mental health condition triggered by a terrifying event. Frequently associated with people who have served in war zones, it is characterized by severe anxiety, flashbacks, nightmares, and uncontrollable thoughts.

The study was published in the Journal of Neuroscience.

Professor Drummond is currently professor of psychiatry at the University Of California San Diego School of Medicine and will be joining our school in November.
Content maintained by: comms.psych@monash.edu