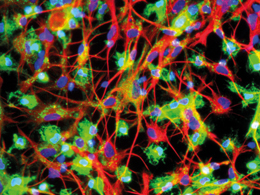 Contact
School of Psychological Sciences
General Office,
Room 404, Building 17,
Monash University,
Wellington Road,
Clayton, Victoria, 3168
T: +61 3 9905 4359
F: +61 3 9905 3948
E: hdr.psych@monash.edu
Clinical neuropsychology is a field which applies an understanding of the neural basis of cognition, emotion and behaviour to the assessment and treatment of adults and children with neurological and psychological disorders. Clinical neuropsychologists are employed in acute hospitals, rehabilitation centres, aged care programmes, psychiatric settings, and paediatric facilities. Private practitioners undertake a range of work including medico-legal assessments.

The Doctor of Psychology in Clinical Neuropsychology (DPsych (ClinNeuro)) is a research degree with coursework, clinical placement, and research components. DPsych candidates are required to conduct a program of research in an area directly relevant to clinical neuropsychology under the supervision of a member of the academic staff.The program includes a 2-year period of intensive coursework taught by experienced researchers and clinicians. Core areas of coursework include (but are not limited to): neuroanatomy, neuropsychological assessment, fundamentals of professional practice, and neuropsychological rehabilitation. Candidates also complete a number of clinical placements providing comprehensive experience with a diverse range of clinical populations.
A feature of the DPsych (ClinNeuro) is that clinical training is extended through an advanced specialised placement in the third year, which enables candidates to gain more specialised knowledge and experience in an area of their choice. Depending upon student demand, options may include rehabilitation; child and adolescent neuropsychology; geriatric neuropsychology; psychiatric neuropsychology; and forensic neuropsychology.
The DPsych (ClinNeuro) program prepares graduates, using the scientist-practitioner model, to conduct research in neuropsychology and to work as clinical neuropsychologists in a broad range of settings. Past graduates have progressed in their careers to a range of senior research and clinical positions within Australia and abroad.
Studying Doctor of Psychology in Clinical Neuropsychology
Handbook entry
Description, objectives, structure, requirements, progression, professional recognition, award(s) received
Course overview
Duration, campus, fees, application form, accreditation
How to apply
Scholarship applications are part of the admissions process. Please ensure you select 'Candidature + Scholarship' when prompted.
Potential Research Projects
Further information