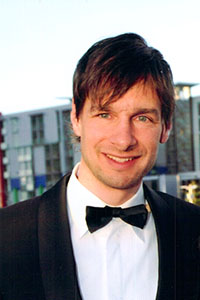 Dr. Paul Klauser
Post-doctoral research fellow
Bio
Dr Klauser completed his medical degree in 2004 at the medical school of the University of Geneva, Switzerland. On a MD-PhD Fellowship from the Swiss National Science Foundation, he obtained a PhD from the Lemanic Neuroscience Doctoral School in 2008 for his work on synaptic plasticity during development and learning/memory mechanisms. In 2011, he finished 3 years of specialised training in Child and Adolescent Psychiatry and was granted with a Mobility Fellowship from the Swiss National Foundation to start post-doctoral training in neuroimaging of early psychosis with A. Fornito in Melbourne.
Dr Klauser is currently working on the analysis of structural MRI brain scans of patients in the putative prodromal state of psychosis. He uses voxel-based and surface-based morphometric methods implemented with machine-learning algorithms to try to predict the clinical evolution of patients in an at risk mental state (ARMS) for psychosis.
Dr Klauser's expertise in synaptic plasticity and Child Psychiatry inform his clinical emphasis on diagnosis and care of mental illness during childhood and adolescence, which he views are crucial to prevent the development of further highly debilitating psychiatric diseases in adulthood.
Contact Details
Address: MBI, 770 Blackburn Rd, Clayton, VIC 3800 AUST
Email: paul.klauser@monash.edu
Phone: +61 (3) 9902 9768