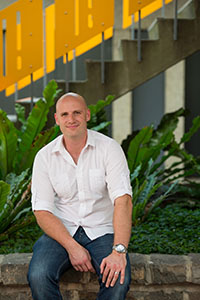 A/Professor Alex Fornito
Bio
I completed my Masters (Clinical Neuropsychology) and PhD in 2007 in the Departments of Psychiatry and Psychology at The University of Melbourne, followed by Post-Doctoral training in the Brain Mapping Unit at the University of Cambridge, UK. I joined Monash University in 2013 and am currently co-Director of Brain & Mental Health (BMH) laboratory (formerly MCIN).

My research focuses on understanding brain connectivity. The human brain is an extraordinarily complex network comprised of billions of nerve cells interconnected by trillions of axonal fibers. Interactions unfolding within this intricate web of connectivity form the basis of all our thoughts, emotions and behavior, and their derailment can lead to mental illnesses such as schizophrenia, depression and obsessive-compulsive disorder. Accordingly, generating an accurate and comprehensive wiring diagram for the brain–the so-called human connectome–has become a major goal in neuroscience, comparable in scale to the Human Genome Project.

Magnetic resonance imaging (MRI) has emerged as an important tool in these efforts because it provides a unique window into large-scale brain structure and function in living humans. Our work concentrates on developing new MRI techniques for mapping human brain connectivity, and on applying these methods to understand brain function in health and disease. Key emphases involve uncovering key principles of brain organization; understanding their genetic basis; characterizing brain connectivity disturbances in psychiatric disorders such as schizophrenia; and mapping how brain networks dynamically reconfigure themselves in response to changing task demands.


To achieve these goals, my team uses techniques from a range of disciplines, spanning complex network science, mathematics, psychology and psychiatry, neuroscience and genetics. A major focus is on the application of graph theoretic methods to MRI data, particularly functional and diffusion MRI, and its integration with behavioral and clinical information. By leveraging this multi-disciplinary approach, we hope to generate novel insights into the inner workings of the brain and how its dysfunction gives rise to mental illness.
Textbook
Fornito, A., Zalesky, A., Bullmore, E. T. (2016). Fundamentals of Brain Network Analysis. Elsevier Inc., Academic Press: San Diego.
Selected Publications
Fulcher, B. D., Fornito, A. (2016). A transcriptional signature of hub connectivity in the mouse connectome. Proceedings of the National Academy of Sciences, USA, 113(5): 1435-1440.
Fornito, A., Zalesky, A., Breakspear, M. J. (2015). The connectomics of brain disorders. Nature Reviews Neuroscience, 16: 159-172.
Baker, S. T. E., Lubman, D. I., Yücel, M., Allen, N. B., Whittle, S., Fulcher, B., Zalesky, A., Fornito, A. (2015). Developmental changes in brain network hub connectivity in late adolescence. Journal of Neuroscience, 35: 9078-9087.
Dwyer, D. B., Harrison, B. J., Yücel, M., Whittle, S., Zalesky, A., Pantelis, C., Allen, N. B., Fornito, A. (2014). Large-scale brain network dynamics supporting adolescent cognitive control. Journal of Neuroscience, 34(42): 14096-14107.
Fornito, A., Harrison, B. J., Goodby, E., Dean, A., Ooi, C., Nathan, P. J., Lennox, B. R., Jones, P., Suckling, J., Bullmore, E. T. (2013). Functional dysconnectivity of cortico-striatal circuitry as a risk phenotype for psychosis. JAMA Psychiatry, 70:1143-1151.
Fornito, A., Harrison, B., Zalesky, A., Simons, J. S. (2012). Competitive and cooperative dynamics of large-scale functional brain networks supporting recollection. Proceedings of the National Academy of Sciences, USA, 109(31): 12788-12793.
Fornito, A., Zalesky, A., Bassett, D. S., Meunier, D., Ellison-Wright, I., Yücel, M., Wood, S. J., Shaw, K., O'Connor, J., Nertney, D., Mowry, B. J., Pantelis, C., Bullmore, E. T. (2011). Genetic influences on cost-efficient organization of human cortical functional networks. Journal of Neuroscience, 31(9): 3261-3270.
Please click here for a full publication list.
Contact Details
Address: RM 146, MBI, 770 Blackburn Rd, Clayton, VIC 3800 AUST
Email: alex.fornito@monash.edu
Phone: +61 (3) 9902 9796
Fax: +61 (3) 9348 0469