Subjects with at-risk mental state showed different functional network of striatal sub-divisions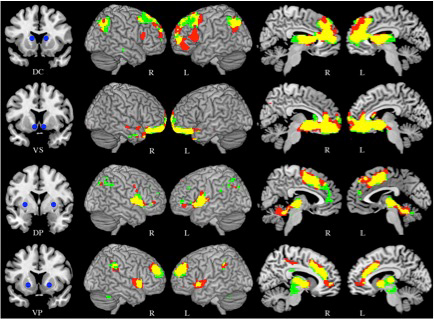 Significant within-group (seed effect) functional connectivity maps of the dorsal caudate (DC), ventral striatum/nucleus accumbens (VS), dorsal putamen (DP), and ventral putamen (VP) seeds (in blue). Green indicates healthy comparison subjects, while red indicates at-risk mental state subjects and yellow indicates areas of overlap; R, right hemisphere; and L, left hemisphere. Sagittal slices are displayed at x = ±6 (DC and VS); x = −3, and x = 4 (DP); x = ±8 (VP). Results are displayed at P < .05 (false discovery rate) corrected.
Orwa Dandash, Alex Fornito, Jimmy Lee, Richard S. E. Keefe, Michael W. L. Chee, R. Alison Adcock, Christos Pantelis, Stephen J. Wood, and Ben J. Harrison Altered Striatal Functional Connectivity in Subjects With an At-Risk Mental State for Psychosis Schizophr Bull first published online July 16, 2013 doi:10.1093/schbul/sbt093
---
Brain volumes predict onset of depression during adolescence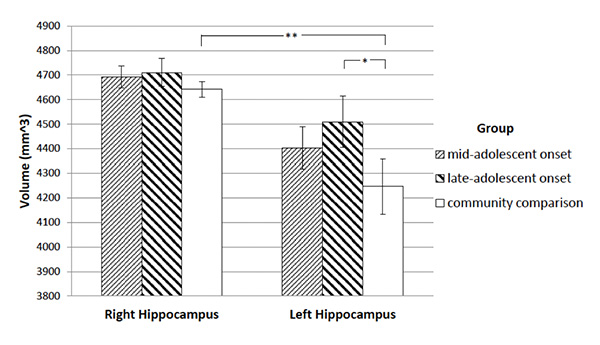 This figure illustrates the significant Group by Hemisphere effect. Post-hoc tests showed that there was significant right greater than left hippocampal asymmetry for the community control group, but not for the two depression groups. There was also a trend level finding for left hippocampal volumes (averaged across time) to be larger in the late-adolescent onset depression group compared to the community comparison group.
Whittle S, Lichter R, Dennison M, Schwartz O, Byrne M, Simmons JG, Yücel M, Pantelis C, McGorry PD, Allen NB (In Press; Accepted December 2013) Structural development of the hippocampus and amygdala predicts the onset of depressive disorder during adolescence. American Journal of Psychiatry
---
A review of brain white matter in adolescent substance users.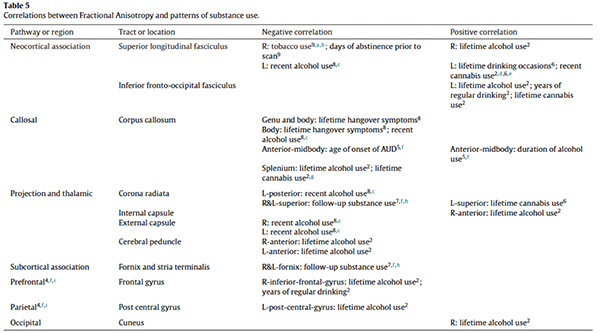 Neuroanatomical locations of negative and positive correlations (p < 0.05) between Fractional Anisotropy (FA) and substance use measures.
Baker S, Yücel M, Fornito A, Allen NB, Lubman DI (2013) A systematic review of diffusion weighted MRI studies of white matter microstructure in adolescent substance users. Neuroscience and Biobehavioral Reviews 37(8):1713-1723.
---
The impact of regular cannabis use on the human brain

Significant (black bars) and nonsignificant (white bars) findings by brain region. Nonsignificant = no significant difference between cannabis users and non-cannabis–using controls (e.g. CB =HC); significant=significant difference between cannabis users and noncannabis– using controls (either CB < HC or CB > HC); ICV =intracranial volume (eight studies); WBV1/4 six studies; GM1/4 total brain gray matter (four studies); WM1/4 total brain white matter (four studies); CSF 1/4 cerebral spinal fluid volume (nine studies); Hippo 1/4 hippocampus (eight studies); Para-Hippo 1/4 parahippocampus (three studies); Amy 1/4 amygdala (three studies); PFC1/4 five studies; Cereb1/4 cerebellar volumes (three studies); Other 1/4WM density of parietal lobule, fusiform gyrus, lentiform nucleus and pons (one study), GM density of thalamus (one study), frontal lobe (two studies), temporal lobe (one study), parietal lobe (two studies), occipital lobe (one study), total cortex (one study), total subcortical (one study), insula (two studies).
Lorenzetti V, Lubman DI, Fornito A, Whittle S, Takagi MJ, Solowij N, Yücel M. (2013) The impact of regular cannabis use on the human brain: structural neuroimaging studies. In: Miller PM (ed.) Biological Research on Addiction, pp. 711-728. San Diego: Academic Press.
---
A novel brain-based risk marker for psychosis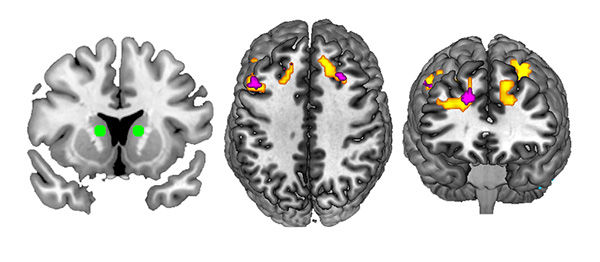 Together with collaborators at the University of Melbourne, Australia, and The University of Cambridge, UK, A/Prof Fornito has identified a novel brain-based marker of genetic risk for psychosis. The team investigated regions showing correlated activity—also called functional connectivity—with a seed region placed in the dorsal caudate, located deep in the brain (left panel). Patients with first episode patients showed reduced functional connectivity between this seed region and an area in prefrontal cortex (yellow in middle and right panels). Patients' unaffected first-degree relatives showed similar reductions (magenta, middle and right) despite not showing any signs of illness, suggesting that this brain circuit-level alteration is associated with genetic risk for the illness. These findings highlight a potential biological marker of risk for psychosis, and a novel treatment target.
Fornito, A., Harrison, B. J., Goodby, E., Dean, A., Ooi, C., Nathan, P. J., Lennox, B. R., Jones, P., Suckling, J., Bullmore, E. T. (2013). Functional dysconnectivity of cortico-striatal circuitry as a risk phenotype for psychosis. JAMA Psychiatry, 70:1143-1151.
---
Contribution to NeuroImage special issue on The Connectome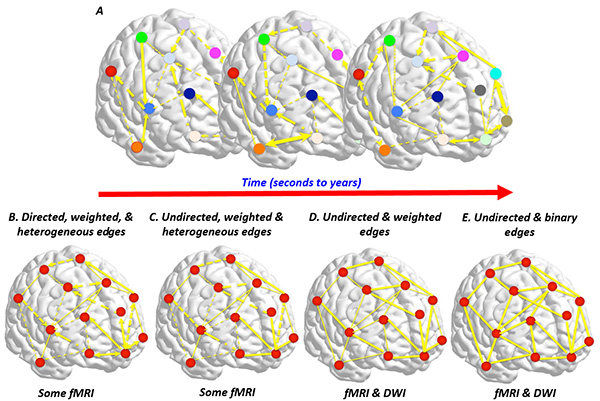 Fornito and co-workers have contributed a review article on the applications of graph theory to the study of brain connectivity for a special issue of NeuroImage on The Connectome. The article considers the potential benefits to be gained as well as the pitfalls associated with the application of graph theoretic methods in relation to the challenge of generating an ideal model of the Connectome. The figure above illustrates this challenge. Top row demonstrates an ideal brain network model, in which heterogeneity in node functions and edge properties are captured, edges are weighted, directed, and dynamic over time. Bottom row illustrates the simplifications used in most current MRI-based models of brain networks.
Fornito, A., Zalesky, A., Breakspear, M. (2013). Graph analysis of the human connectome: Promise, progress, and pitfalls. NeuroImage, 80: 426-444.