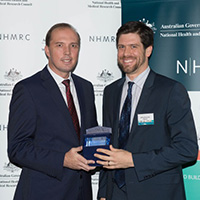 Professor Terry Haines
Telephone:
+61 3 9265 1822
Email:
terrence.haines@monash.edu
Teaching Responsibilities
Supervision of PhD (8 completed PhD supervisions, 1 completed D Psych), Masters (2 completed) and Honours (13 completed) level health professionals.
Fields of Expertise
Gerontology
Rehabilitation
Health economics
Research design and analysis
Research Interests
Prevention of accidental falls by older adults
Decision making in health care
Innovative research designs
Research driven by health professionals
Health services research
Research Income
Prof Haines has attracted over $15 million in research funding since 2005 as an investigator and over $3 million as sole investigator or chief investigator A. He has received two NHMRC Career Development Fellowships (2010-2013, 2014-2017), three NHMRC project grants (CIA, CIB, CIC), three NHMRC partnership grants (CIA, CID, CIE), two ARC linkage grants (CID, CII), a Beyond Blue National Priority Project (CIA), Butterfly Foundation grant (CIB), Australian Primary Health Care Research Institute (CIC), two BUPA Foundation grants (CIB, CIC), a Canadian Institutes of Health Research grant (Co-applicant), Commonwealth Department of Health and Ageing tender (CIC) and an Institute for Safety, Compensation and Recovery Research project grant (CIA). He has also attracted research funding from state-level funding bodies such as the Victorian Department of Health, Queensland Health Allied Health Practitioners Board, and Western Australian State Health Research Advisory Council Grant.
Awards
NHMRC Achievement Award (2014) – Highest ranked Career Development Fellowship - Population Health, Level 2
NHMRC Career Development Fellowship (2014-2017) – Population Health, Level 2.
NHMRC Achievement Award (2010) – Highest ranked Career Development Fellowship - Population Health, Level 1
NHMRC Career Development Fellowship (2010-2013) – Public Health, Level 1
SACS Consulting Leadership Award (2010) – Victorian State Government Sector.
Early Career Researcher Award (2007) – The University of Queensland School of Health and Rehabilitation Sciences
Best Student Poster Presentation (2004) – 1st Australian Falls Prevention Conference, Manly, NSW.
Research Methods Award (1999) - Australian Physiotherapy Association / University of Melbourne
Online Resources Developed
The Safe Recovery Training Program Workbook, Self-Learning Activities, YouTube-based education program (for health professionals), and YouTube-based Safe Recovery Video (for patients).
Education short-course on Exercise Prescription for Falls Prevention
Falls prevention education for older adults during and after hospitalization: A systematic review and meta-analysis.
Supplementary material for review on education for the prevention of falls
The Kitchen Table Exercise Program was developed for patients with mobility problems being discharged from hospital.
Selected Publications
Prof Haines has published >170 peer-reviewed journal publications as of April 2015. Leading publications from this collection include:
Hill A, McPhail S, Waldron N, Etherton-Beer C, Flicker L, Ingram K, Bulsara M, Haines T. Fall rates in hospital rehabilitation units after individualised patient and staff education programmes: a pragmatic, stepped-wedge, cluster-randomised controlled trial. The Lancet. Published online April 9, 2015 DOI: http://dx.doi.org/10.1016/S0140-6736(14)61945-0
Hemming K, Haines T, Girling A, Lilford R. The stepped wedge cluster randomised trial: rationale, design, analysis and reporting. BMJ 2015;350:h391.
Haines T, O'Brien L, McDermott F, Markham D, Mitchell D, Watterson D, Skinner E. A novel research design to aid disinvestment/reallocation from existing health technologies with uncertain effectiveness, cost-effectiveness and/or safety. Journal of Clinical Epidemiology. 2014;67(2):144-51
Haines T, Hill A, Hill K, Brauer S, Hoffman T, Beer C, McPhail S. Cost-effectiveness of patient education for the prevention of falls in hospital: Economic evaluation from a randomised controlled trial. BMC Medicine 2013;11:135
Maloney S, Haas R, Keating J, Molloy E, Jolly B, Sims J, Morgan P, Haines T. Break-even, cost-benefit, cost-effectiveness and willingness to pay for web-based versus face-to-face education delivery: an analysis of falls prevention education to health professionals. Journal of Medical Internet Research 2012;14(2):e47
Haines T, Hill A, Hill K, McPhail S, Oliver D, Brauer S, Hoffmann T, Beer C. Patient education to prevent falls among older hospital inpatients: a randomized controlled trial. Archives of Internal Medicine 2011; 171(6):516-524
Haines T, Sinnamon P, Wetzig N, Lehman M, Walpole E, Pratt T, Smith A. Multi-modal exercise improves quality of life of women being treated for breast cancer, but at what cost? Randomized trial with economic evaluation. Breast Cancer Research and Treatment. 2010;124(1):163-175.
Oliver D, Healey F, Haines T. Preventing falls and fall-related injuries in hospitals. Clinics in Geriatric Medicine. 2010;26(4):645-692
Haines T, Bell R, Varghese P. Pragmatic, cluster randomised trial of a policy to introduce low-low beds to hospital wards for the prevention of falls and fall-injuries. Journal of the American Geriatrics Society 2010;58:435-441
Haines T, Bennell K, Osborne R, Hill K. Effectiveness of targeted falls prevention programme in subacute hospital setting: randomised controlled trial. British Medical Journal 2004; 328: 676-679.
Community Associations
Prof Haines is the immediate past president of the Australia and New Zealand Falls Prevention Society management committee
Chair of the Victorian Allied Health Research Conference Scientific Committee (2014)
Co-Chair of the National Allied Health Conference Scientific Committee (2015)
A member of the Victorian Allied Health Ministerial Advisory Committee
Current Chair of the Physiotherapy Research Foundation Grants Review Committee
Has been an editorial board member of the Journal of Physiotherapy
Actively involved in his local church and basketball clubs.