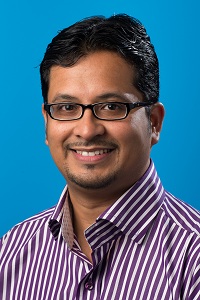 Md. Nadim Rahman
MBBS, Post grad training-GP, Australian Medical Council (Primary assessment), BN, RN, GCHPE
Lecturer
Biography

Nadim completed his Bachelor of Medicine and Bachelor of Surgery (M.B.B.S) in 2005 from Bangladesh Medical College Hospital, Dhaka, Bangladesh. He has full medical registration with Bangladesh Medical and Dental Council and successful primary assessment by Australian Medical Council. Nadim's personal experience as an immigrant living in Darwin and Melbourne has propelled his interest in facilitating the "growth and independence" of Indigenous Societies of Australia.
His teaching career started with ITAS (Indigenous Teaching Assistantship Scheme) and AESP (Academic English Support Program, ESL) at Charles Darwin University followed by lecturing anatomy and physiology.
He has worked as a program development consultant for courses offered by Charles Darwin University and as a clinical educator for major Victorian hospitals. Nadim maintains his clinical practice with casual shifts in acute settings including oncology, maternity wards and aged care facilities.
Teaching

NUR5703 - Advanced pathophysiology and health assessment
NUR2106 - Integrated nursing practice 1
NUR2206 - Integrated nursing practice 2
NUR3005 - Chronic illness management in primary care
Human Biology bridging course (Coordinator).

Research interests

Urology: potency of pharmacological agents in the management of BPH
physical examination: evidence based practice
clinical diagnosis and empirical treatment
innovation in teaching and assessment
evidenced based use of technology in teaching and assessment
rheumatoid factor in the diagnosis of rheumatoid arthritis
diarrhoeal diseases - predominantly rota virus, shigella and C.Diff.