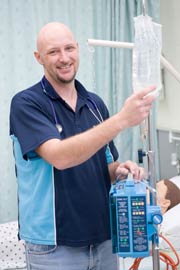 Two years ago Lee Horsley was running his own plant nursery, juggling 60-hour working weeks and raising a young family. Today the horticulture graduate is back at university studying for a new career in nursing.

Lee's mother, a nurse for 20 years, had often encouraged her son to follow in her footsteps, telling him the wide range of specialty areas and many employment opportunities made nursing a great career option.

Despite an early interest in anatomy and the functions of the human body, Lee thought nursing was "not macho enough" and instead pursued potential career paths in the army, architectural drafting and horticulture.

Lee finally took his mother's advice and enrolled in Monash University's new Master of Nursing Practice, an accelerated program for graduates with non-nursing bachelor's degrees. "For the first time I feel that I am doing what I should be doing," he said.

On his first day at Monash, Lee was surprised to discover that half of his fellow students were male and came from a wide range of backgrounds. The first program's first cohort of students – due to graduate early next year - include an engineer, lawyer, teacher and an IT specialist.

While only about 10 per cent of Australia's nursing workforce is currently male, the number of men entering the profession is steadily growing. Lee believed nursing "absolutely benefits from a better gender balance".

He also said that nursing required a lot of technical knowledge and a lot more responsibility than he had expected. "The course has been challenging, especially as it is an accelerated program, but I love a challenge."

Students in the Master of Nursing Practice spend half the week in class and the other half in clinical practice. Lee said the curriculum was well matched to the clinical experience, giving students an opportunity to immediately apply academic knowledge.

He said the highlights of his nursing experience so far included the satisfaction of providing care to a patient struggling to care for themselves, and comfort to a patient in the last days of their life.

"The relief that you see in a patient's eyes when they realise you are not going to compromise their dignity, or the gratitude from a family when you help make a dying patient more comfortable, is really rewarding."

When he has completed the program, Lee hopes to spend some time working on hospital wards consolidating his nursing skills before specialising in coronary care.

While busy building his new career, Lee still makes time to pursue his interest in skiing, scuba diving and bushwalking with his sons.