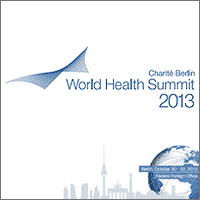 Monash University has reinforced its stature as a key contributor in the global health arena as a prominent participant at the World Health Summit.
Held in Berlin 20-22 October, the fifth World Health Summit brought together academia, policy makers, researchers and industry leaders at the annual gathering under the patronage of German Chancellor Angela Merkel, French President Francois Hollande, and European Commission President José Manuel Barroso who presented the keynote address at the Summit opening ceremony.
Around 1,000 participants from 80 countires attended the Summit, staged at the German Foreign Ministry offices in Berlin, reflecting the growing prestige of the annual event that Monash has strongly contributed to from the outset. This year's event was held under the co-presidency of the National University of Singapore, led by Professor John Wong.
As a core member of the M8 Alliance of academic health centres, universities and national academies, Monash plays an important role in providing an academic foundation to the World Health Summit through setting themes and providing speakers and session chairs.
Professors Ben Canny and David de Kretser, both long-time contributors to the Summit, presented Community Engagement and Responsibities of Medical Universities on day one of the event, with Monash Sustainability Institute's Professor David Griggs presenting via video as part of Health Gains from Sustainable Development on day two. Professor Canny also presented in Transforming Health Professions Education: Responses to The Lancet Commission, on the third and final day of the Summit, an area in which Monash has strongly contributed to the program over many years.
Chairs included the Dean, Professor Christina Mitchell, whose session Global Health for Development featured a provocative presentation by Sir Michael Marmot from University College London's Institute of Health Equity. "l want economics debated as if people matter," stated Marmot, attacking the propenents of austerity measures as being the same people who caused the Global Economic Crisis. This session also feaured Monash alumnus Adrian Thomas, CEO of Janssen and a one-time student of Professor Mitchell.
Other luminaries attending the World Health Summit included Germany's Foreign and Health Ministers, Guido Westerwelle and Dani Bahr, Ghana's Health Minister Sherry Ayitey, Timorese statesman and Nobel Peace Prize winner José Ramos Horta, and Aaron Ciechanover, Nobel laureate in Chemistry.
Monash employed social media to keep stakeholders informed of the Summit as it happened, in a real time conversation space of contributors including institutional commentators, academics, researchers and students, creating a vibrant forum for wider discussion. Live streaming of sessions also connected the Summit to a worldwide audience.
Monash's M8 Alliance partner from Brazil, the University of São Paulo, will be the World Health Summit co-presidency institution during 2014, with Kyoto University of Japan confirmed to receive this honour in 2015.
More information on the fifth World Health Summit including video of Monash sessions is available at: www.worldhealthsummit.org/