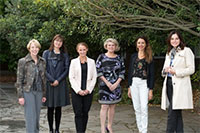 Monash Distinguished Alumna, Melbourne GP and health commentator Dr Sally Cockburn, also known as Dr Feelgood, led a panel discussion about women and success at a Faculty of Medicine, Nursing and Health Sciences-hosted event last week.

In the conversational gathering, panellists shared their experiences of achieving success as a woman with those working towards their career aspirations. The talk was attended by around 100 guests, including students and staff from Monash, as part of Diversity and Inclusion Week, in which the University hosted a range of events.

Chair of the Social Inclusion Committee in the Faculty of Medicine, Nursing and Health Sciences, Associate Professor Jenny Newton, said those who attended received suggestions on how to work towards a career while juggling family demands or other personal commitments.

"Since women are often in the best position to help other women, we asked some very inspirational women to share some of their thoughts on success and how they came to be where they are today," Associate Professor Newton said.

Inspiring panel members who shared their stories of success included Professor Fabienne Mackay, Head of the Department of Immunology, Professor Nellie Georgiou-Karistianis, Director Research Degrees in the School of Psychology and Psychiatry, Associate Professor Michelle Leech, Southern Clinical School, Associate Professor Jenepher Martin, Director Medical Student Programs, and MBBS/ PhD student Karinna Fyfe.

Dr Cockburn highlighted their achievements, ranging from being a successful marathon runner to a highly cited leading international immunologist.

"The audience gained insights into how this amazing panel of women balanced their careers and work with personal interests," Associate Professor Newton said.

"The women shared the importance of networking, having good mentors and role models, being organised, maintaining work/life balance and supportive families in achieving their career aspirations."

Managing a career through the childbearing years was also discussed.